Since we will not be hosting Thanksgiving this year, I thought I'd do a throwback of what we did last year.  Enjoy!!
Original Post Date: November 26, 2012
What a whirlwind weekend!  Haha, say that ten times fast.
Now that the hustle and bustle of Thanksgiving is over I can finally take time to share what I did for my Thanksgiving table.  As I said in my sneak peek post I didn't use traditional colors, but put in a few fallish items to help it fit the season.
Blue and yellow were the color of choice this year.  The color inspiration came from my grandmothers china that I got to use for the first time.  It became my jumping off point.
With that, I headed to the store with  my blue and yellow colors in mind.  This is what I came up with.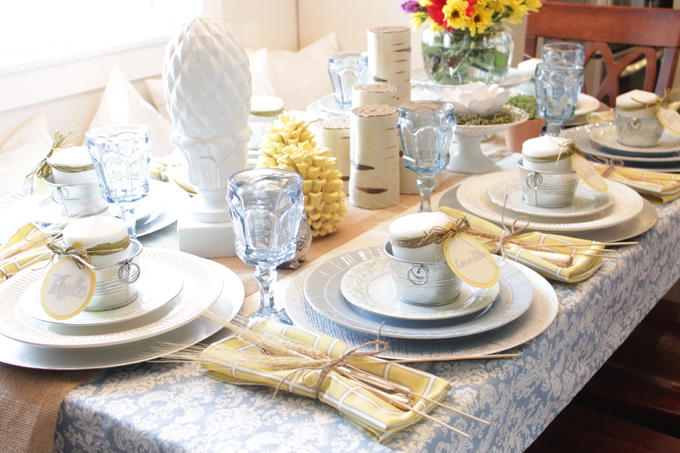 Those yellow pinecones are candles found at the seconhand store and given a new coat of paint.  If you are painting candles be sure to give them a few coats of primer first.  The birch candles are from Pottery Barn.  I think I'm going to give a go at making my own sometime though.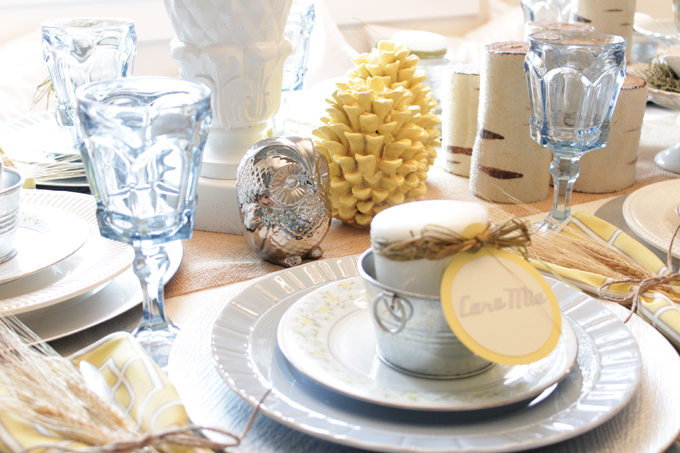 Fresh flowers are rare in my house, so when we have them it always makes the moments more special somehow.  I found a pumpkin candy jar and just left the top off to make a vase for the flowers.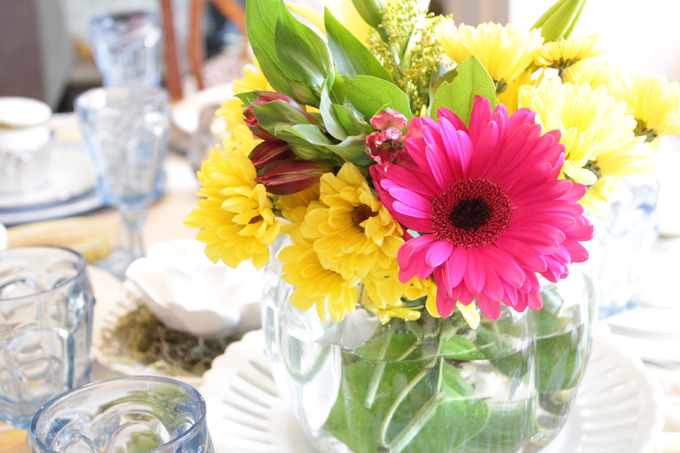 Thanks to my silhouette cameo I was able to make my nametags exactly how I pictured them and in no time flat.  The wood grain chargers were found at Target and the plain silver ones at Walmart. The fluted ivory plates were also from Walmart.  They were a steal on clearance in the fall section.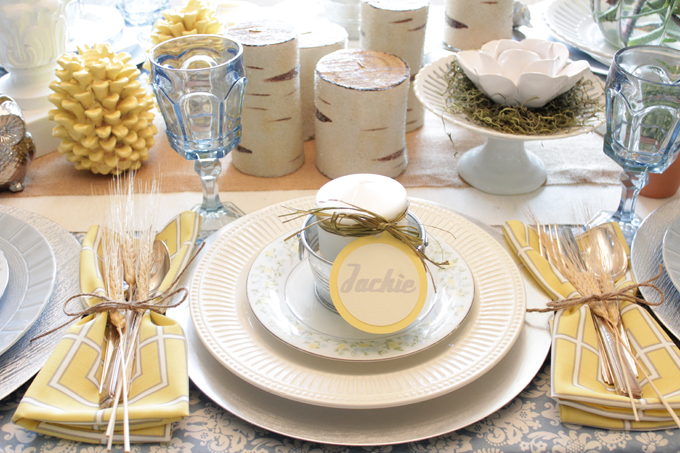 I was very excited to be able to use my husband's grandparent's silver.  It was so beautiful and I felt so privileged to have them on my table, and here is where I put one of those little touches of fall, with the wheat sheaf in the silverware setting.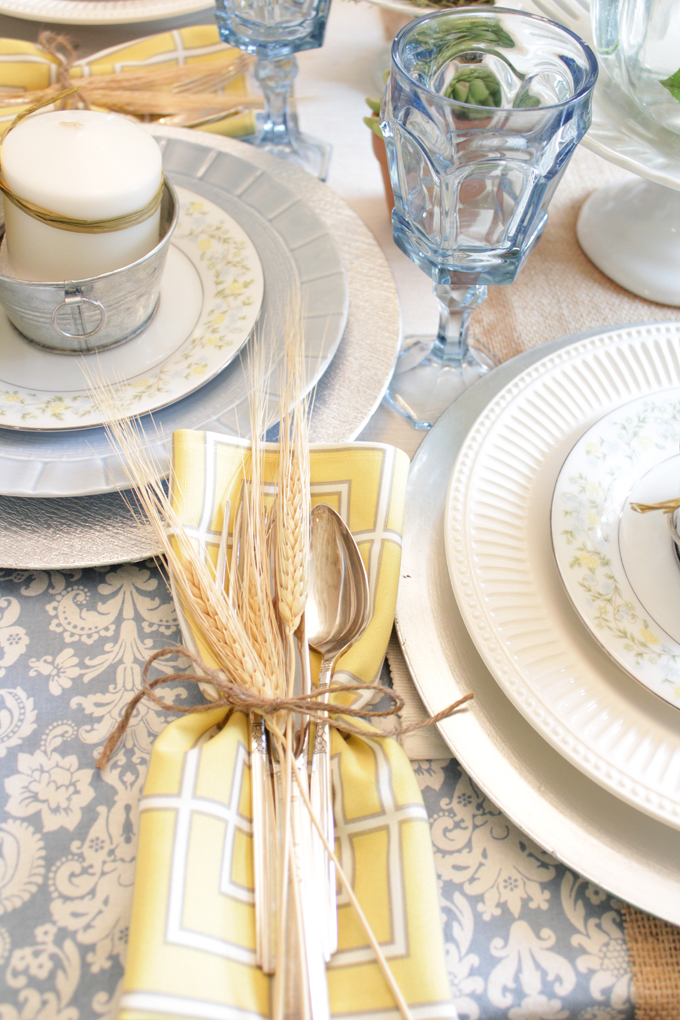 My Thanksgiving banner was also made fast and simple with my Cameo.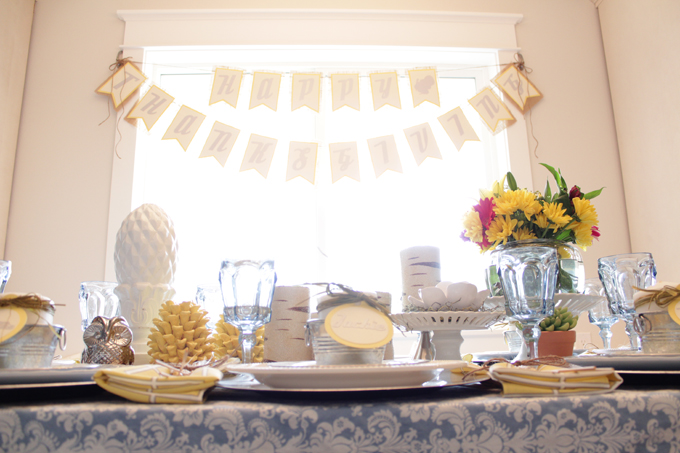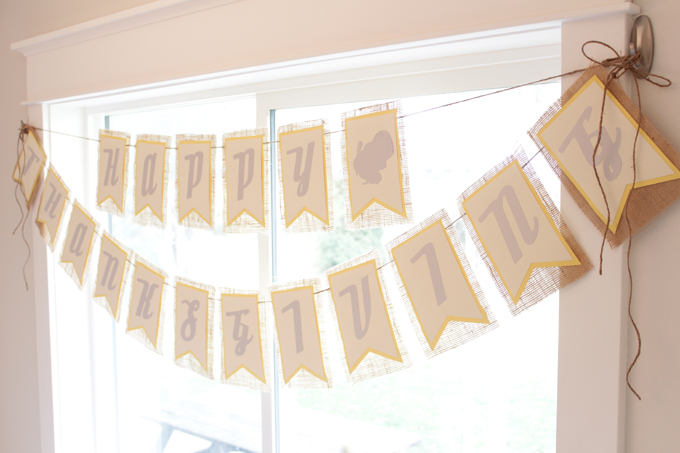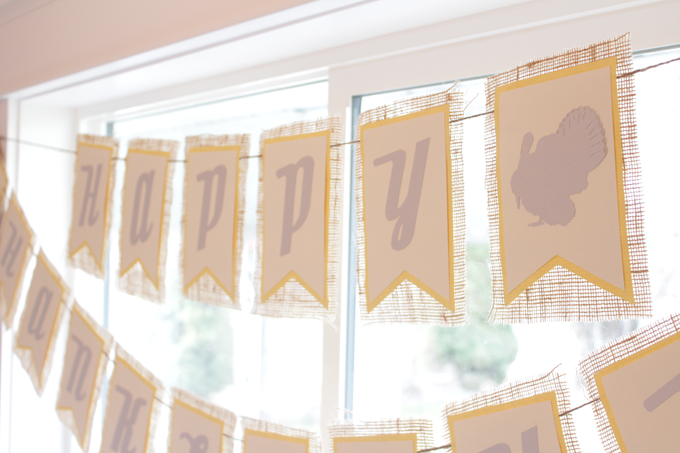 I think Thanksgiving was a success.  More food than we knew what to do with, more family meant more love, a pretty table to eat on, and a fun outdoor scavenger hunt thanks to my cousin.  Was Thanksgiving eventful for you?
Linked up:
Tags