I've had some questions about the pricing of certain things on my command center so I thought I'd just do a cost breakdown for everyone.
I'll start with the letter pockets and magnetic board.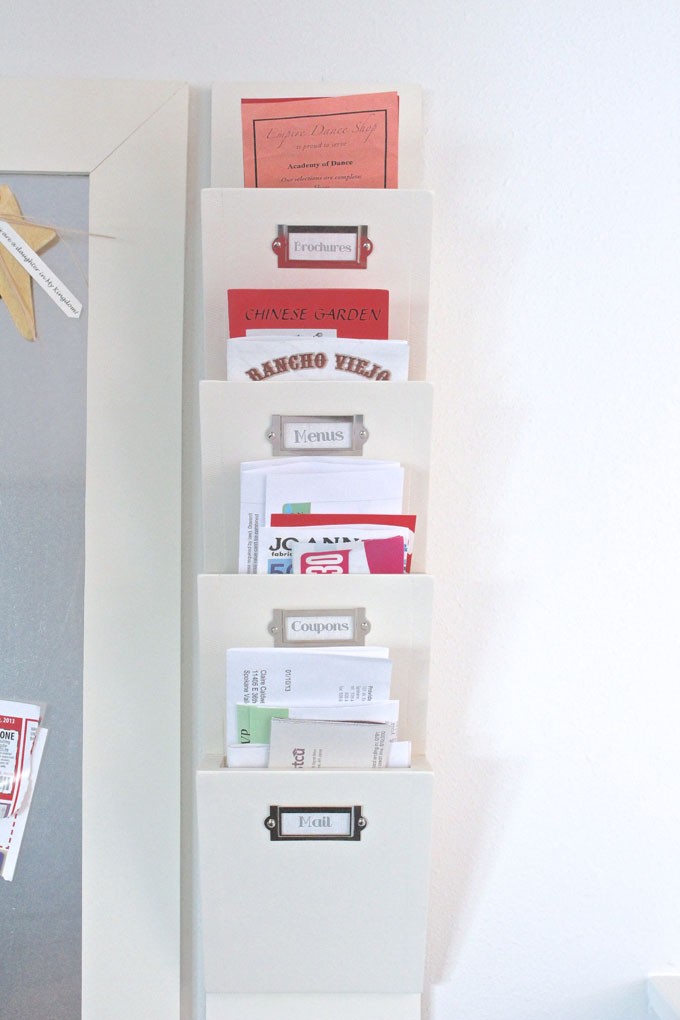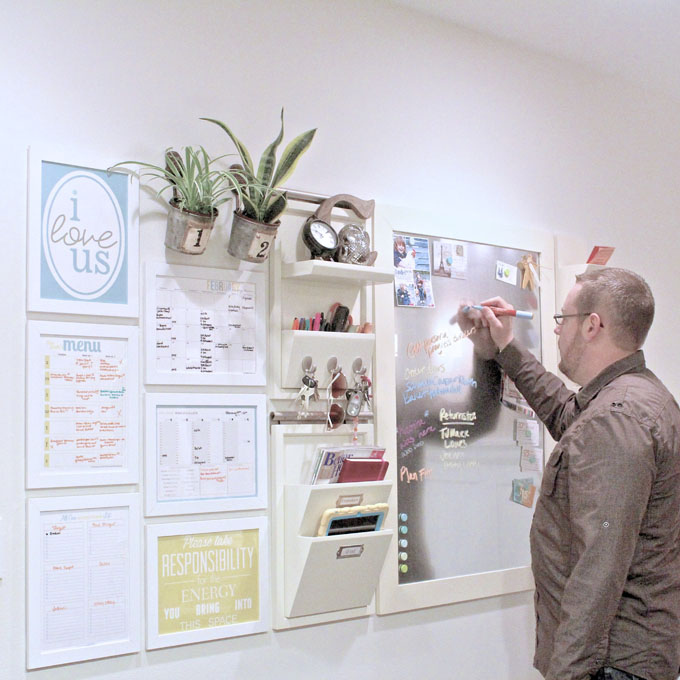 We bought 2 pieces of 1/2 in. mdf to make the pockets and frame of the magnetic board. Cost: $10.17 per board from Home Depot.
One 24 in. x 36 in. piece of sheet metal. Cost $19.97 from Home Depot.
One acrylic sheet. Cost: $23.48 from Home Depot.
One can of white spray paint primer, already owned.  Cost: FREE  (usually about $5)
Two cans of antique white spray paint. $3.98 each from Home Depot.  (I actually wished I had used Ivory, but the match is close enough.)
One package multi size labeling plates. About $1 from Joanns.
One package of 8, black disc magnets. Cost: $2.49 from Home Depot.
Magnets painted 8 different colors of Martha Stewart Acrylic Craft Paint. Cost: On sale $1.49 per bottle from Joanns.
Hardware to assemble and hang both pieces we already owned. Cost: FREE
Both the board and pockets are are hung with sawtooth picture hangers and 3M Command picture hanging strips.
There are sticky plastic nubbins on the back of the magnetic board to push the sheet metal against the acrylic sheet.  We already owned these and for the life of me do not know what they are actually called.  You put them on the bottom of lamps or keyboards usually.  I'm pretty sure you can get them at Fred Meyer or even Home Depot.
Next, I'll move onto the organization station and large letter bin.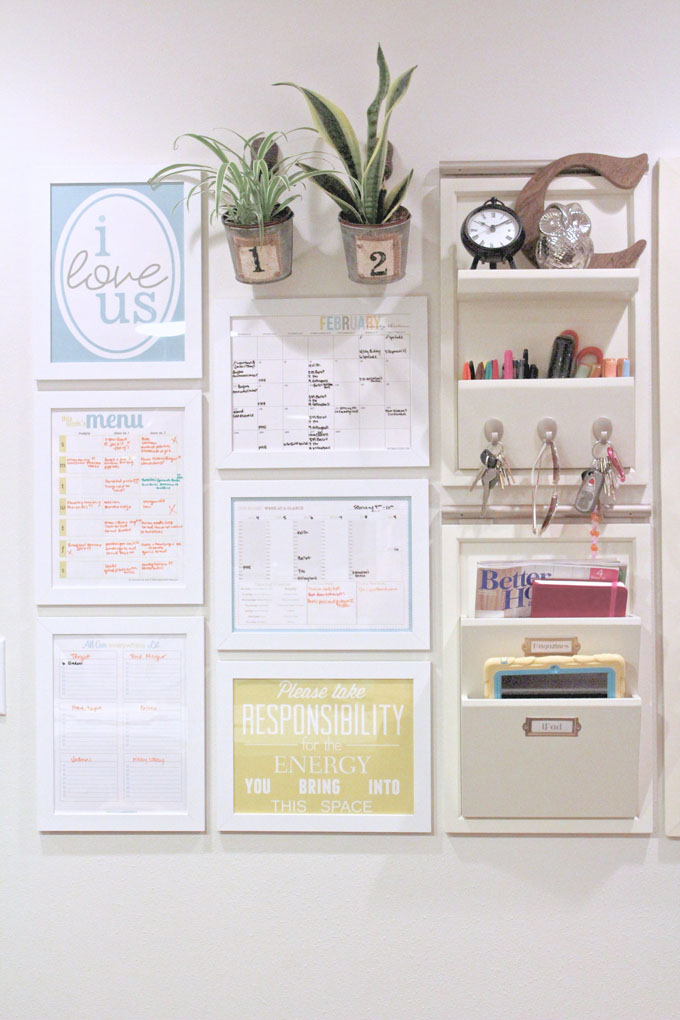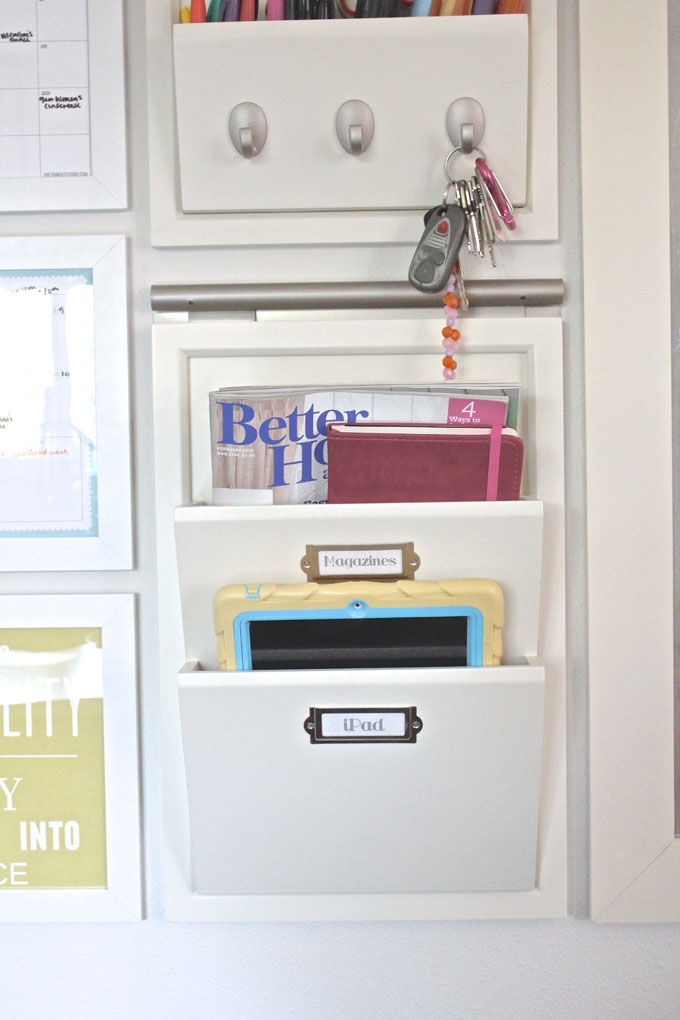 Both of these were purchased from Pottery Barn.  They are part of the Daily System in white. They are $54 a piece plus two 12" top display rods to hang them with that are $12 a piece.  If you have a Pottery Barn Credit Card I recommend waiting until you get a $25 off coupon.  It's well worth the wait since these are SO expensive. 
Random decor. Cost: About $5
Moving on to the final section, the frames and plants.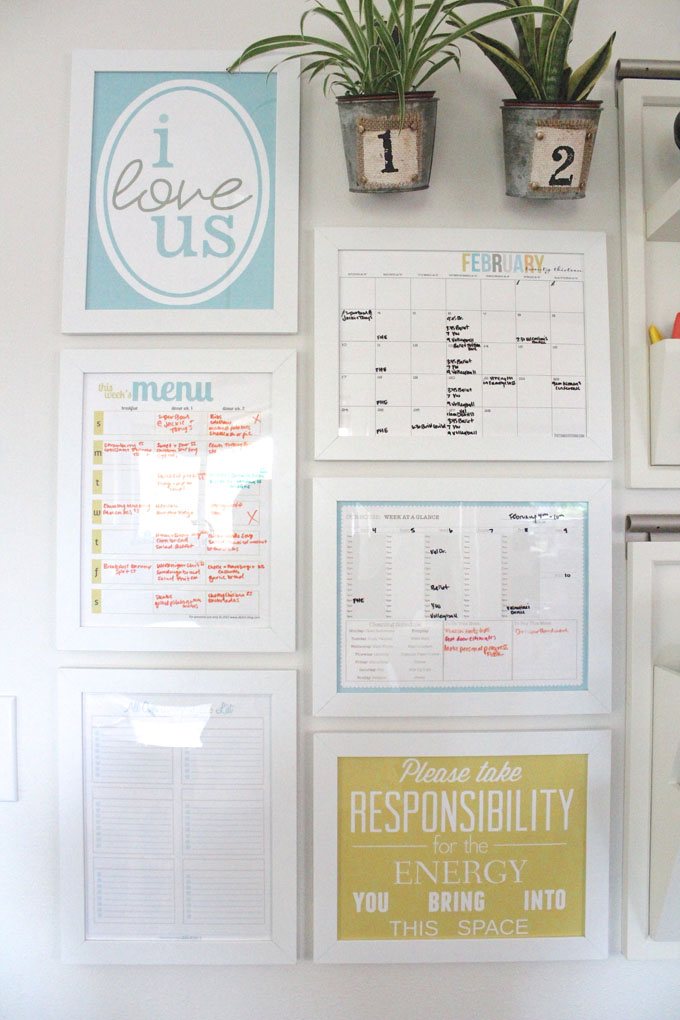 The frames are all Nyttja frames from Ikea.  Cost: $1.99 per frame.
The printables were all free with the exception of one.  It was purchased in an order of 5 printables for $14 from Clean Mama Printables on Etsy, which equals to $2.80 per printable. 
You can find the links to all of the printables on the original Command Center Reveal post.
Potted plants. Cost: $4 each from Yoke's, a local grocery store.
Numbered buckets. Cost: Regular $6.99 per pot, but purchased for only $4.19 with coupons from Joanns.
Two owl hooks. Cost: On sale for $4.79 per hook from Hobby Lobby.
The GRAND TOTAL for our command center is just a hair under $240.
When building our command center we split it up into two sections. For a long time it looked like this.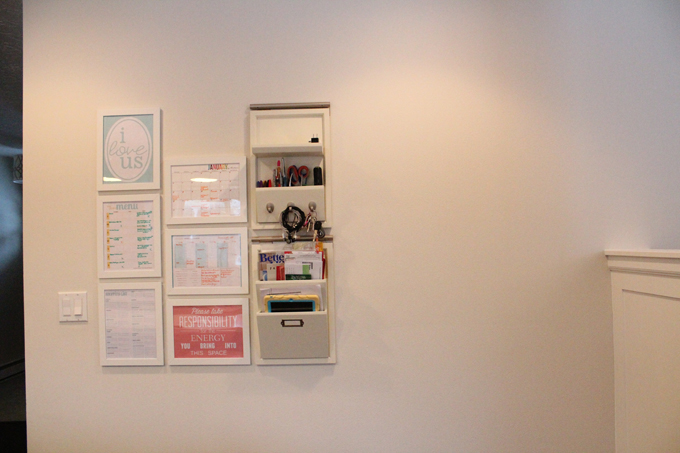 Breaking it up into sections seemed to work best for us, so we weren't forking it out all at once.  It also makes it feel like you are spending less.
And just to remind you of what is looks like now...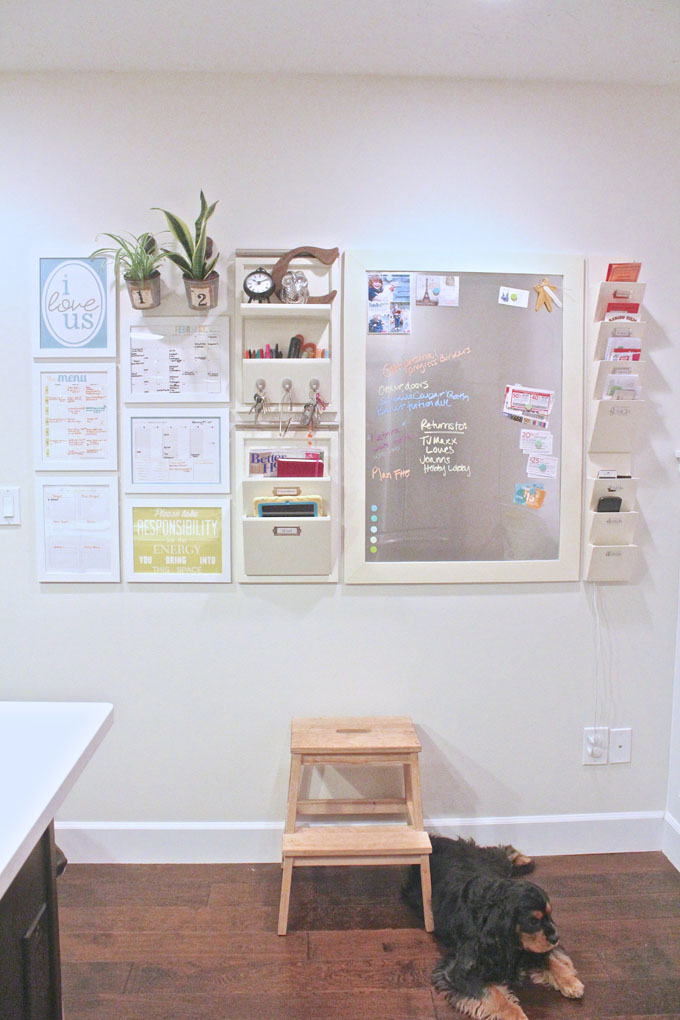 This project for our family was well worth the effort and cost.  It keeps my mind sane...which I would pay 1 MILLION dollars for.
I hope that answers all the questions about cost!
Tags