It's finally here.  The reveal of my family kitchen command center.  I bet you thought is was never going to come! Sometimes life likes to interject, doesn't it?  #lifesfunnythatway
This command center was certainly a "labor" of love.  We built the pockets from scratch and they kind of gave us a run for our money.  Not to mention, I swear, I sabotaged myself several times by shooting nails out of the sides of them.  Sometimes a half inch just isn't enough space ya know?  
But after much toil and (as I mentioned on Twitter and FB) many almost swear words, I finally put the last touches on the command center.  TA DA!!  Or, as my 1 1/2 your old puts it, DA!!  #seriouslythecutest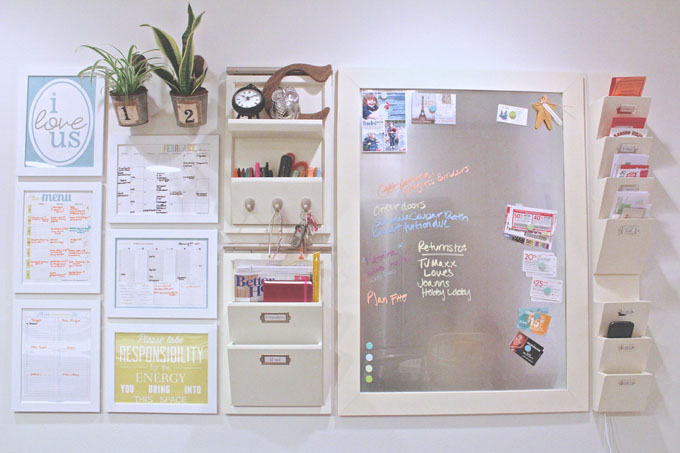 The magnetic board is one of my favorite features.  It's a piece of sheet metal, with a piece of plexi-glass on top of it, all wrapped up in a custom frame.  The sheet metal makes it so the board is magnetic and the plexi-glass makes it easy to write on.  I found some nice earth tone wet chalk markers and they are the coolest things.  They are a little pricey but I think they are worth it.  Everything you write is bold, easy to see, and pretty.  To hold through the plexi glass I bought some heavy duty magnets from my local hardware store and spruced them up with some Martha Stewart Craft Paint.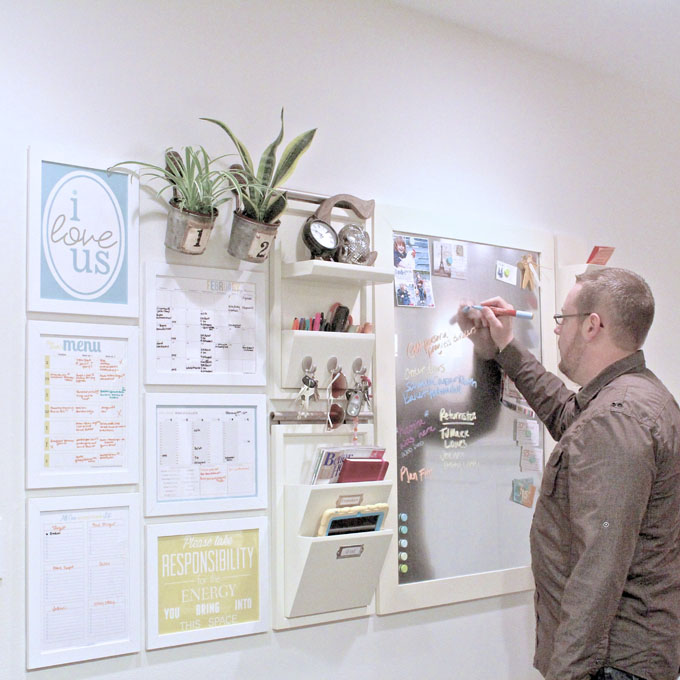 The side pockets were made just wide enough for to go menus, mail, coupons, etc.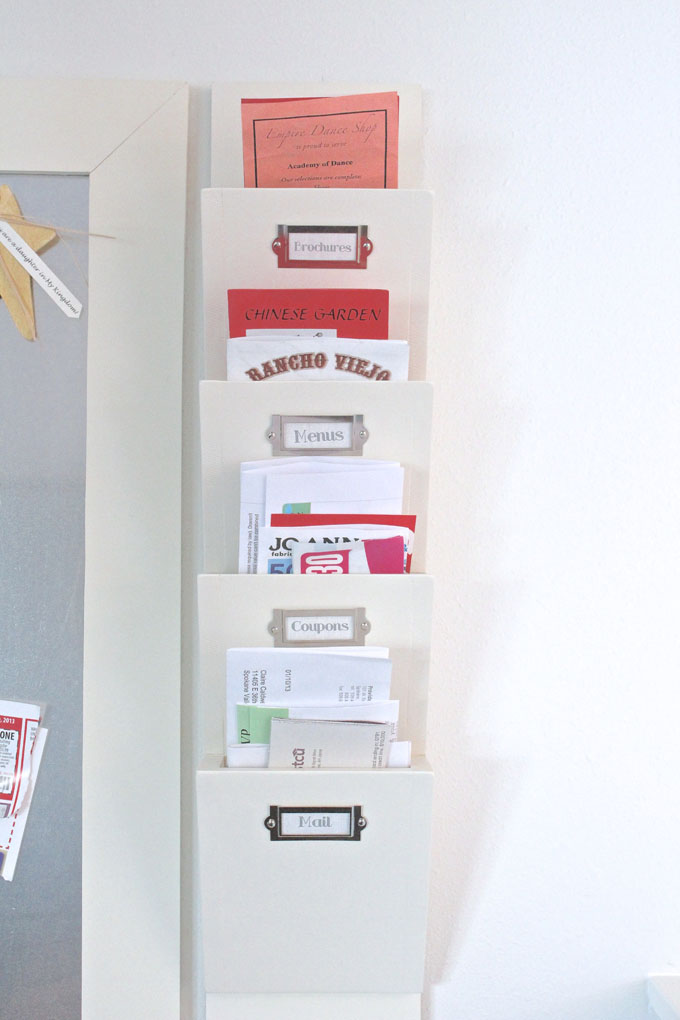 The lower pockets are for our cell phones.  We notched out the bottom and ran the cords through.  Just below the pockets we have this nifty plug that has two usb ports in it.  This eliminates the need for our chargers and keeps the plugs open.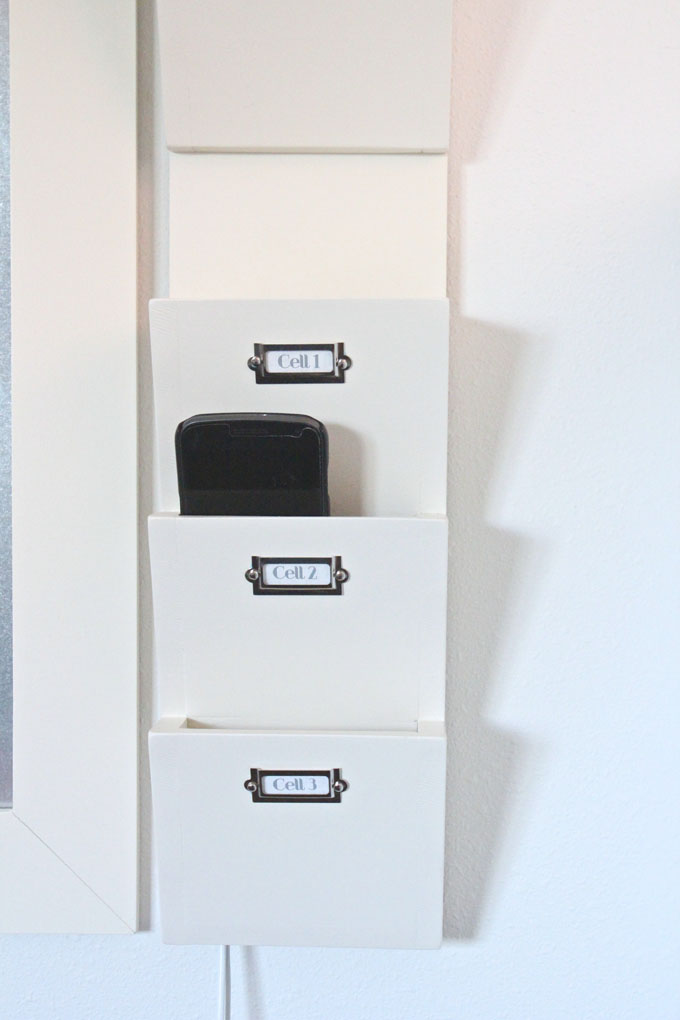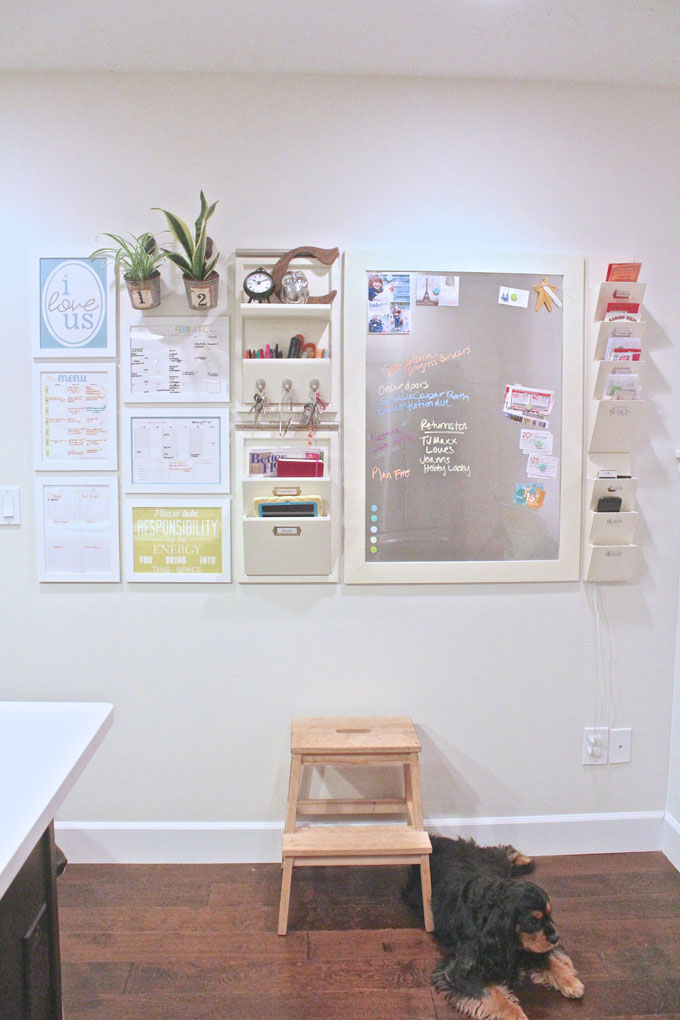 The middle letter bin and office organizer are part of the Daily System from Pottery Barn.  The office organizer is very handy for holding our keys, markers, scissors, and general "stuff".  The letter bin is where I keep all of my magazines and idea journal.  This is also a perfect place for the family iPad.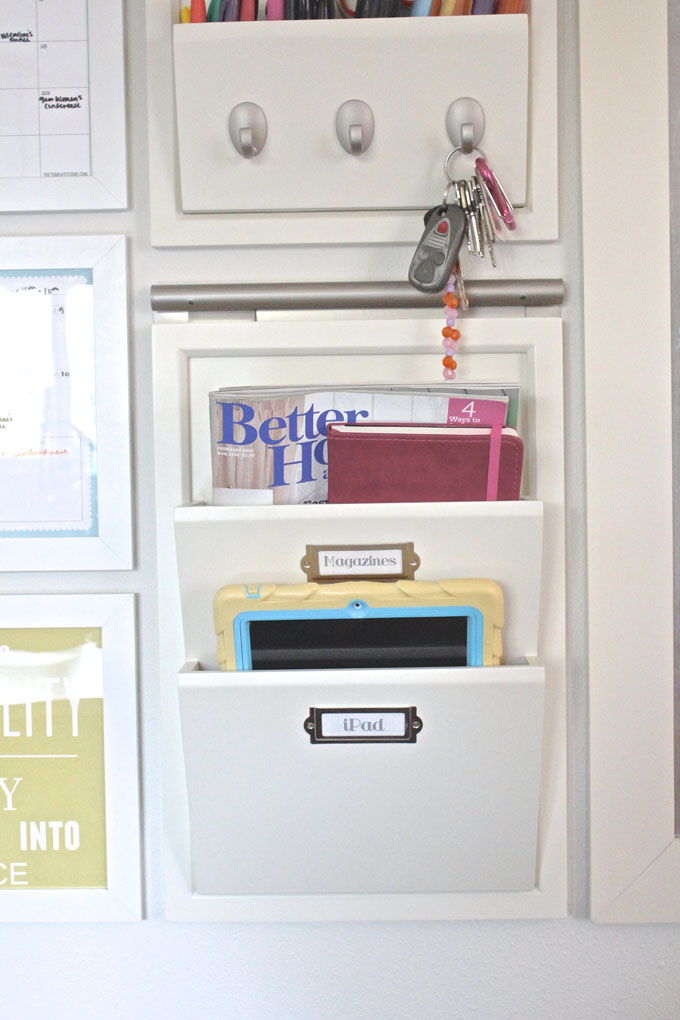 The left side of the command center is all about the printables.  These keep my life from getting "ripped at the seams" (yeah baby, that's a Grease reference.)  I keep a monthly calendar as well as a weekly calendar.  The weekly calendar also has my cleaning schedule, weekly "to buy", and weekly "to do" list.  I edited the Menu list to keep track of two weeks of dinners and eliminated lunch, which is usually just leftovers.  The last sheet is an All Over Everywhere list to keep track of what I need at what store..  (Links to printables at the end.)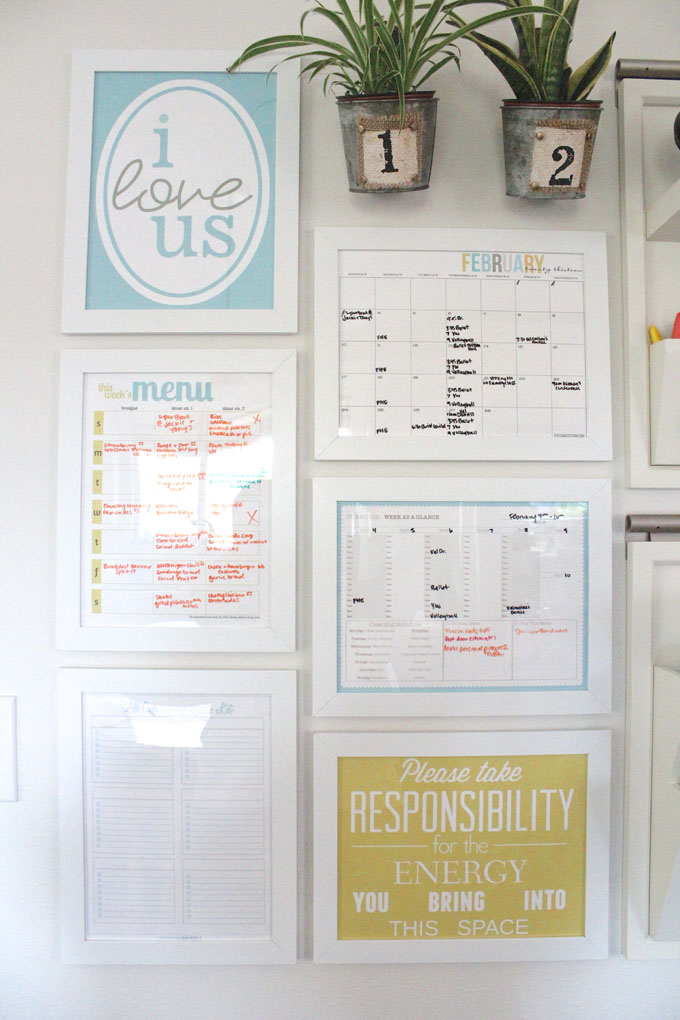 I tend to use C's in my decorating, so it's no surprise I put another one here.  The little silver owl has been room hopping, since being on our Thanksgiving table, and I think he has finally found his home.  The clock (and actually the "C" too) I bought in multiples so I could choose what combination went best on the little shelf.  This little clock was the winner.  It was a steal for only $12 (compared to some other similar, outrageously priced beyond my budget, clocks).
I had a small open area left that needed something.  I originally was thinking about a plaque of some sort.  I decided against it though and went with a little life instead.  Greenery always makes a space more lively to me.  I found the "cute as can be" little pots in the potting section of Joanns.  It was a crazy lucky find.  I really wanted numbers on my pots and these were ready to go.  The owl hooks are from Hobby Lobby.  They only had one of each color and I'm kinda glad.  I really like the little difference in color, but probably wouldn't have done it if they would have had two of one color in stock.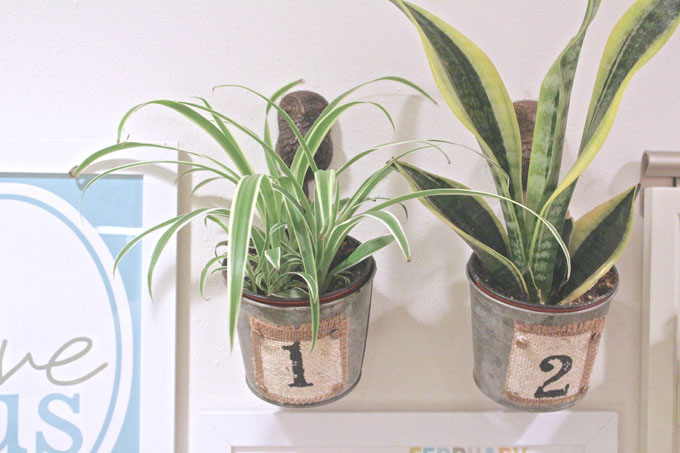 So there you have it.  It only took a year and a day to get this done, but I'm so glad it finally is.  We have already got a ton of great use out of this wall of organization.  And my kids make pretty good accessories to go with it too!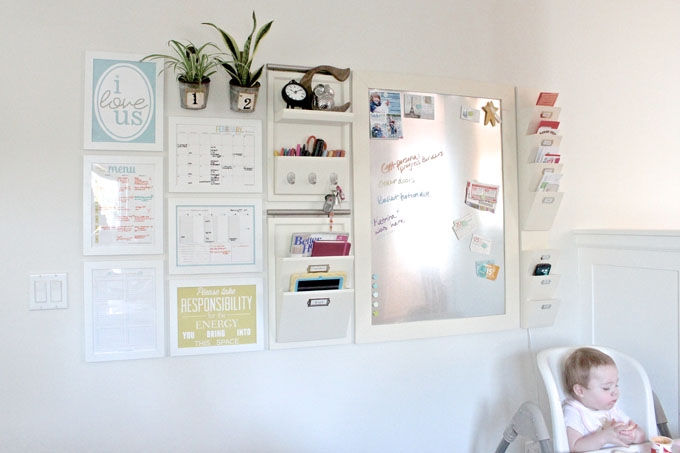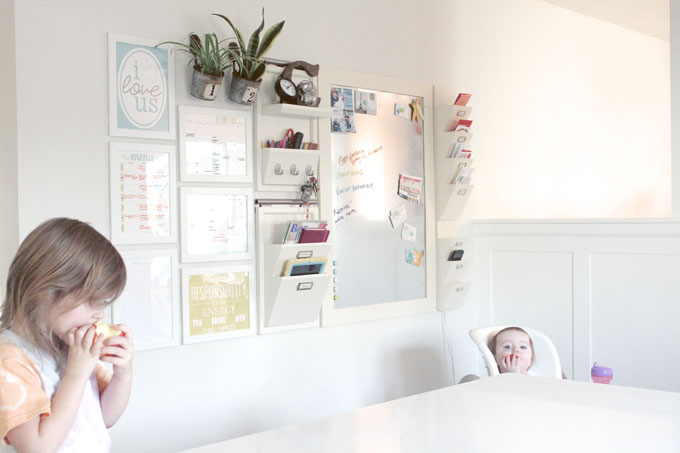 I Love Us Printable by Eighteen 25
All Over Everywhere List by Clean Mama Printables
Monthly Calendar by TomKat Studio
Week At A Glance by Mommy Tracked
Responsible For Energy Printable by Kind Over Matter
This project is entered in the Creating with the Stars Contest!
Also linked with:
Tags