My little one is notorious for ripping off whatever bib I put on her.  Which, of course, results in dirty clothes that can be rather hard to clean.  
In my efforts to keep her clothes covered I bought the nice big plastic-y kind of bibs.  Without fail they always got ripped off.  What is it about bibs that make kids want to rip them off?
I saw at a baby shower once, the bibs made out of dish cloths.  Pretty ingenious, but I kind of wanted something just a little cuter.
In my quest to find just the right bib for my little one, I found the "Bapron"!  Funny name, wonderful bib!  Well, it's a bib/apron, hence the name "Bapron".  It has arm holes and a tie around the neck so little ones can't rip it off (or at least would find it very difficult to do so).
You can buy the pattern/tutorial (she even gives the option to purchase a license to sell) for the "Bapron" at Craftiness is not Optional.
I wanted to make mine with a little flare so I decided to add some appliques.
Disclaimer:  This is not the full "Bapron" tutorial.  Only the additions and modifications done by me.
If you want to applique something on your bib you'll need these items beyond the original tutorial:
Heat n' Bond
Fabric for applique
Matching thread
To applique something on your bib you will need to do that before you connect the front and back of the bib together.
I attached my applique with Heat n'Bond and then sewed around the edges to make sure it would stay put, especially since bibs will see a lot of wear and tear. Once your applique is attached and your two front and back pieces are put together it will look something like this.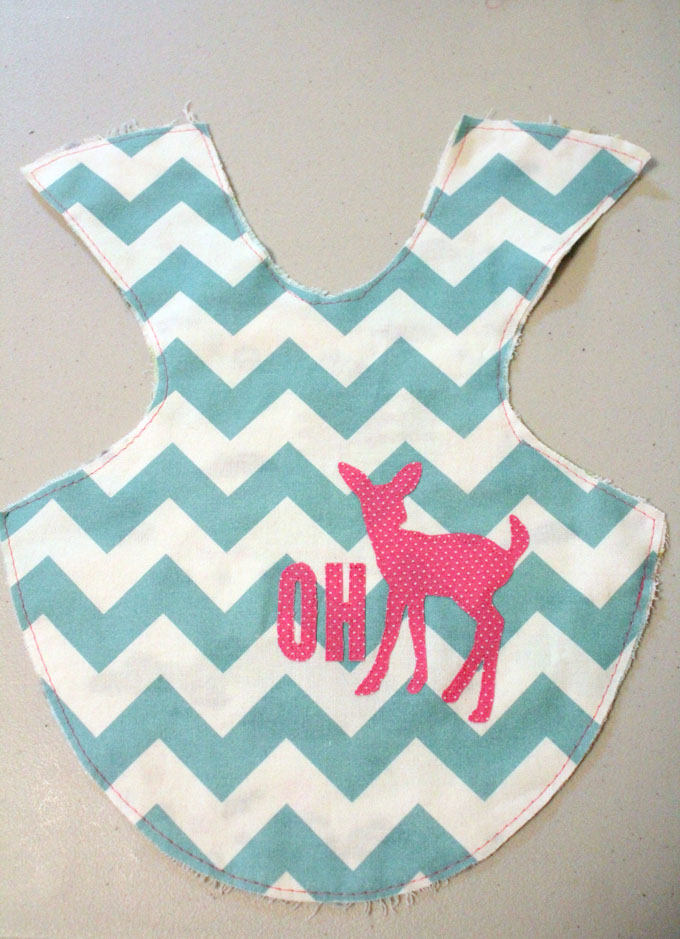 My second alteration was on the bias tape. After making my first bib 100% by the original tutorial I felt that two pieces of bias tape were a little too short. So, I lengthened the tape that creates the armholes and the one for the neck tie. (This is the method I use for making bias tape.)
The bias tape for the armholes, (shown unattached below) I added an extra inch to make 33" (which could have even maybe had another inch for wiggle room).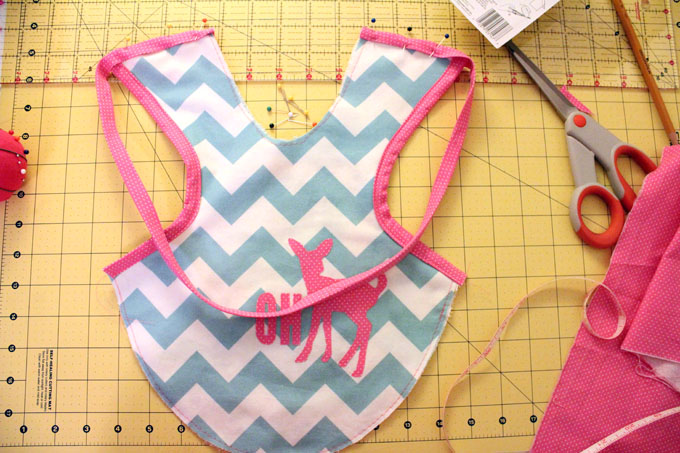 I also added about an extra 4 inches to make 42" on the tie for the neck, which would be the bias tape in the final step of the original tutorial.
And there you have it!  Super cute, super functional bibs!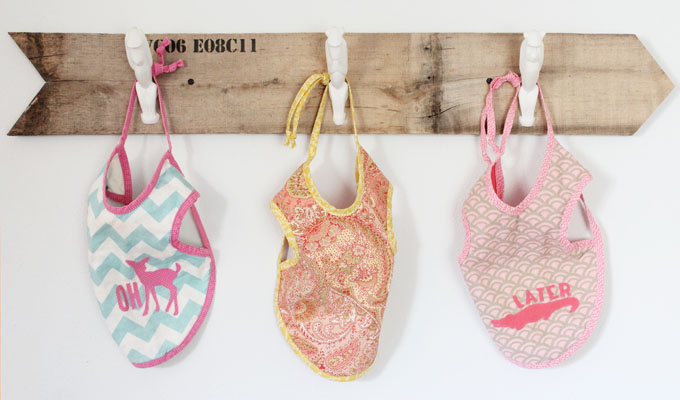 Another great thing about these bibs? They're reversible!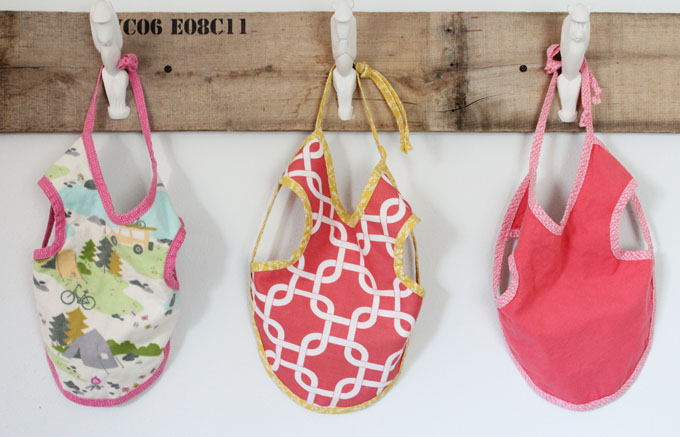 Here are some shots of the bibs I appliqued.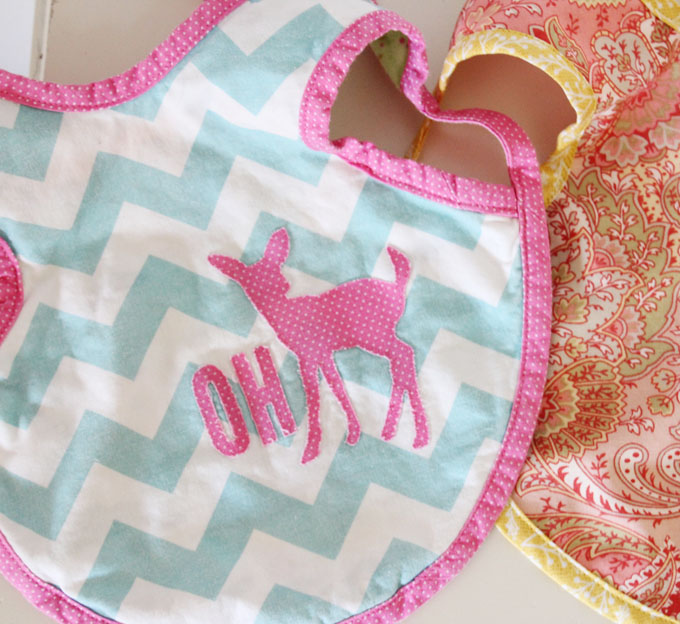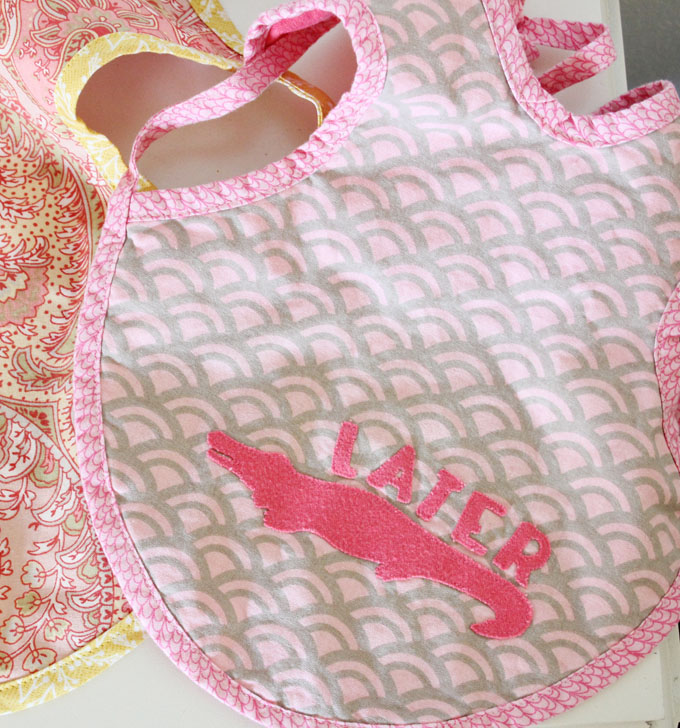 And here's the very talented model.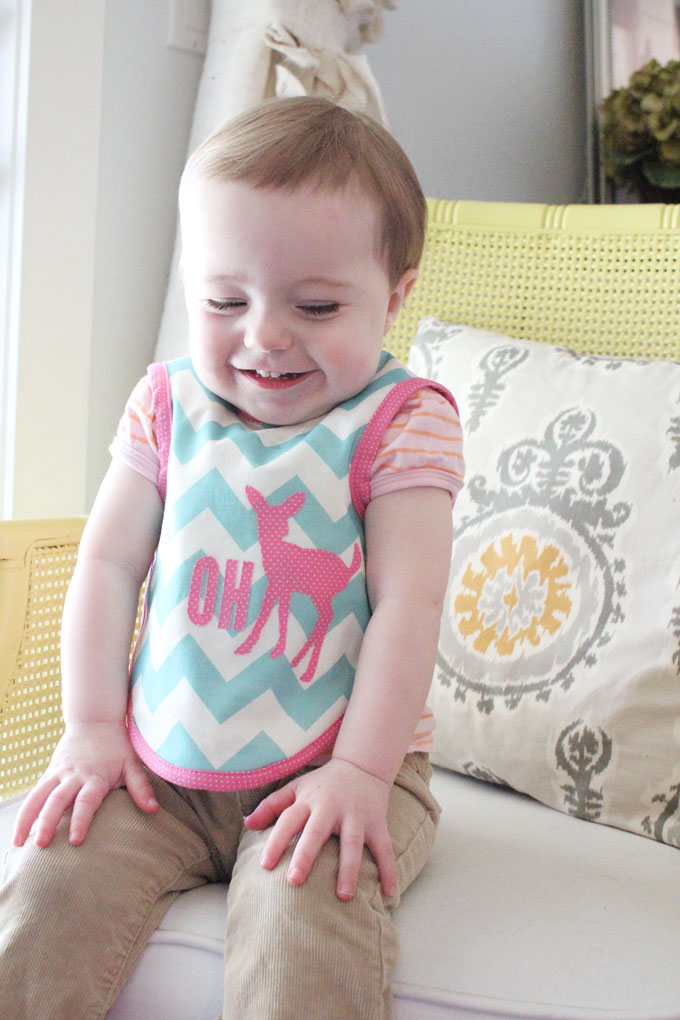 So adorbs, non?!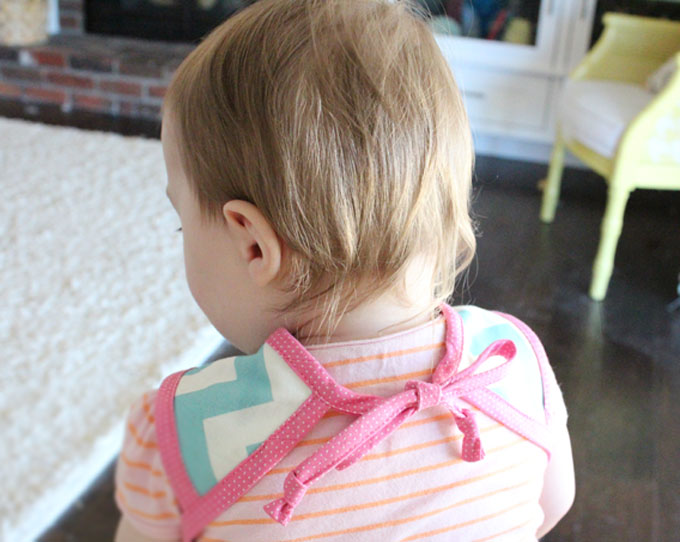 This bib is meant for a baby or smaller kid but can be worn for a long time.  I even tried it on my 4 year old, and even though the fit was tight...it still fit.  
I have a feeling three isn't going to be enough.  They are pretty easy to make and whip together pretty fast.  If you used store bought bias tape and didn't do any applique, I bet this could be made in half an hour.
DISCLAIMER:
The "Bapron" pattern used in this post is not of my own design.  The tutorial is not the original "Bapron" tutorial. All images, words, fabric choices, and/or modifications of the pattern are original to me. To purchase the "Bapron" pattern and tutorial please visit the Craftiness Is Not Optional Etsy store here.
At the time I acquired this pattern and at the original date of this post, the "Bapron" pattern and tutorial were free to the public.
Linked With:
Tags