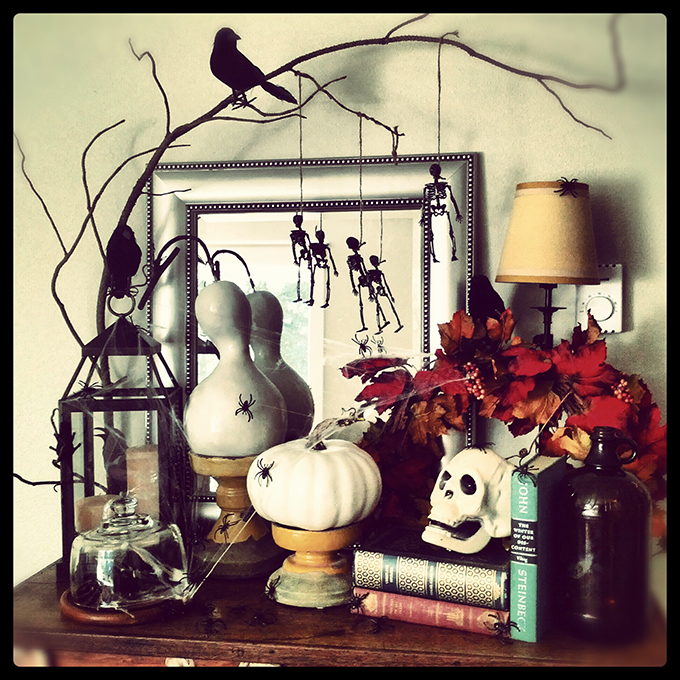 I've decided than I'm titling my display: Escape of the Baby Tarantulas!  It's too bad you can't see it in person.  I can't seem to quite capture the horrificness of it all.  For less than $10 we created ourselves a mini horrorscape.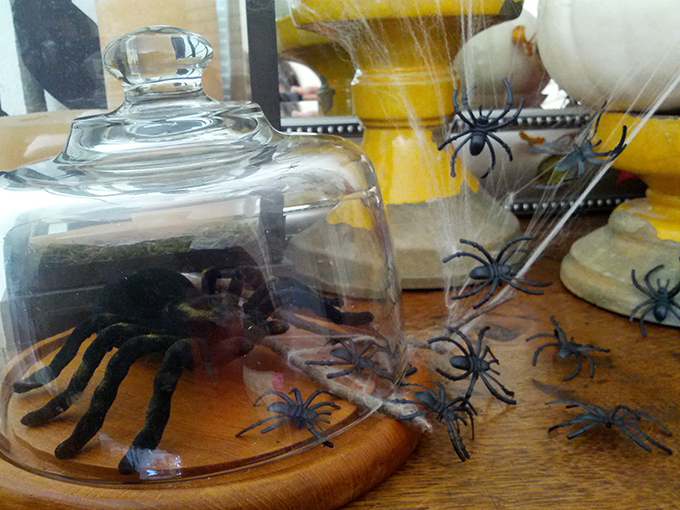 The Dollar Tree played an integral part in this weeks post.  All of our goulies and beasties (except one) came from their store, so a BIG thanks to them!  I was so excited when I walked in a saw their black crows.  I had been looking for some but everywhere else was just too expensive.  The giant tarantula was also an exciting find.  The "baby tarantulas" are just spider rings with the ring part cut off.  The skull is fine for now but I think it's going to get a little sprucing up as well.  It looks a little too plasticy to me.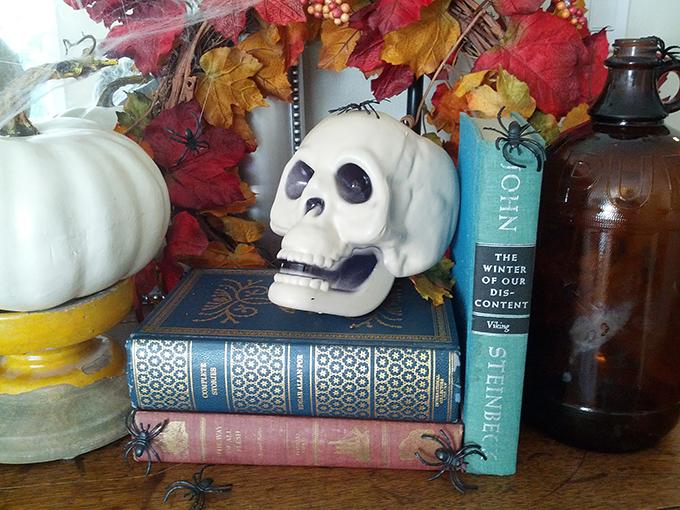 Everything else I already had with the exception of the cheese cloth and tea to die it with.  I died the cheesecloth because I didn't think it looked aged enough, then chopped it up a little to give it that mummy look.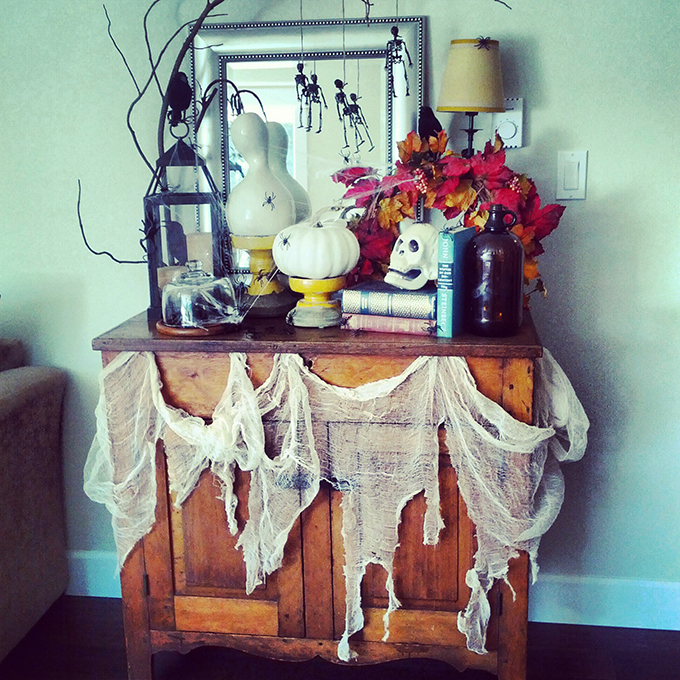 The books are one of my favorite touches.  I scoured my collection and came up with three that were fitting for the current season.  The Complete Stories of Edgar Allan Poe, The Way of All Flesh, and The Winter of our Discontent.  I must admit I don't know the latter two books but I liked the titles none the less. (They are probably classics and I'm totally showing my ignorance!) The pumpkin and gourd were two purchases I made a long long time ago and they needed some life, so they got a shiny new coat of paint (which I also had on hand).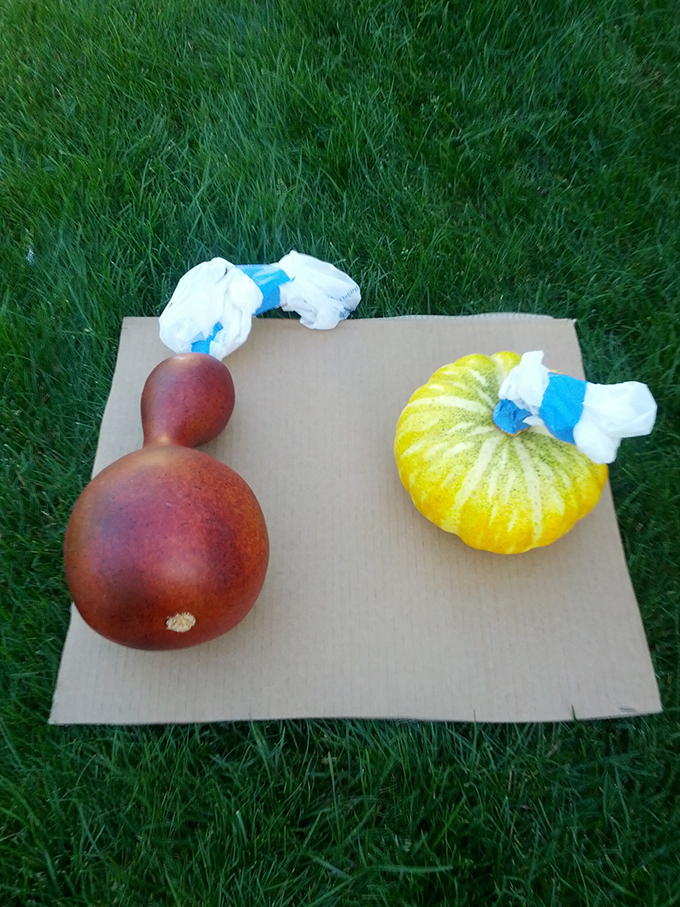 The wreath and spider web were more of my on hand decor and I recently got a few old bleach bottles from a yard sale and thought one of those would  just go perfect to hold up my books. I got the tree branch from an old tree in our yard and it just happened to have to perfect bow in it and looks rather ominous don't you think? Lastly I cut out a crow silhouette to put into the back of my lantern. The lanter felt a little out of place without a beastie so I gave it just a little touch of one. The rest of the decor is what I normally have there.  However, I think an antiqued mirror instead would look fantastic.  Maybe another DIY project? So there you have it.  Our super cheap, haunting Halloween, display.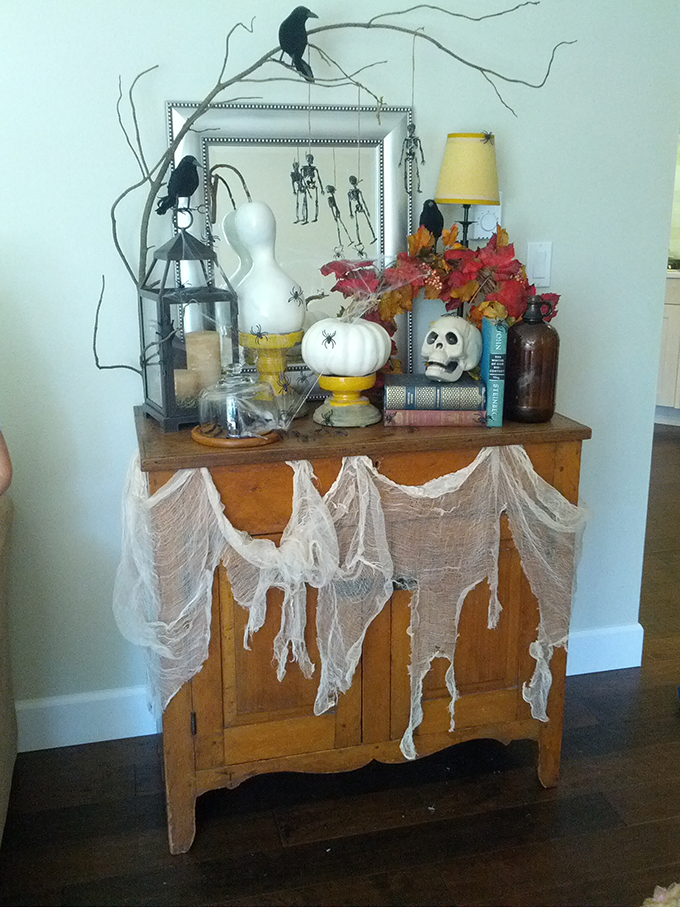 Tags