For some reason this year I had a hard stinkin' time getting myself to decorate.  Maybe I'm too focused on remodeling our house to think about decoration, but in any case we finally got some Christmas up in this hizzy (too gangsta?).  
The tree has been lit and the stockings are hung.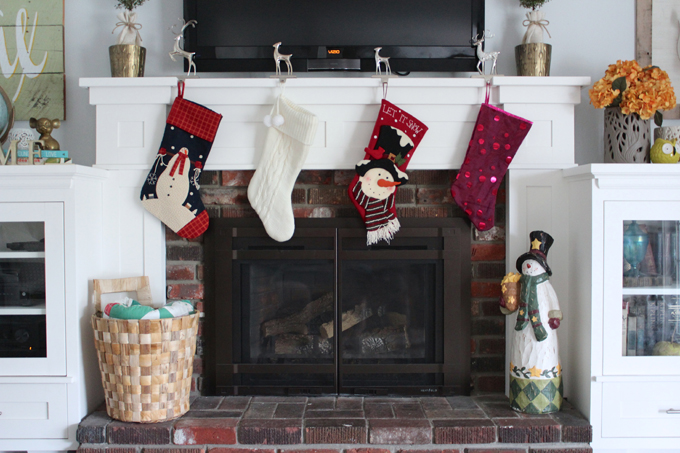 This year we cracked down and bought a tree imposter.  I always said to myself that it would never happen but alas, the ease of a fake tree was calling my name.  
Our tree came from Costco, which is one of our favorite stores (even if it's usually a danger to the wallet when we go).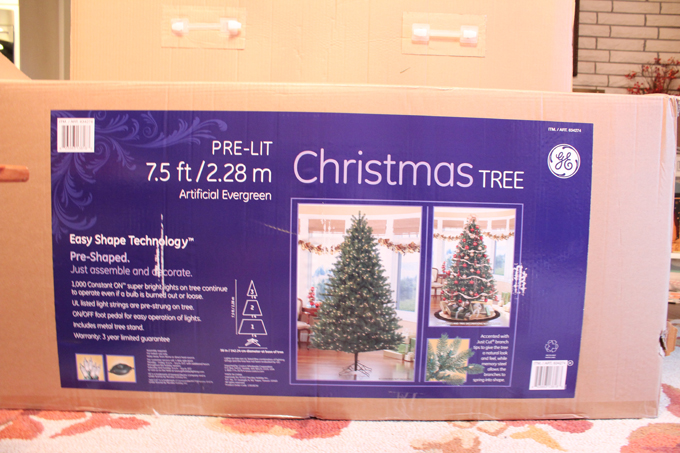 The day after we bought the tree I heard from some friends how bad pre-lit trees are.  They both had bad experiences with strings of lights going out.  I'm holding out hope for this one since it says it has "constant on" lights.  If one light goes out, or is loose, it's not supposed to affect the the rest of the lights, fingers crossed.
I remember my moms fake tree took a bit of time to assemble.  You had to insert each color coded branch on each layer and then spread out all the little branches.  Pretty time consuming if you ask me.  That memory makes me like this tree even more.  It is literally the easiest tree to assemble.
These are all the pieces.  Four total...count 'em, four.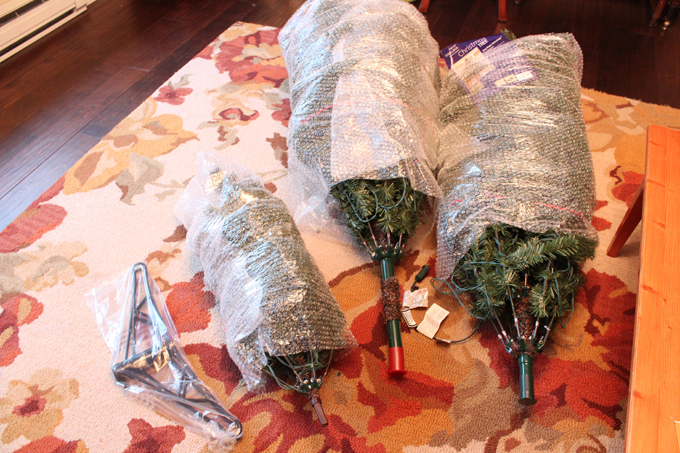 All you have to do is insert each bunch of branches and fluff out.  The branches are all pre-shaped so you just pull them down.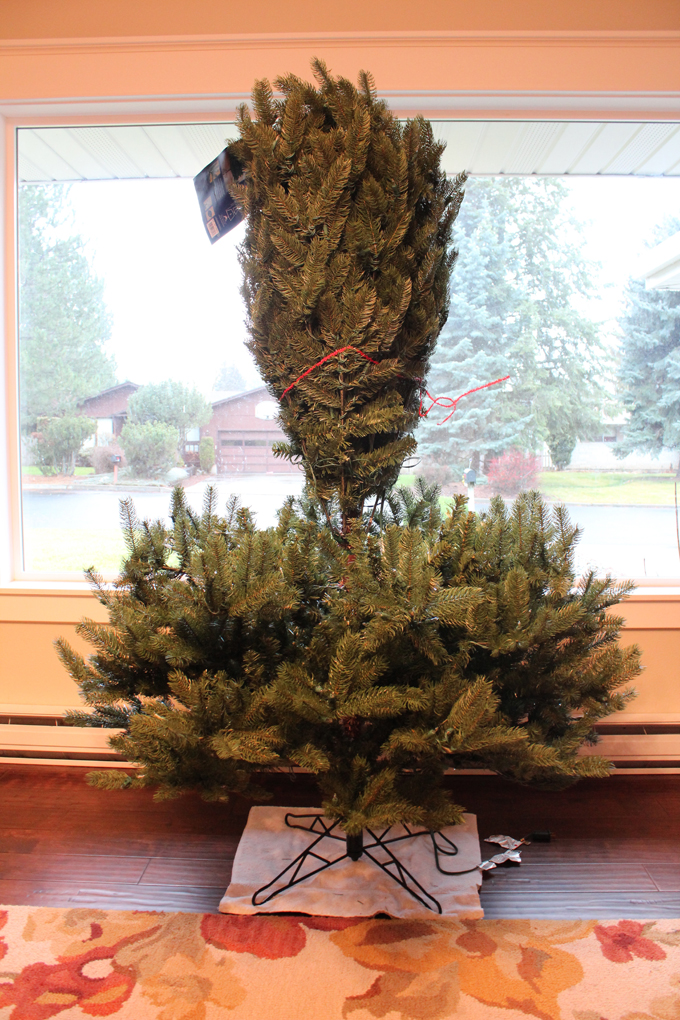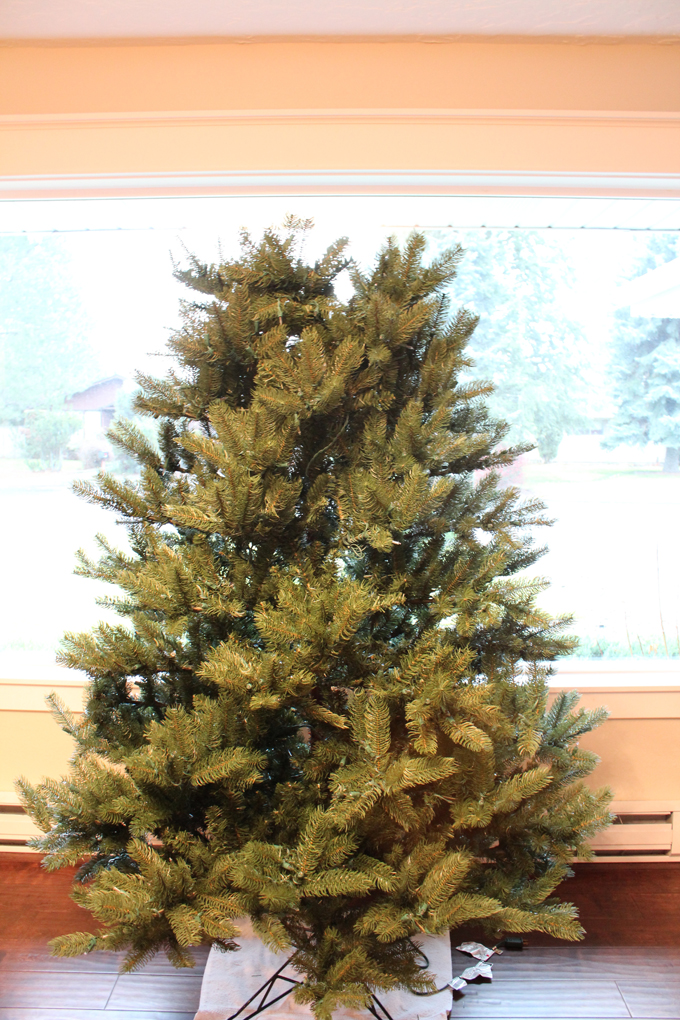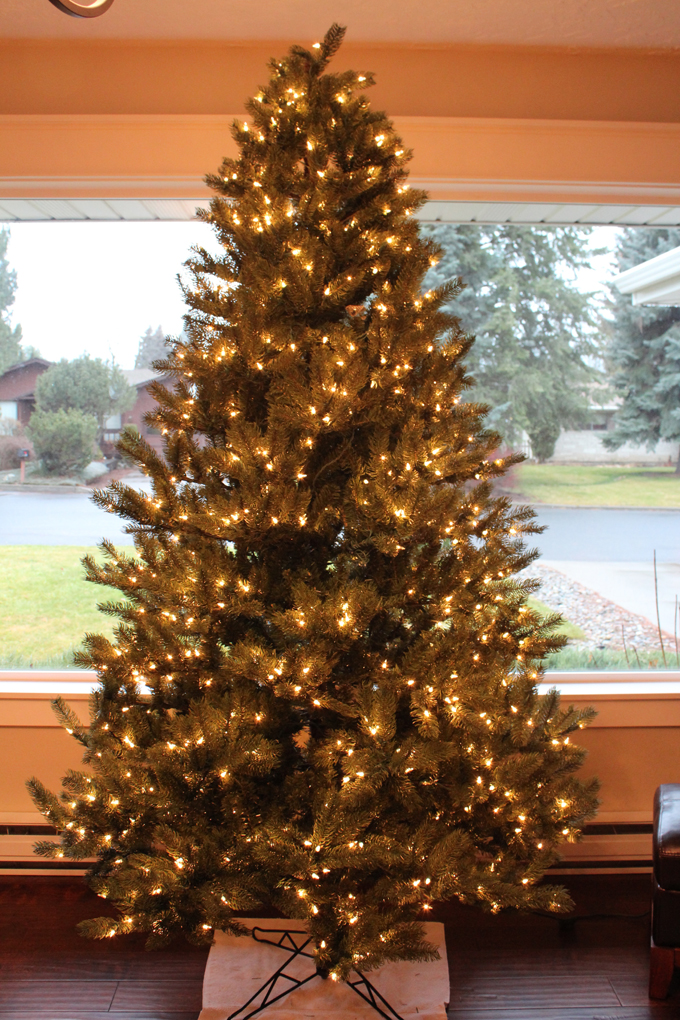 Seriously, it's that easy.
There is even a handy dandy foot pedal to turn the lights on and off.  I think what I miss the most is the smell of a fresh tree (my husband says I should go and get an evergreen air freshener and I should be fine, lol).
After we assembled the tree we got to decorating!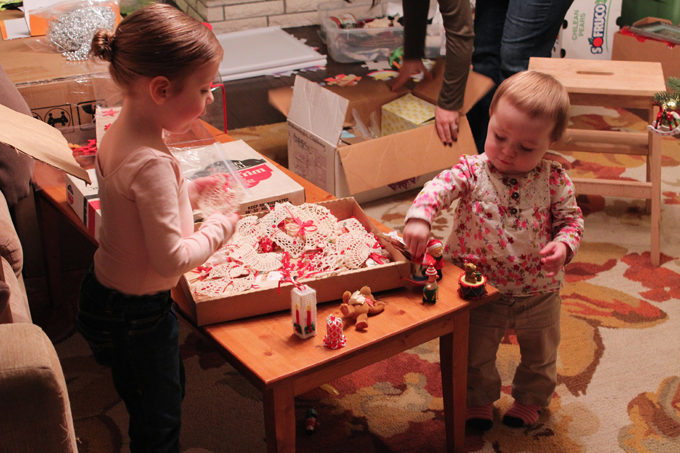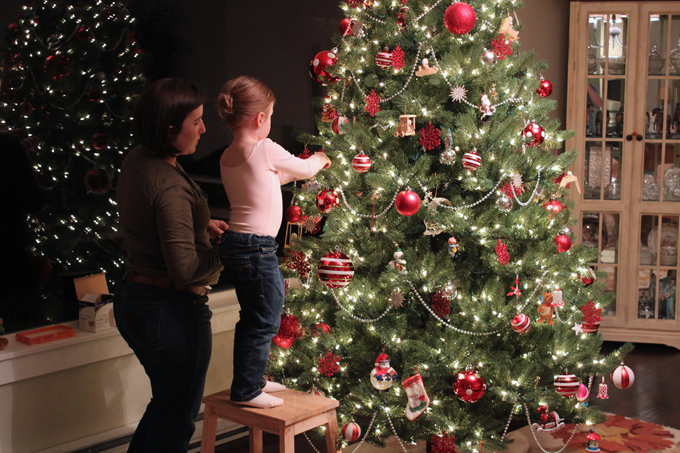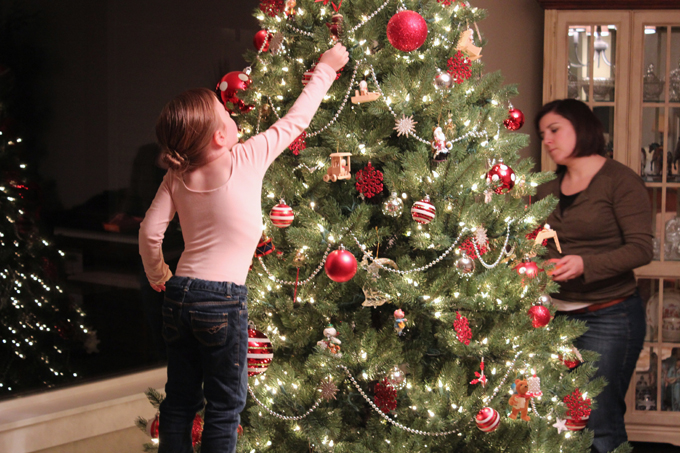 I have yet to do a designer tree.  Our ornaments are mostly red and white so the tree kind of always turns out that way, but our ornaments are all a mish mash of what my husband and I had when we got married plus a few others we've bought since we got married.  We always buy one ornament a year that we particularly like (our oldest daughters favorite is a snowman that sings).
The Christmas tree is my favorite decoration.  It's so beautiful at night, I could sit and stare at it forever.  Now that it's up, the family seems to gravitate to that room a little more now.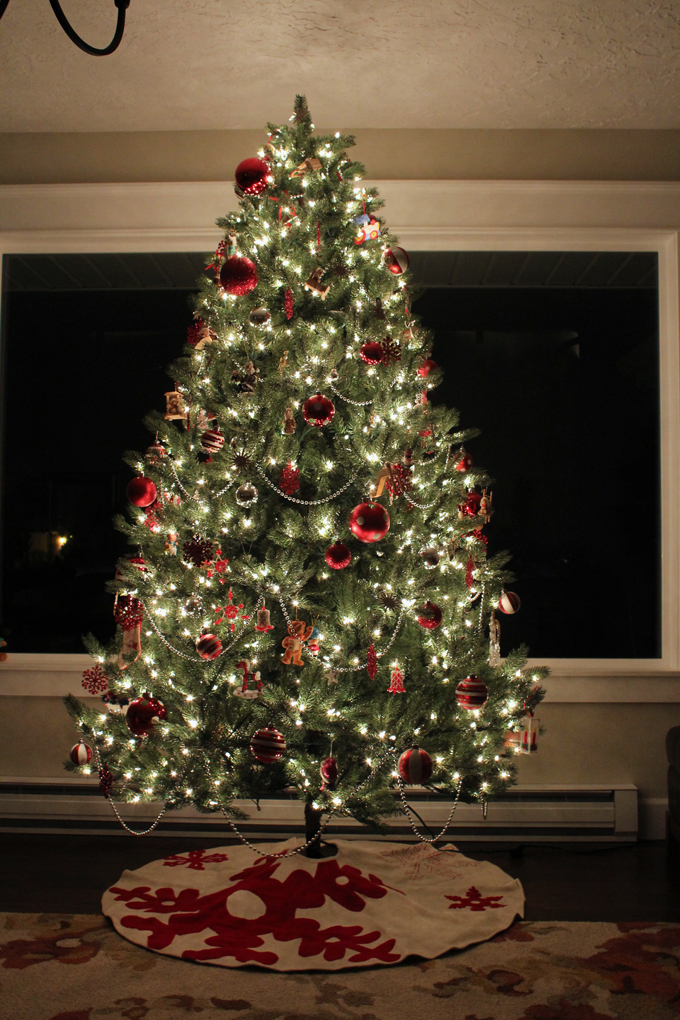 Did you notice the lack of a tree topper?  I may have broken it in my excitement to get the tree done.  So, now I'm in the search for a new topper.
Notice the little bear in the corner of the window?  My daughter got it as a present from her ballet class and she insisted that he be in the picture.  I have to admit, I kind of like him.  He looks like he's just kicking back and enjoying the tree.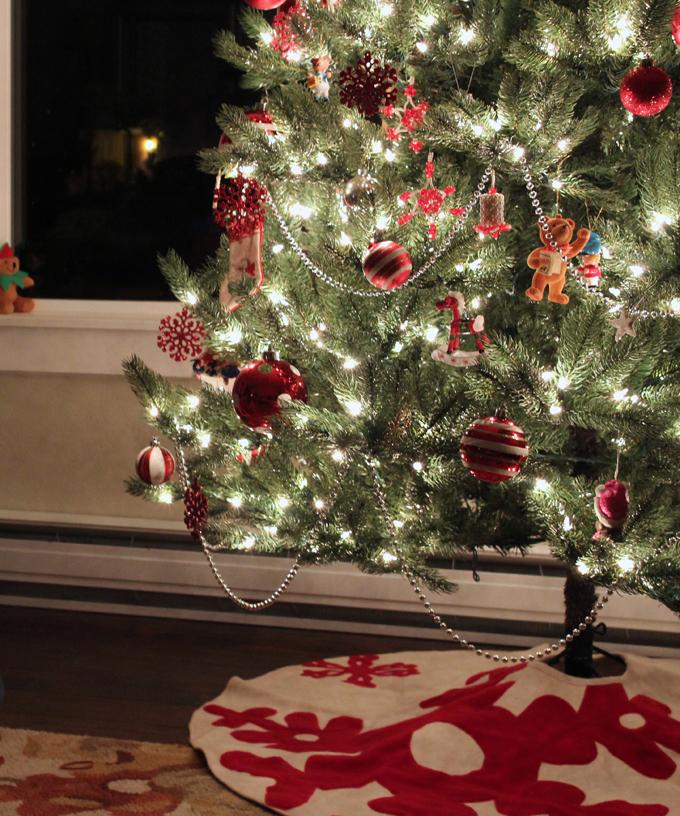 Then she thought the tree looked a little bare down below and decided to put a present under it.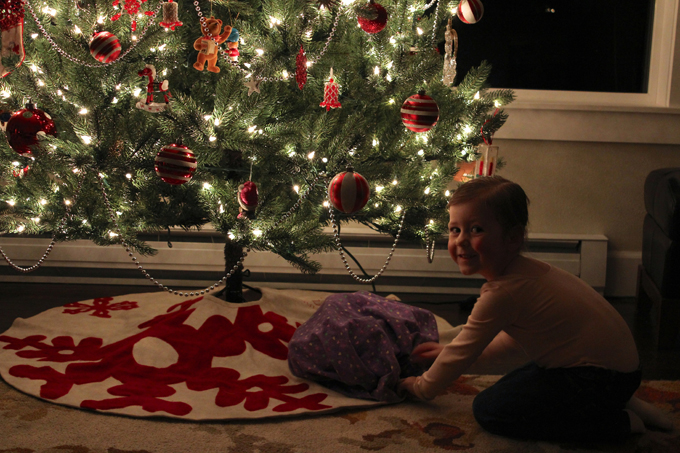 We have to hold off on putting all the real presents underneath since our little one would love to have a present party before Christmas actually arrives (yep, we learned that one from experience with our first child).
Tags