Mason jars are big right now!  There are so many things you can do with these little beauties, the list is endless.  Wedding and home decor, picnic mugs, and light fixtures are just a few of the things you can do. Thanks to the addictive nature of Pinterest (blast you wonderful website!) I decided to paint some mason jars.  It was my daughters first birthday, which also happens to coincide with Cinco de Mayo, so we went with...yep you guessed it, a fiesta theme. Too predictable?  Well it was worth it.  Who doesn't want to hit a pinata, dress up like little muchachos, and eat tacos? So one of the decorations for the party was colorful painted mason jars. This was such an easy project and would be fun as a craft to do with your kids. All you need is some jars, glass paint, and a foam brush.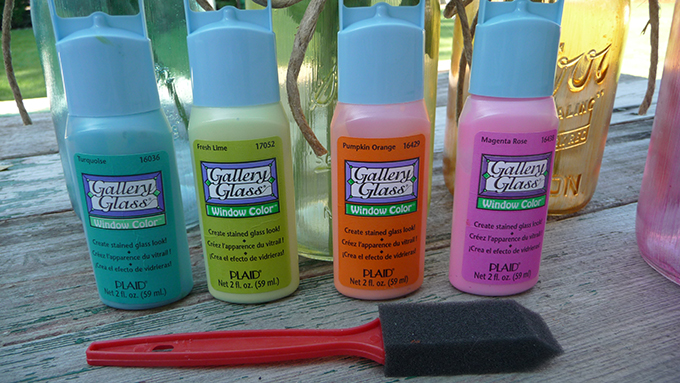 There are lots of different kinds of glass paint you can use.  This is the one I happened to find at my local craft store and I loved the way it turned out. Some paints I've heard you have to bake or apply differently so make sure you follow the directions of the paint you buy. If you are using a paint like mine then this is how I did it. All you need to do is put some of the glass paint on a paper plate and use your brush to wipe it on the jar from the bottom to the top. You'll want to make sure that your brush strokes are long and straight since you'll be able to see some lines in the paint from the brush (I really liked the effect the strokes gave on the glass).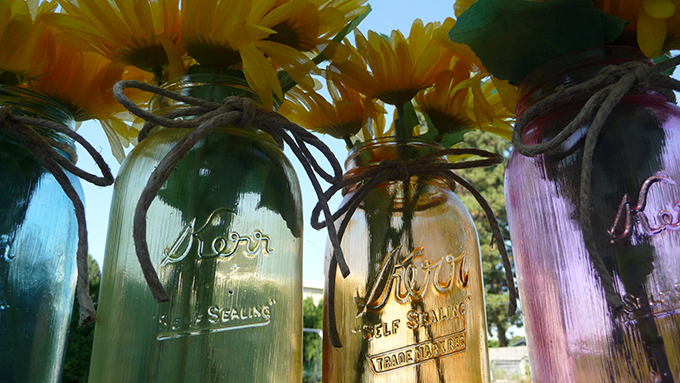 When you get to the top take your brush tip and smooth out around the threads. Let that coat dry for at least a half an hour then repeat the process again.  Most colors I've found that two coats were sufficient but green seemed to need more coats to come out the true green and not yellow. When you are done painting you can decorate to your hearts desire.  Since we were going for a very colorful party theme we used some bright yellow silk flowers and twine to rustic it up a bit.
They were great centerpieces for all of our tables and have now been adopted into our home decor.  They make fantastic vases for fresh flowers too.  You can keep your flowers colorful for a bright display or switch it up to white for a more sophisticated look.  All in all this was a great easy project that was fun to do. What else can you do for a fiesta themed party?  Oh so much.
Linked With:
Tags