The bathroom remodel it still in paint mode, so today I'm going to discuss my experience with refinishing our bathtub.
When we decided that we wanted to remodel our bathroom, but on a very tight budget, it meant we could not replace our tub, which would have meant replacing all of our tile as well.  So I found a product to refinish the tub instead.  
Originally the product I found online was Rustoleum's Tub and Tile Refinishing Kit (which has great reviews) but they did not carry it anywhere local in stock.  We wanted to start our tub next day, so we picked up whatever our local hardware store had.  That product was Homax Tub and Sink Refinishing Kit. (which I found out later only has mediocre reviews).
While at the store there were two options for this product, a spray on or a paint on.  I figured that the spray would give the best finish, so that's what we went with, even though it was a bit more expensive.  We bought two boxes knowing that we were doing the bathtub and the tile around the tub. (One box is supposed to be enough to cover one standard bathtub.)
My experience with the spray is not a very good one.  
First off let's reminisce what our bathtub looked like before.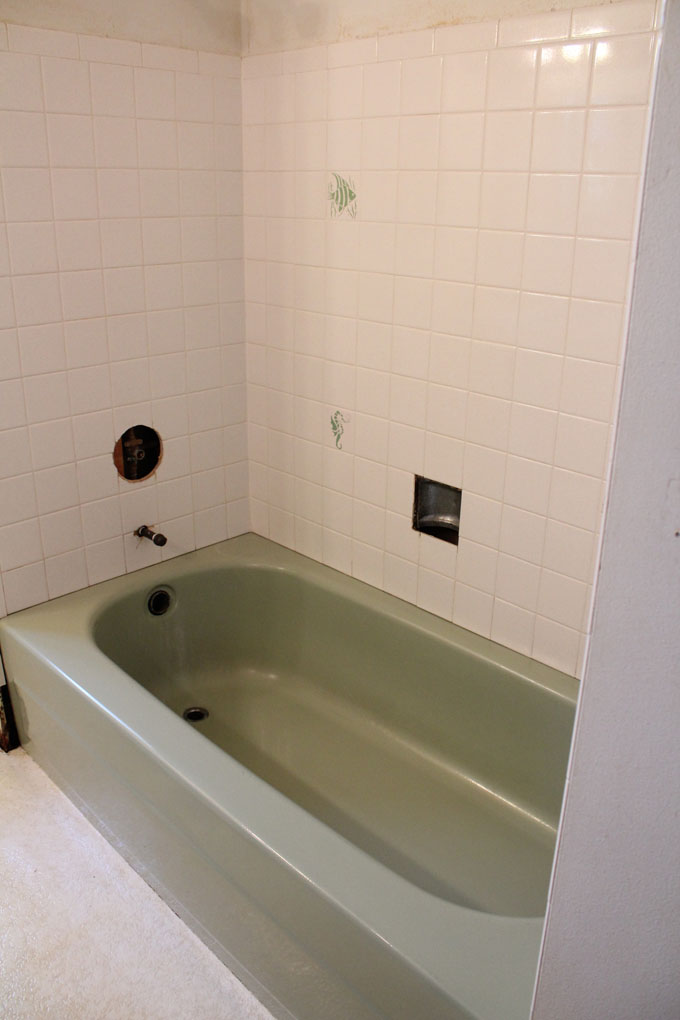 And the tiles were covered in this...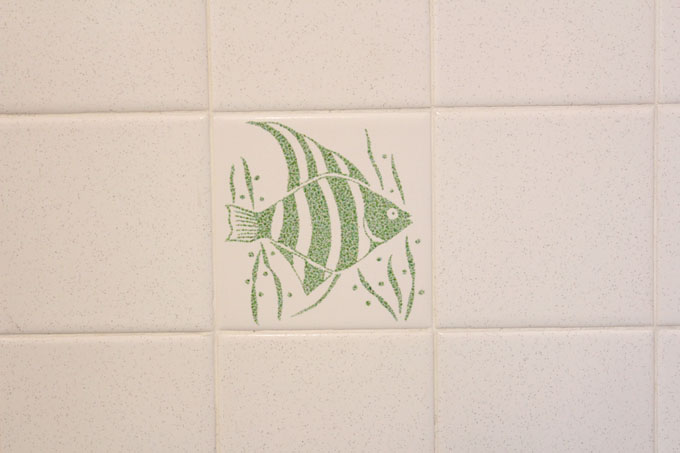 The process begins by cleaning everything with a powder solution, provided in the kit, that you mix with water, then rubbing everything with steel wool, which is also provided, then repeating that process three times.  From there you mask everything off (we removed all of our caulk and fixtures but it is not necessary).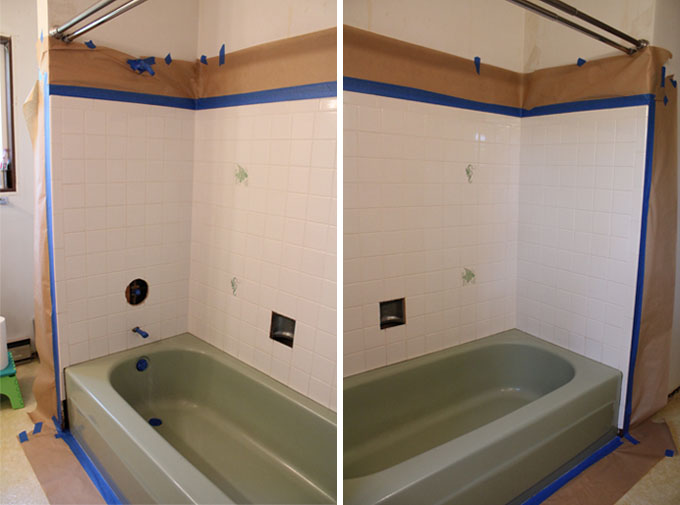 This is where I learned my very big first lesson with this stuff.  This is not even CLOSE to enough masking off.  Pretty much anything that you value do not have uncovered (our screwdriver will never be the same).  The spray on this stuff goes everywhere.  Our hallway was coated with spray dust, as well as our bedroom that is down the hallway.  The unfortunate thing about this is that the dust doesn't just sweep up.  It sticks like no other and has to actually be wiped off (such a pain). 
Side Note:  At first I sprayed this while wearing sandals and my feet were caked for days with it (it also ruined my sandals, my bad).
This is also where I learned that a basic face mask was not going to cut it.  The fumes on this spray are horrendous!  So I switched to a respirator and full safety goggles.
After the first coat of spray this is what the tub and tile looked like.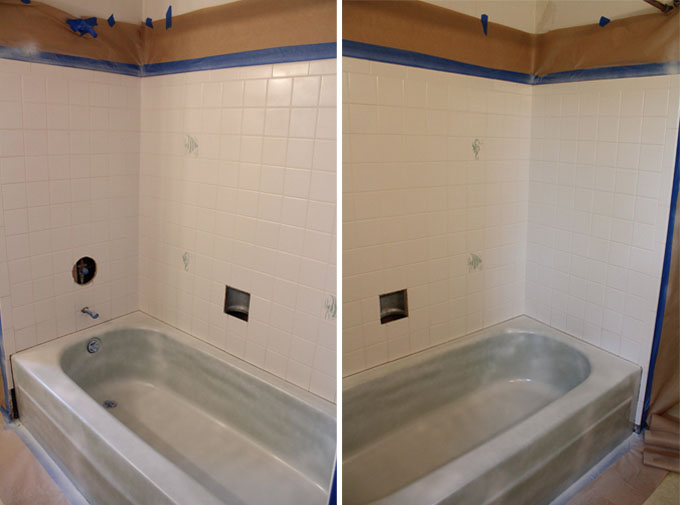 The directions on the product state that two coats of spray is all you should need and that a third coat is not recommended.  
This statement is severely flawed.  Two coats didn't even come close to covering everything that needed to be covered.  I'm not sure why they think two will be enough...if I sprayed any closer it would start to run and drip, but staying further away meant lighter coverage which resulted in several, much needed, re-coats. 
So, about 4 sprays later (and having to buy another box since two boxes weren't enough) we finally got to this.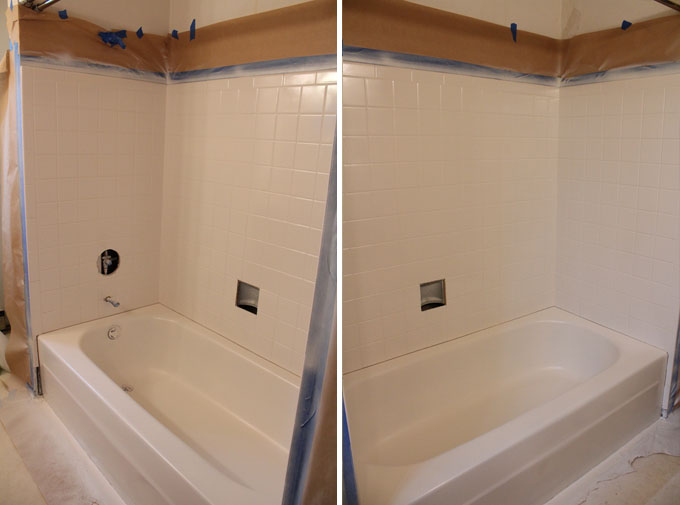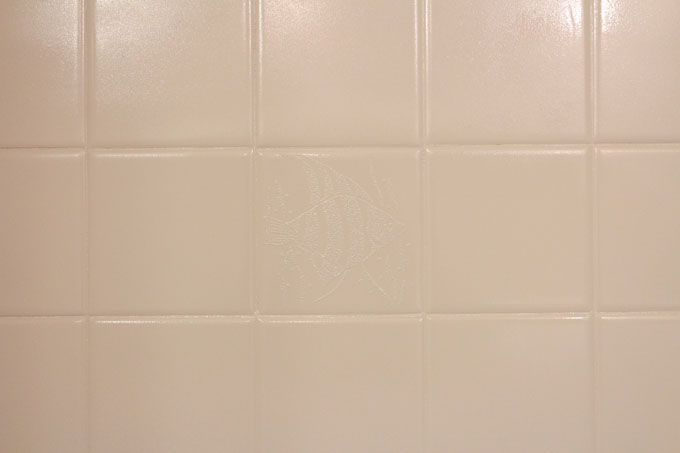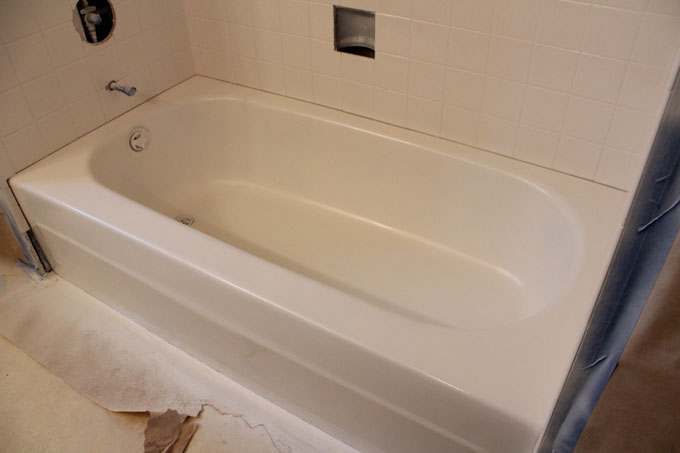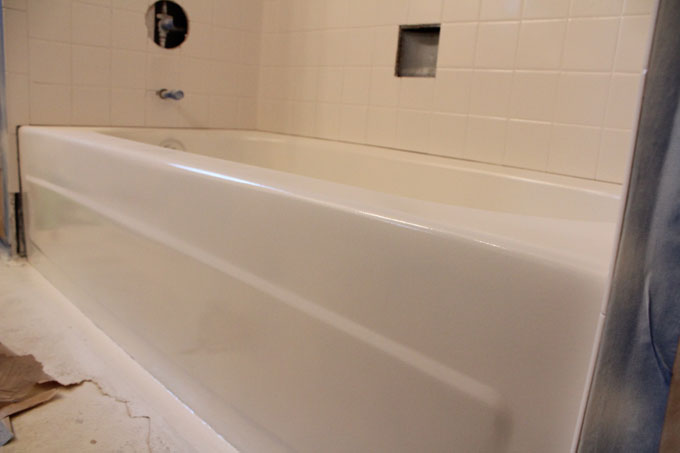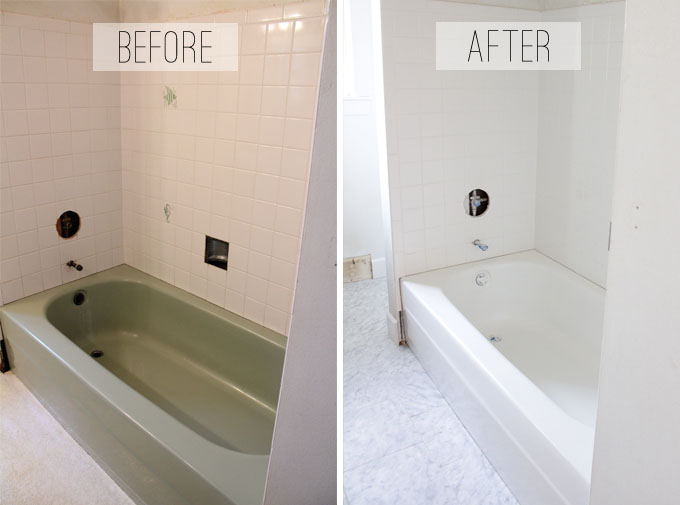 A few things about the finished product.  First off, yes, it does look 1000 times better than before. However, after 4 coats I still feel like I can see a little color in some places.  Second, the finish on the vertical surfaces is relatively glossy (like the product claims it should be) but is dull on all of the horizontal surfaces. Third, even the glossy places are splotchy glossy and the gloss itself isn't really all that glossy (wow, does that even make sense?).  Fourth, the white is not very bright white and almost looks ivory in low light.
Lastly, after reading the reviews about this product I had huge concerns about the stability of it.  Many people said it would chip after a few weeks.  So, per other reviews, we let the paint cure for 5 days instead of the recommended 72 hours.
Unfortunately, even after the five days, some silly mom sat on the tub with buttons on her pants pockets and chipped a piece off. (Way to go MOM!)  I was so mad when I saw what I did.  At least it's in a place where it will never really be seen because of shower curtains.  BUT, that gives me worry for what my kids are going to do to this tub.  They aren't exactly sitting with their arms folded while taking a bath you know.
If I were to do this again (and I would definitely do it again) there are a few things I would do differently.  I would use the other brand with the great reviews and I would use the paint instead of the spray for multiple reasons.  One, there is minimal masking and NO OVERSPRAY.  I also think the brush/roll on will give a better finish overall. (I only think this because in one small spot I used a brush after I sprayed and it is by far much more glossy and tile like than anywhere else.)
So, even though my experience with the spray wasn't a good one, the cost and time savings was still worth it.  We may eventually have to redo this tub, but at least I'll know exactly what to do next time.
Tags