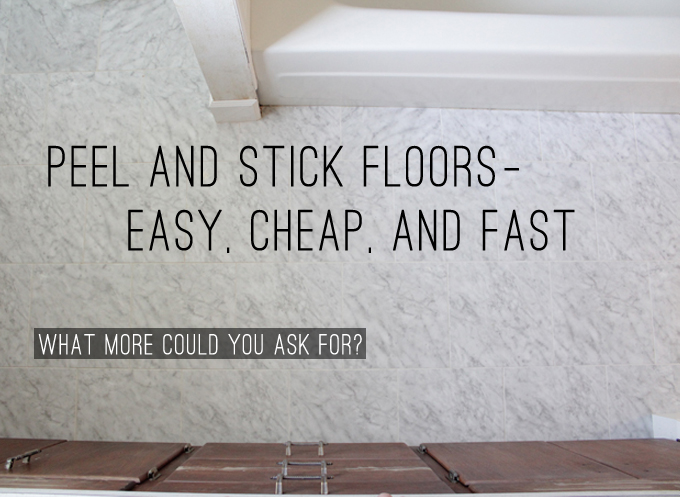 I cannot stress the ease of putting down peel and stick flooring.  Literally a job that can be done in a day.
This is our story *dun *dun (that would be a Law and Order reference folks).
It began with a layout and a chalk line (the good kind, not the person shaped kind).  
If you are unsure about how to layout your tile, here is a great video tutorial.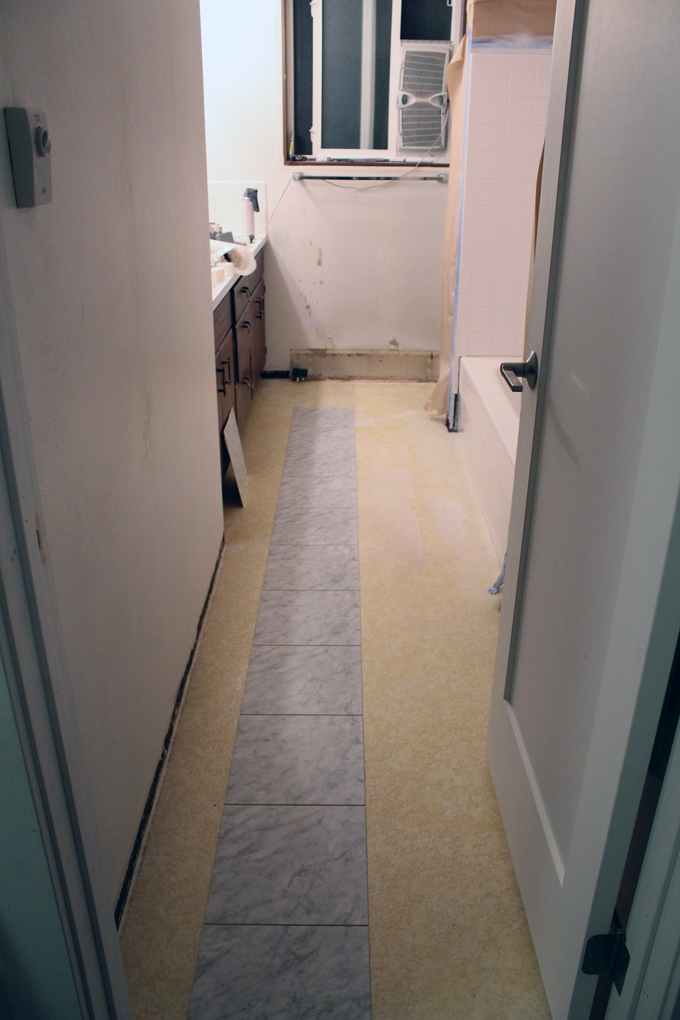 When we began our flooring escapade I knew I didn't want to do a standard square pattern with my tiles, so we decided instead to do a brick patter. We played around with a few different layouts from there and came to the conclusion that we would go with whatever layout had the least amount of cuts.
We layed our peel and stick tiles right over our linoleum.  It was in decent condition and it saved us a TON of time.  If your floor is not in good condition, then you'll have to pull it out and follow the directions, that come with your tiles, on how to prep your specific subfloor.
Since peel and stick tiles are cut with just a box knife our installation went really fast.
I started at 8 o'clock at night and stopped at this point.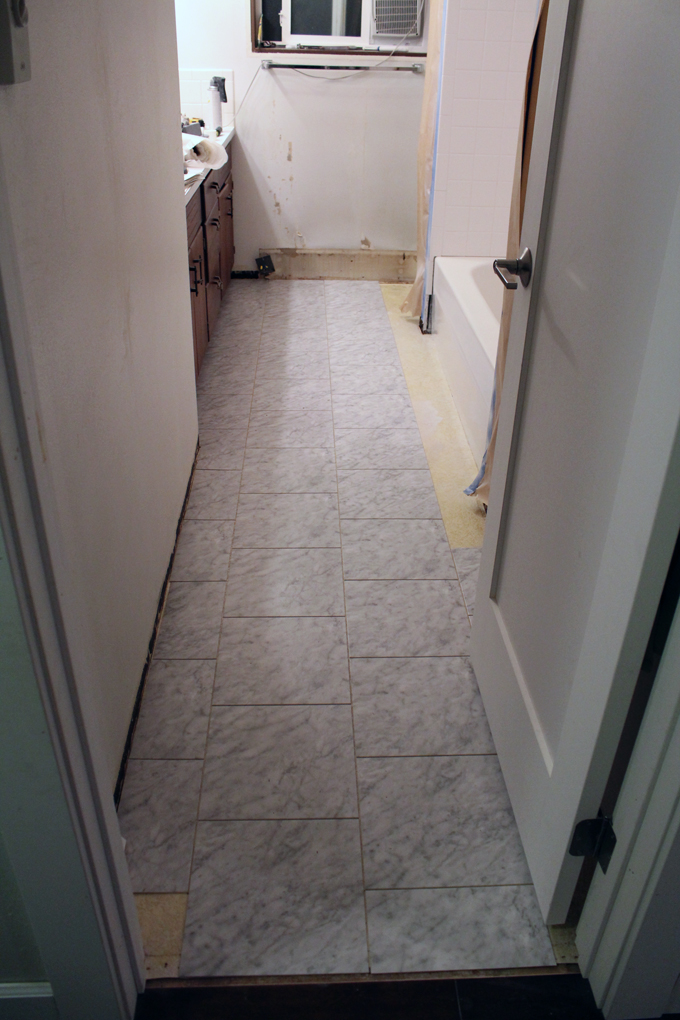 I decided to save a few of the more difficult cuts for the next day since it was starting to get pretty late.  
You may have noticed that we have space between our tiles.  That is because we went with the groutable peel and stick tiles.  They look much more realistic with the grout lines.
The next day I got up and finished laying the rest of the tile.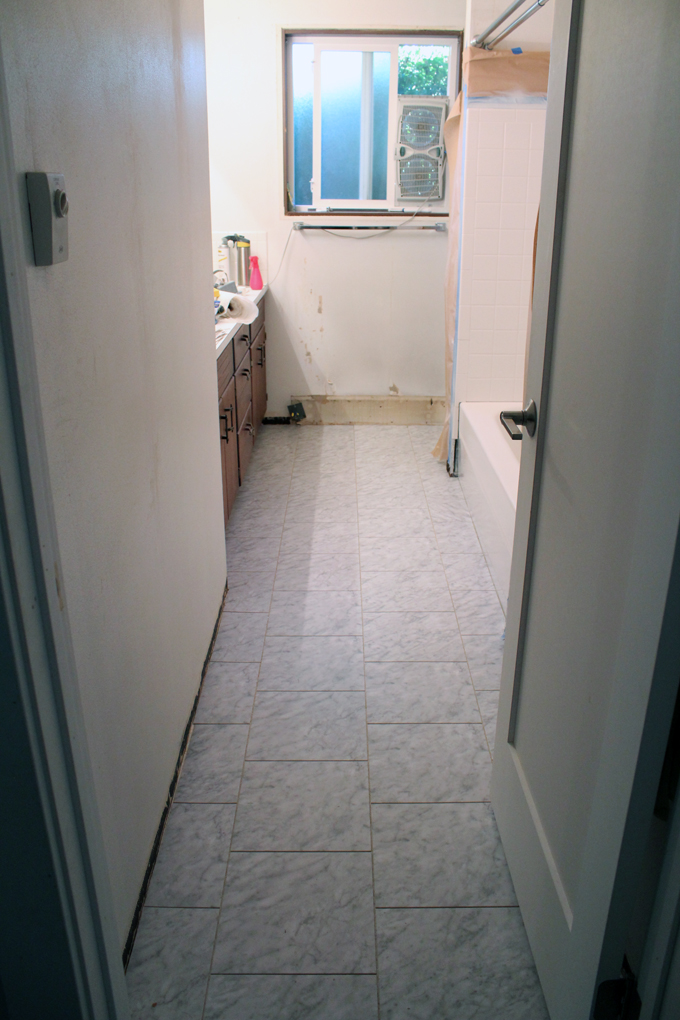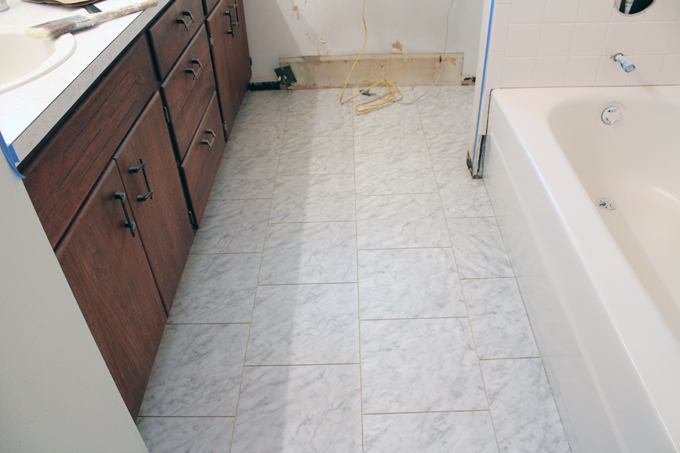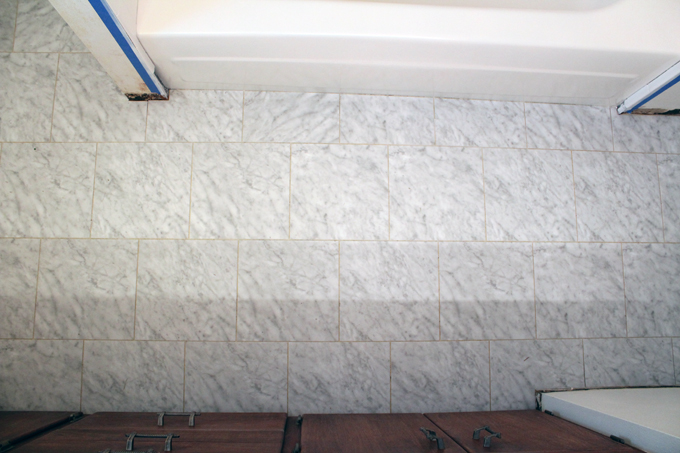 Since there is nothing to dry under your tiles you can grout right away.  We used a premixed grout which is recommended for peel and stick tile.
*Side Note: Peel and stick tiles will move a little bit.  We had a few spots where our lines got a little tight, but you can use spacers to avoid that problem.
Here is a tip when grouting your floors.  Grout a small section, like 5 square feet, and immediately wash the grout off of your tiles.  I, unfortunately, grouted my whole floor then went back to clean the tiles.  BAD IDEA!!  The grout was already starting to harden on the tiles and we had to scrub the floors to get the grout off.  There is still some remaining grout that needs to be washed away.  We are going to have to try a grout and tile cleaner on it. (*sad face)  
So, learn from my mistake and wash your grout away after doing just a small section.
When all was said and done this is where we ended up.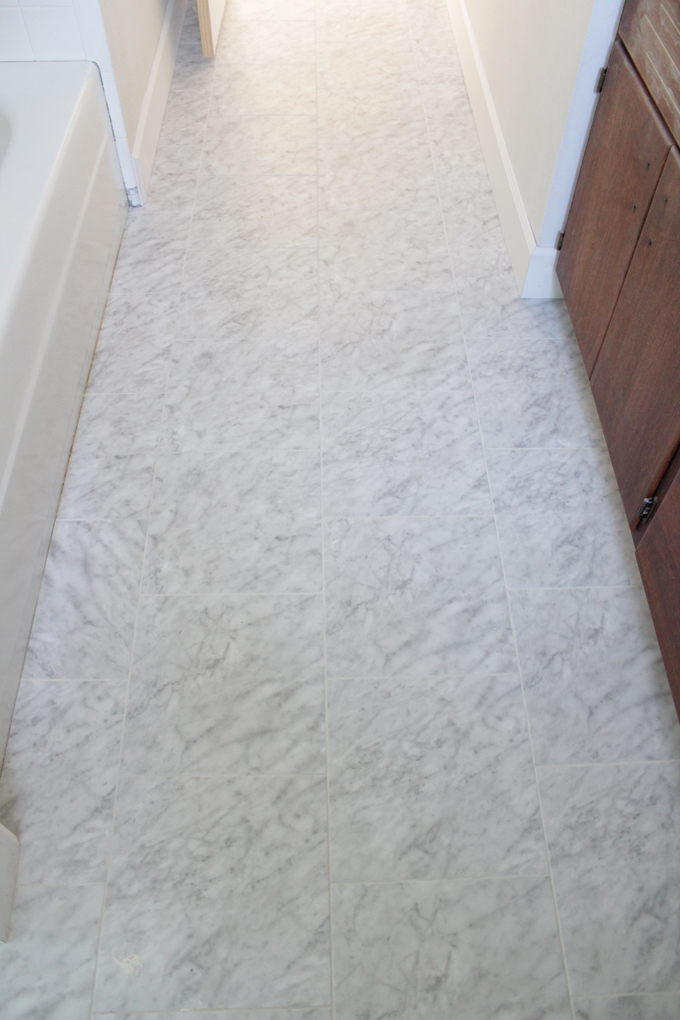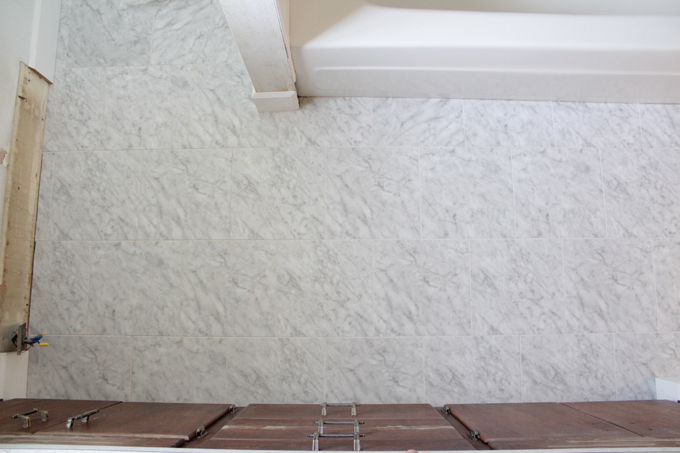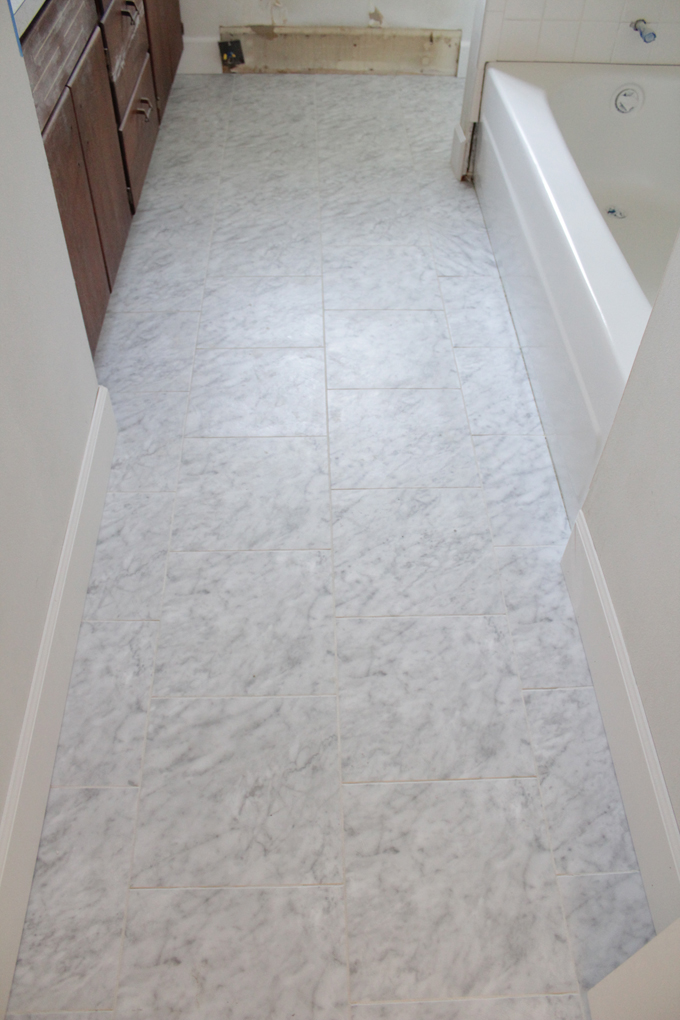 So much better than the pee yellow floor we had before.  
And what was the cost of this smokin' awesome new floor?  About 80 bucks and a day's worth of labor.  Not too shabby.  
A few notes about peel and stick tile:
There are arrows on the back of the tiles that direct you which way to lay them down.  FOLLOW THE ARROWS!  You may have already noticed, but there is a tile that is next to the bathtub that is going the wrong way and it is noticeable.  (At least it'll be covered by shower curtains.)
If you want to buy tiles that you can grout you must buy the specific groutable kind.  They have a beveled edge that the grout can cling to.
Difficult cuts can be made using a band saw or a table saw.  (We used our band saw and it worked amazingly well.)
So, to recap...peel and stick floors - easy, cheap, fast, and pretty.  What more can I say?
Tags