I've been thinking a long time about how I wanted to decorate the walls of our hallway.  And by a long time, I mean like since we remodeled over a year ago.
Sometimes I'd think it would be better to leave it bare, then I'd think we needed another picture gallery.  I constantly went back and forth. 
Then, I started thinking about a way to maybe showcase our Instagram pictures *ding* lightbulb. An idea hatched and I was off to create a sketch.
I have been loving all of the geometric design lately so I wanted to make something for my wall to hang pictures on that had that look.  I came up with a few sketches and went about implementing how I wanted to put them on my wall.  
Attempt one didn't go so well...attempt two didn't go any better.
So, I decided to go straight to the wall. 
The first thing I did was put my sketch on the wall. Next, I put in a nail everywhere there is a turn or cross section. Then, I erased my lines and painted the nails to match the wall. (Sorry the pictures aren't very visible.)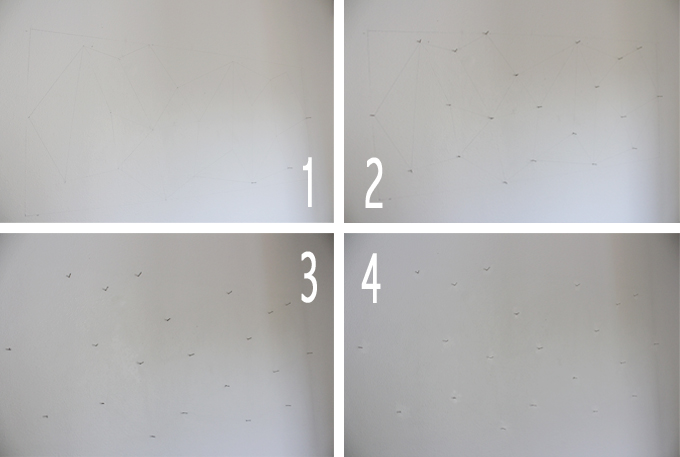 After that I made a direction chart on my sketch. I didn't want any double lines and as few starts and stops as possible. It was a bit of a puzzle but I actually enjoyed working it out.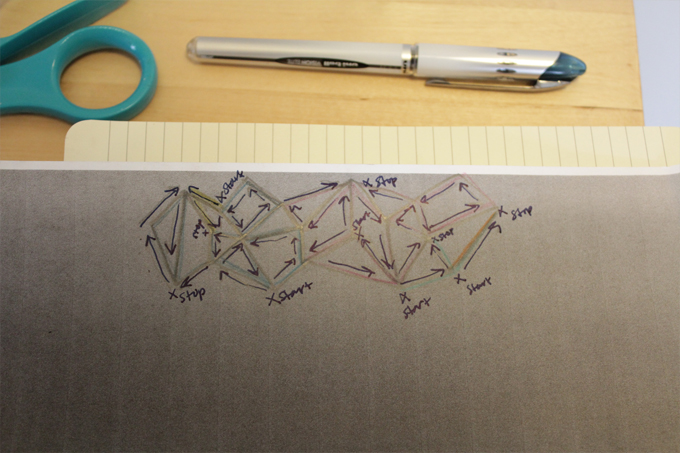 Once I had my directions down I went to the wall. 
I didn't want to do the this in string or yarn since I wanted it to look more like wire. I found some bronze colored stretchy jewelry cord that was perfect, and ended up also buying some braided rope for a second photo holder.
I followed my directions and put up each section.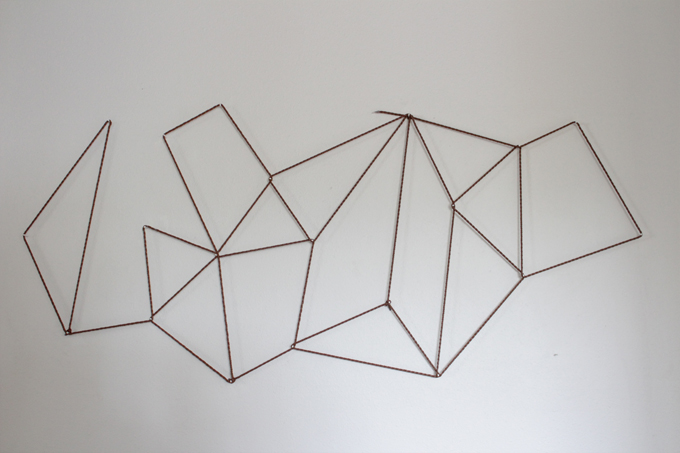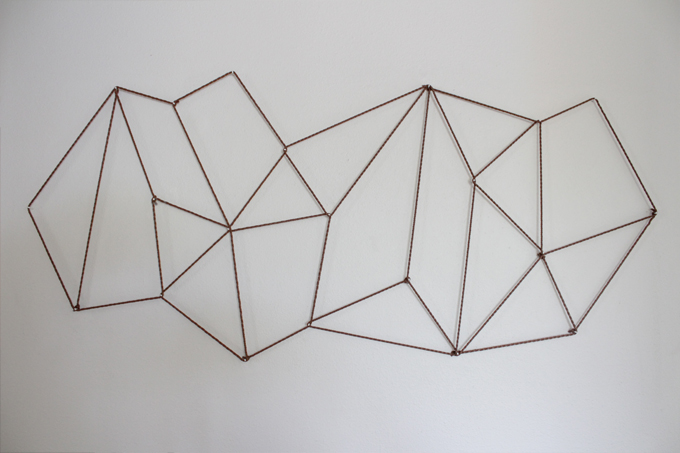 And viola! 
I wanted to add all of our Instagram pictures that we loved, however we had a split between my husband and I on whether we should have captions on our photos or not.  So, we decided that on one we'd go with captions, and on the other without.
And this is how they turned out! This is the braided rope.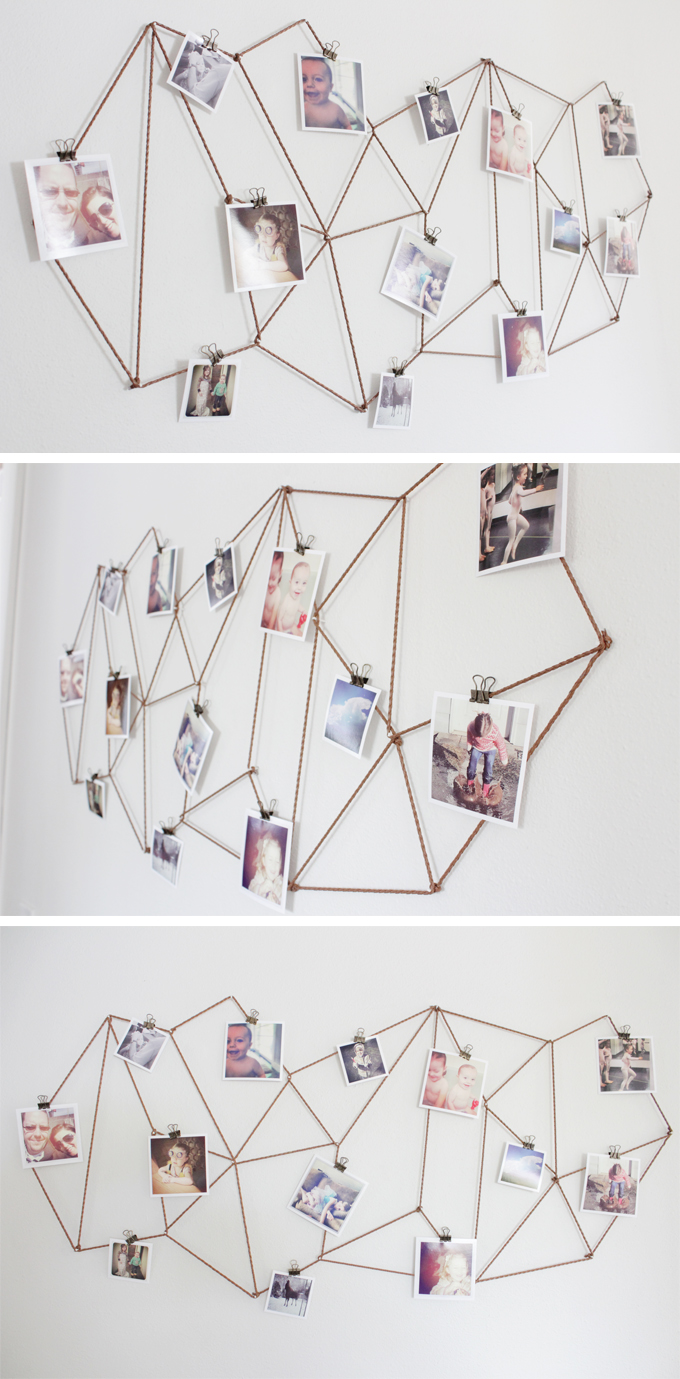 We printed our pictures at home and made them into 2x2 inch and 3x3 inch.  
This is the bronze jewelry cord. The pictures with captions got an extra space at the bottom and we only did that on the 3x3's.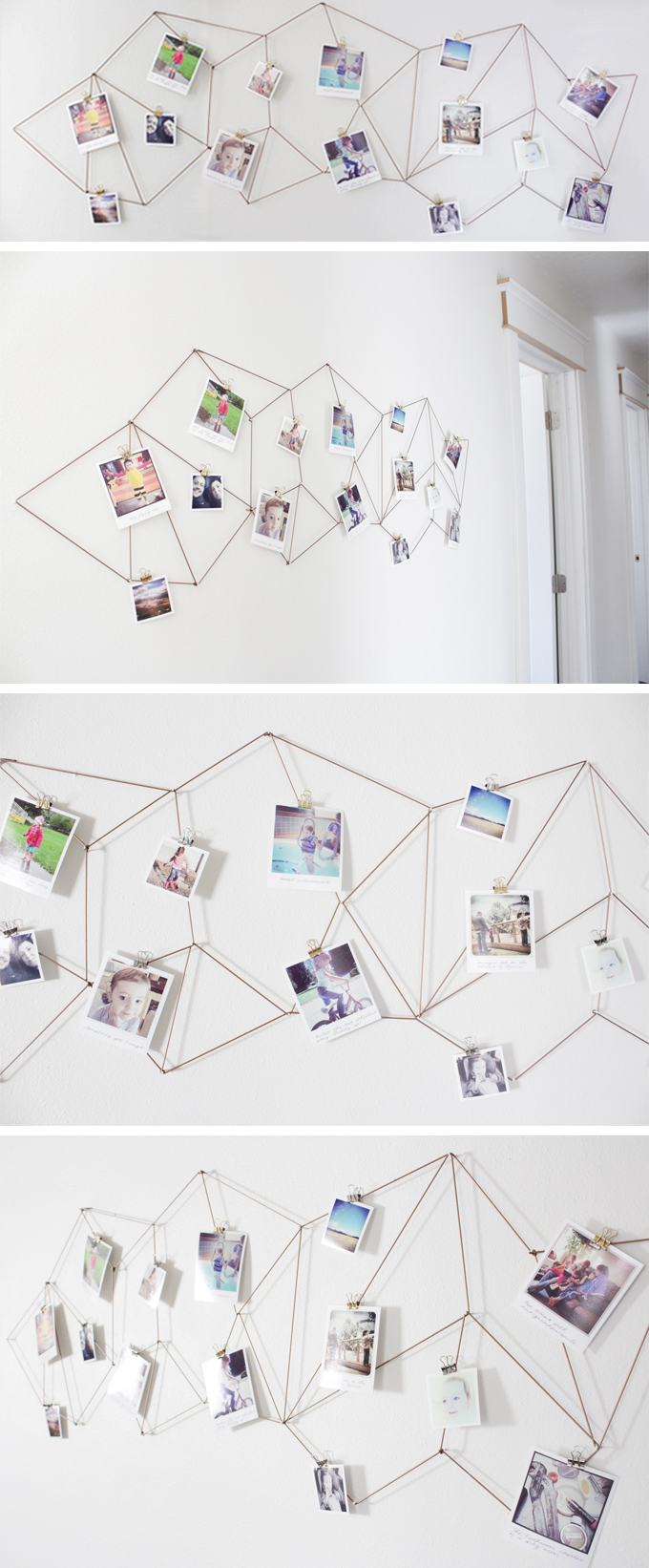 I used little binder clips to attach my pictures. On the jewelry cord they are painted gold and on the rope they are painted bronze with a dusting of gold.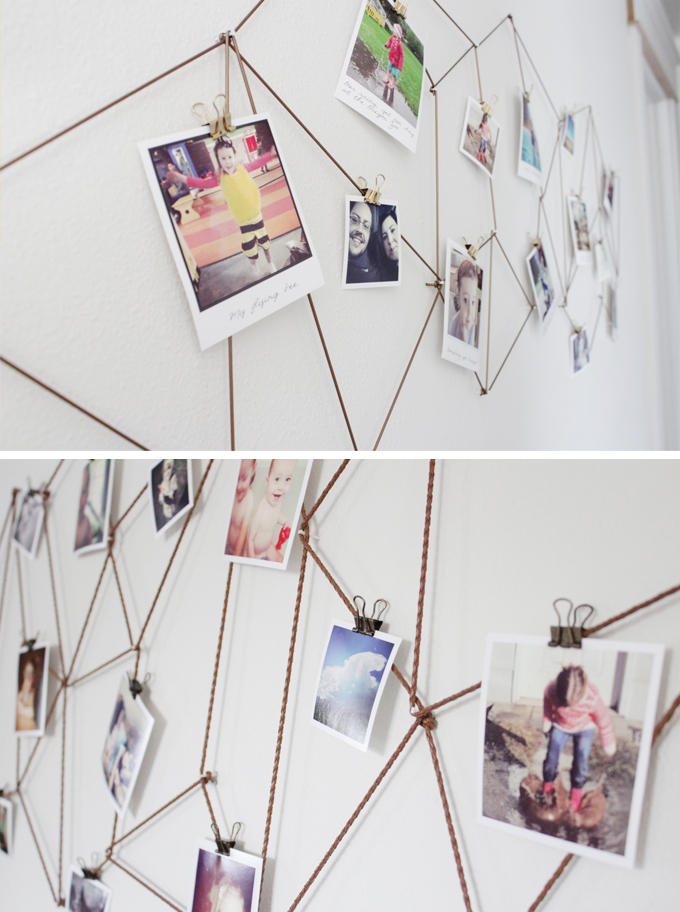 There was an initial concern about the nails sticking out too far and getting caught on them, but they are very low profile.  The nails only stick out a half inch and we haven't had any issues so far.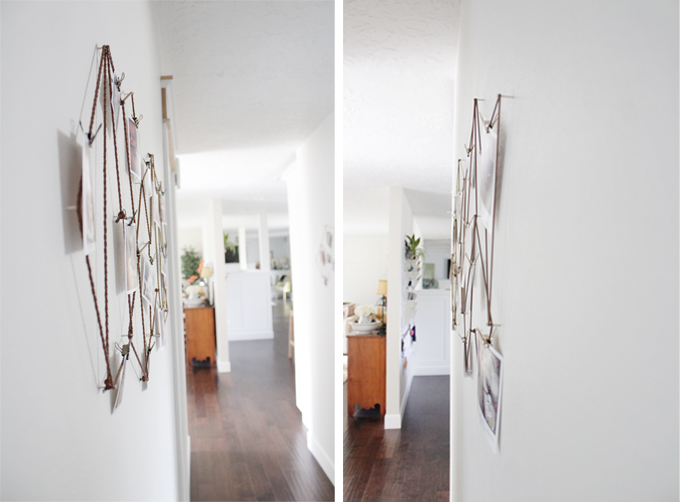 The hallway still has some work needing to be done like finishing trim, painting the black hole at the end of the tunnel, and adding some wainscoting, but the photo displays add a lot of interest and I love walking by and looking at all of our fun pictures.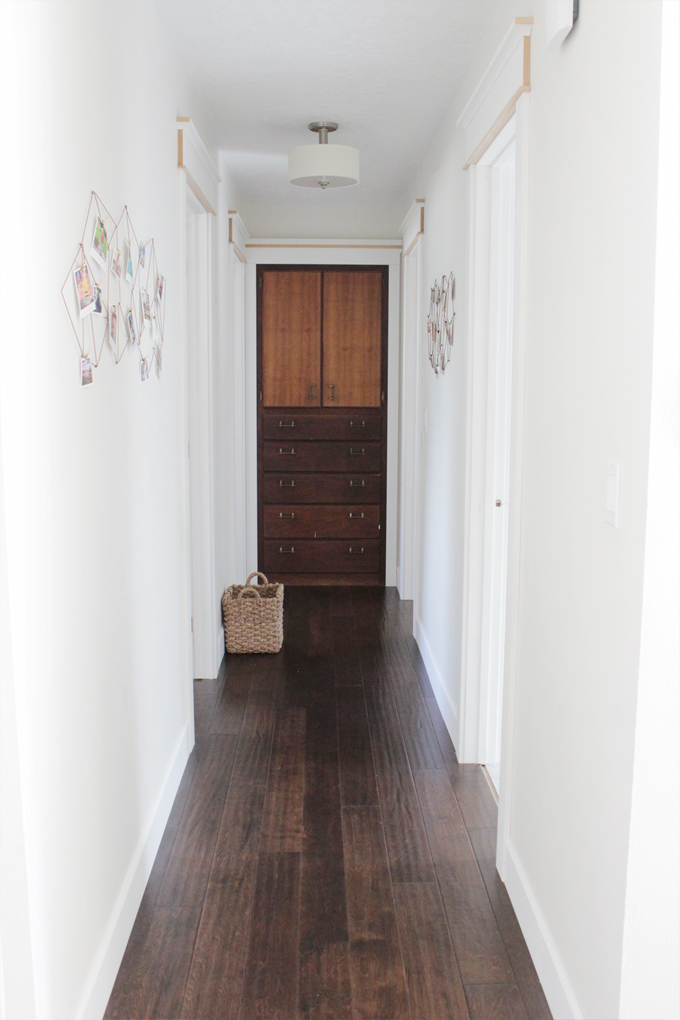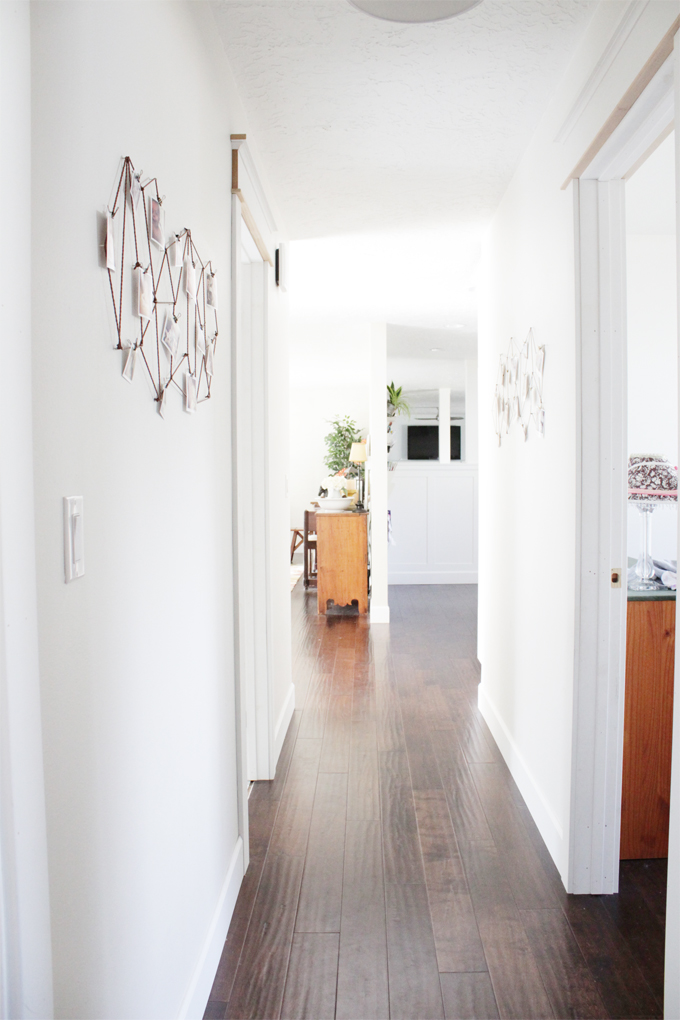 And just as an FYI, the measurments for these are 4'x16" and 3'x16".
This project is also entered into the "Creating with the Stars" contest! Go click on #253 and give it a boost.
Linked With:
Update: I've had some questions concerning the actual process of how I put up my display. So, I made a gif that will hopefully show better the pattern of how each section went up and where I started and stopped each time.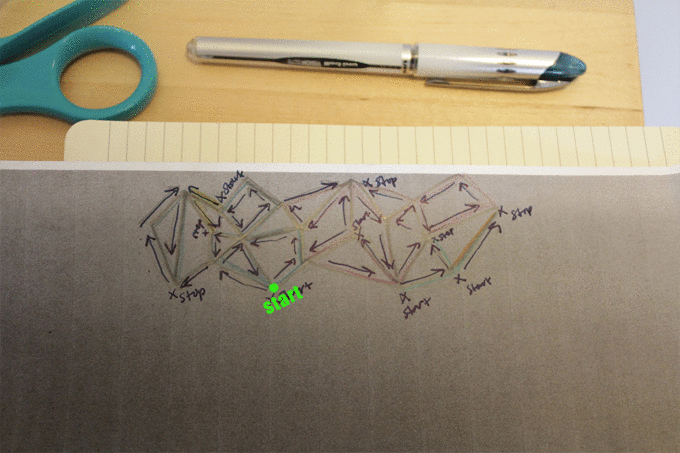 Tags