Over the next couple of days I'm trying to put together a few design ideas for all three bedrooms.  I started yesterday on the girls room and this is where I am so far.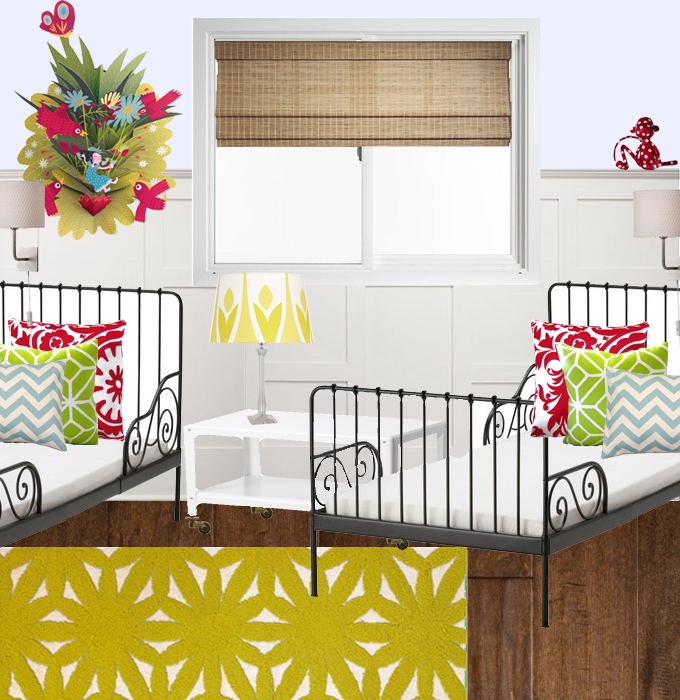 The design is based on the pop out art in the top left corner.  
We found the art in one of those little tourist toy stores while we were on a trip to the coast.  It was on the wall and we couldn't help getting it.  It is so cute when it is all set up.  The little girl is on a swing that moves.
I really didn't think I was going to like this design when I started.  I've never been really big on putting red in a girls room, but I'm pleasantly surprised with how much I am actually liking where this room is headed.  I'm very excited to get it started and to find some really neat accessories.  
We are going to try to get these rooms going very very soon.  
I'll be working on more mood boards for the other bedroom and the master.  I've already got an idea in my head for the master, and had worked on a mood board awhile ago for the nursery, so hopefully they won't take too much thought process to put together.
Here is a list of a few of the things in the mood board:
Our pop up art is called Lelibellule from a company named Djeco.  I think you can find it online at a few different places.
I'll post the other boards once I get them together.
Linked With:
Tags