No, we haven't totally forgotten about our bathroom, however, the project has been completely neglected.
Last I left you with a disaster of a story about our bathub meltdown after the inspiring "To Spray or Not to Spray" post.
Now, I want to talk a little bit about the second time around refinishing our tub.
The second product we used was the Rustoleum Tub and Tile Refinishing Kit in white.
The instructions on the box are great and very easy to follow.  There are a few things you'll need that are detailed in the instructions, but here's some imagery for ya.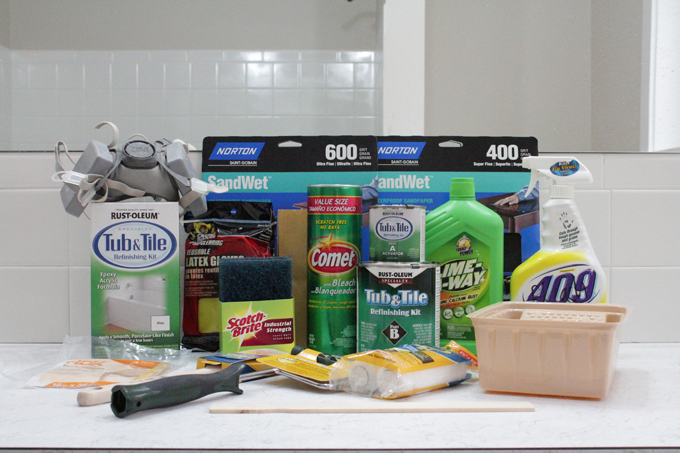 This stuff has some serious fumes so I  highly recommend a heavy duty face mask.
The prep work is pretty tedious and labor intensive, so prepare to do quite a few steps.  It includes a lot of sanding and cleaning, and sanding and cleaning some more.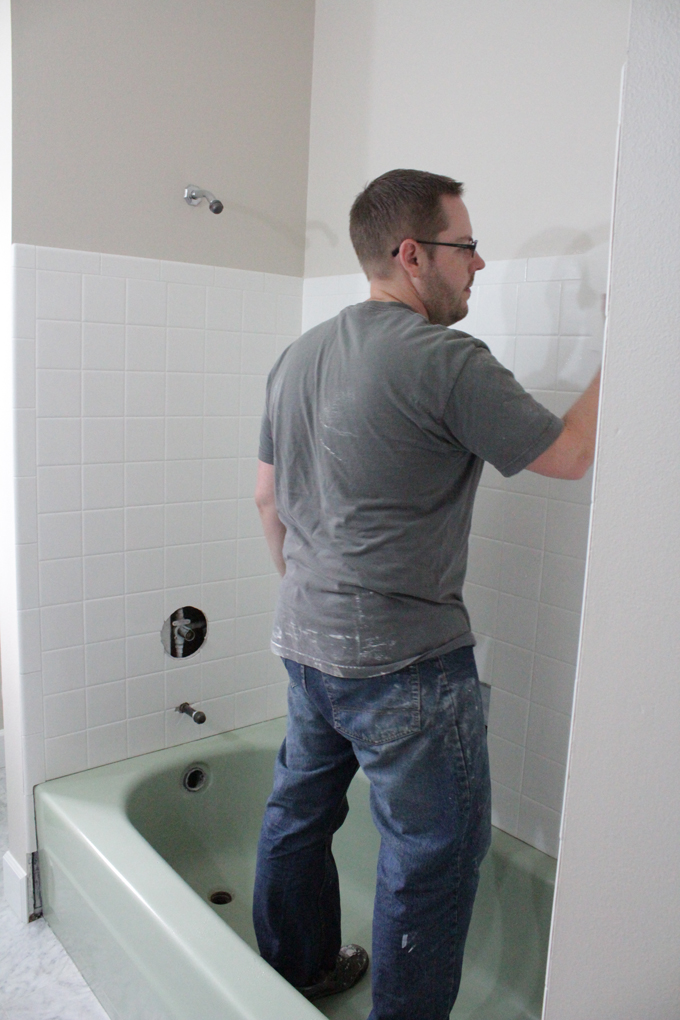 This is what our tub looked like prepped and ready to go.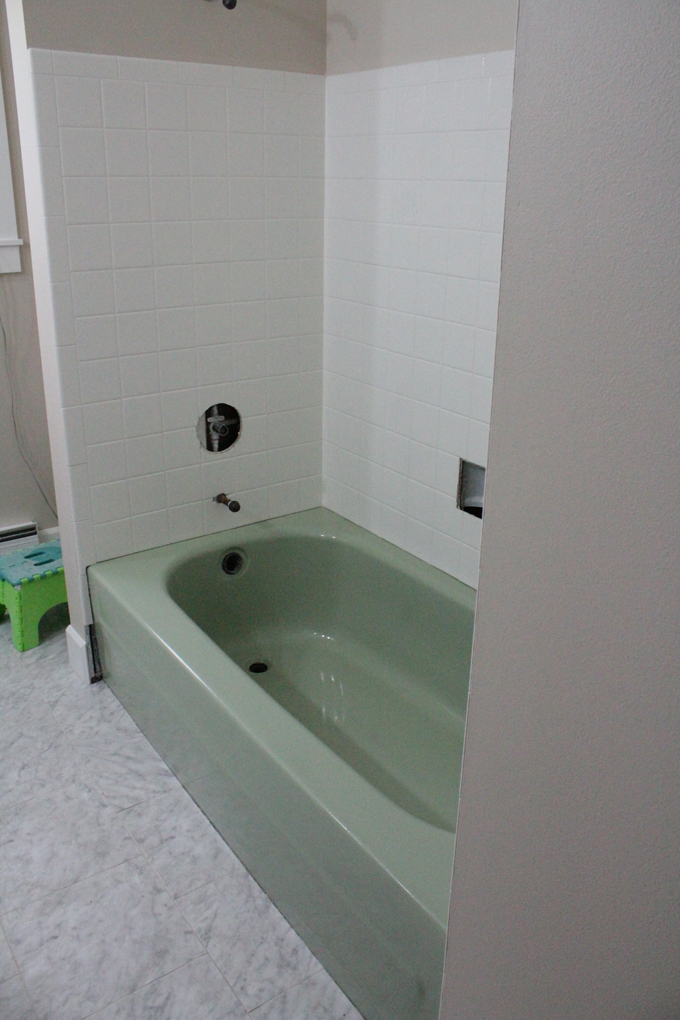 All that sanding actually made it shinier than before.  We decided not to strip the original coat of finish that we had put on the tiles.  We felt like the adhesion was good enough that we would just be able to coat over it with the new stuff, which ended up working out fine.
This is after one coat...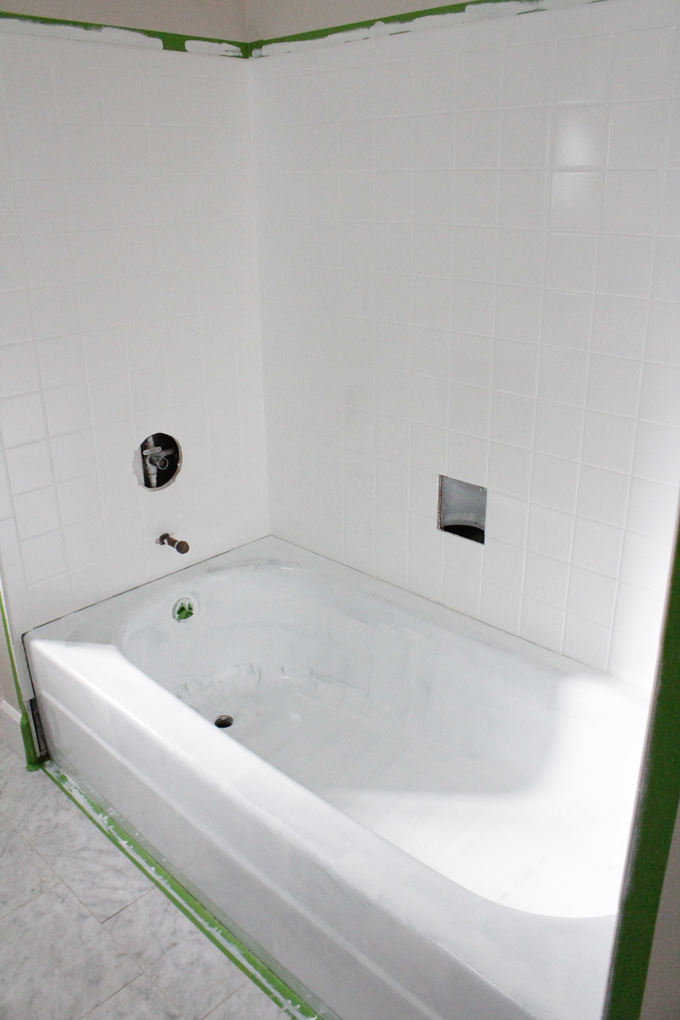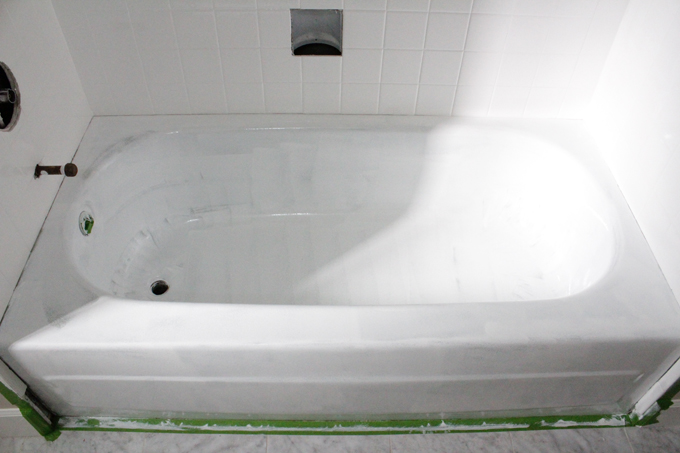 and after the final coat (which ended up taking me 4-5 coats in some places)...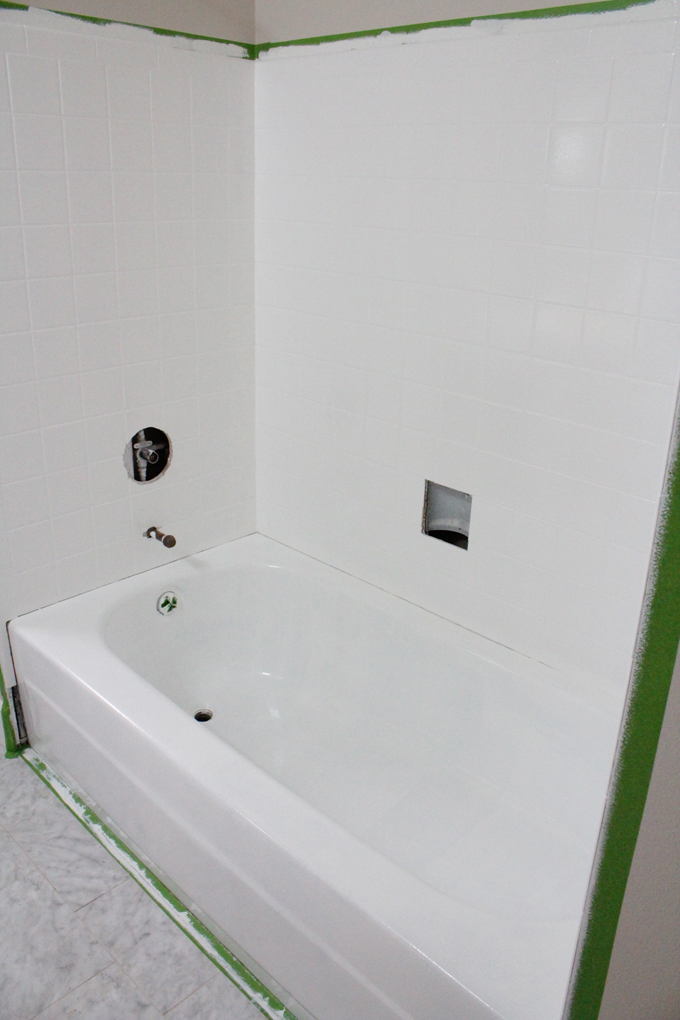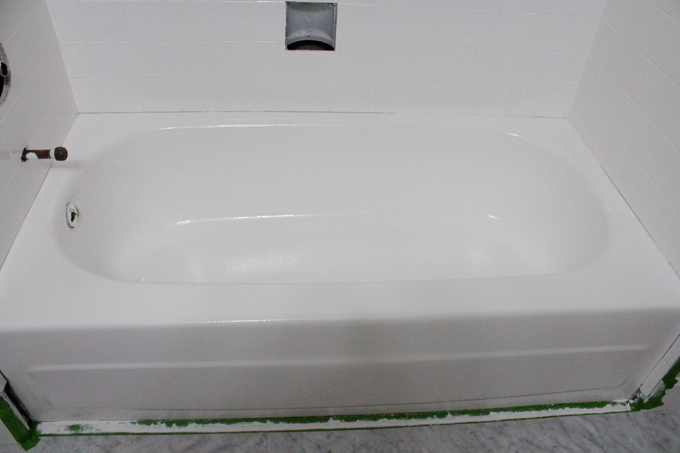 and the second before and after.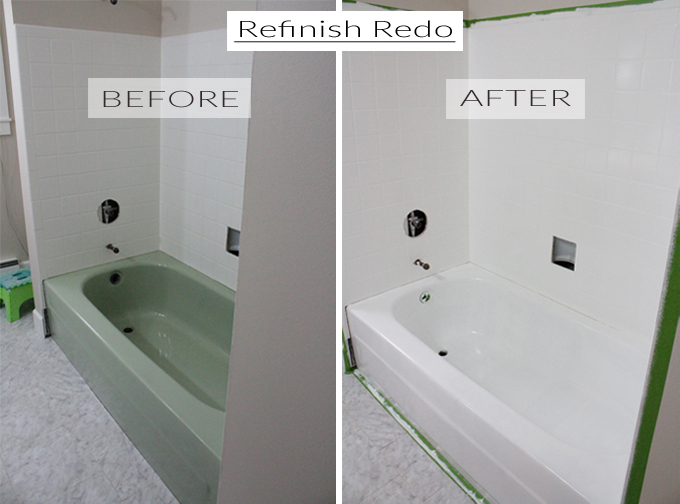 Okay, so pro's and con's of this kit compared to the first kit.
Pro's
The color of this finish compared to the first is MUCH whiter.  The first is almost almond next to this white.  You can see the difference with the tile in the before and after picture.
Way less prep work and mess, since this is a paint on instead of a spray on.
The final result seems much glossier and looks more bathtub like.
We have not had a single chip so far.
Con's
The finish isn't quite as smooth as the spray on.
All in all, I like this product better than the first one we used.  However, there are a few things I would do differently if I did it again.
First, I would have used a brush instead of a foam roller.  The roller seemed to leave a little more of a texture than a brush would have.
Second, be incredibly careful about the debris floating in the air. Unfortunately, we trapped quite a few cat/dog hairs in the finish.
And lastly, I wouldn't be so impatient.  On some of the coats I didn't let it dry all the way before applying the next coat because I was so ready for this bathtub fiasco to be over.  That caused the finish to be not as glossy and smooth in some areas.
So, what is my final verdict on DIY bathtub refinishing?  Honestly, if you have the money to have the tub professionally sprayed, I would do it.  You are absolutely going to get a better end result that will probably last longer than anything you could DIY.
However, the price difference is pretty large.  If you are doing this as a temporary hold for a year or maybe three then it's probably worth it to do yourself, but if it's for an actual remodel I would pony up and have a pro do it, or replace the whole darn thing.
Tags