You may have noticed, once again, that I took a hiatus from the blog.  I'm so sorry if it has been rather annoying for anyone who is a follower.  
This is the second time in under a year that I have taken a major break from blogging.  However, I do feel like I sort of have a good excuse.
The first hiatus, if you weren't around back then, took place from April to August last year.  I stepped away when we found out I was pregnant and morning sickness took over my life.  Then, the hiatus became longer term when we found out we lost our babe in the second trimester.  If you'd like to read the story of my last blogging break you can find it here.
So now, hiatus number two is coming to an end under happier circumstances.  If you haven't seen my Facebook or Instagram, let me fill you in...we have a baby on the way!
So far this pregnancy has been very typical (hence the stepping away again due to the bane of my existence, morning sickness) and everything seems to be going well.  We are now at 17 weeks and I've been feeling baby move for about a week now.
I thought our little announcement was so funny and clever.  My husband, not so much.
And just in case you missed it...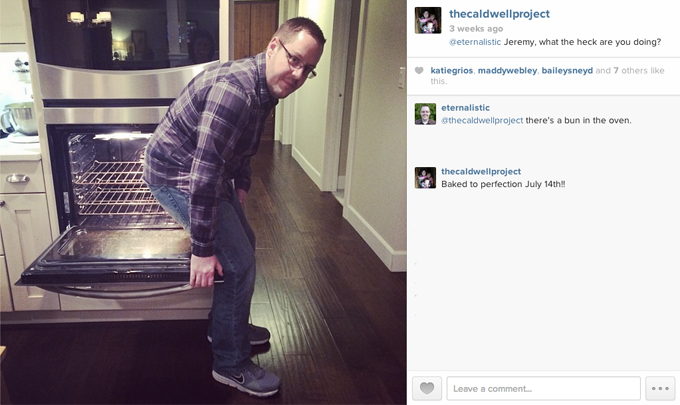 Lol, his displeasure only shows on his face a little bit., but trust me, it was quite the endeavor just to get him to participate.
Now, back to the post.  A girl maybe?  
So, let me start by saying that we have never found out the gender of our babies, but I felt like I wanted to switch it up with this one.  So, when we had an ultrasound at 15 weeks and were asked if we wanted to know what it was, we said yes.
Since 15 weeks is still very early to predict the gender of a baby the tech said her educated guess is a...drumroll...girl!
If correct, we are looking at baby girl #3 for our family.  A house full of estrogen!
However, since we don't feel like it's a one hundred percent fact that we are having a girl we aren't really making any decisions until a later ultrasound can confirm that a girl really is what we are having.
But of course, that couldn't stop me from putting together a nursery design could it?  Of course not!
Whoomp, there it is.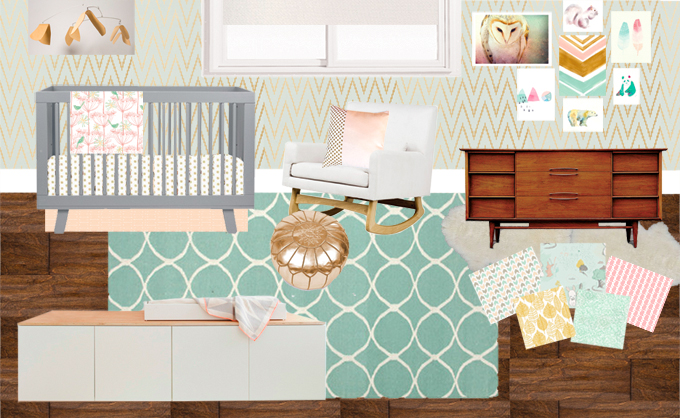 This is the general direction I'll take the nursery if indeed it is a girl.
I've never gotten to really decorate our own nursery since our first baby was born when we lived in a one bedroom house and our second when we were in a rental.
So I plan to go all out for this one.  We have already sold our first crib (*tear) to make way for the new one and have purchased a hope chest similar to the one in the mock up.
Here is a product list (most can be found on my Pinterest board Nursery).
Crib: Babyletto Hudson
Fitted Sheet (Fabric): Spot On in Metallic Gold
Crib Skirt (Fabric): Blush Horizon Arrow
Blanket (Fabric): Sketchy Plant and Birds - Pink
Mobile: Bookhou at Home - Flock Mobile
Wallpaper: Kasari Ikat Wallpaper in Aquamarine
Chair: Nursery Works - Sleepy Time Rocker in Ecru
Chair Pillow: Wilder and Bean - Blush Pink Gold Dot Pillow Cover
Ottoman: Casami2012 - Moroccan Leather Pouf
Area Rug: Frestine Rug
Small White Rugs: Ikea - Rens Sheepskin
Floating Credenza: The Brick House - Nursery Project
ART
Owl: Bokeh Ever After - Holiday Owl Photography
Tree: Ammiki - Abstract Shapes Mint and Pink Art Print
Squirrel: Dimdi - Albino Squirrel
Polar Bear: Dimdi - custom watercolor animals
Chevron: Feral Pony Shop - Chevron Brushy Stripes
Feathers: Feather and Sixpence - Ombre Feathers
Panda: Little Cat Draw - Mint and Pink Panda
PILLOW FABRICS
Tags