Last month was my daughters birthday and she requested a princess party, and being her 5th birthday, I wanted to make it a big one.
I knew I didn't want everything to be overwhelmingly pink (a few boys were coming) so I added in some yellow and purple.  So basically, it still turned out pretty feminine, but at least it wasn't all pink.
Some of the inspiration for our daughters birthday came from a blog called Jen Loves Kev.  You can check out their daughters birthday here.
Being the crazy mom I am, I got it in my head that I wanted most of the decor for the party to be a surprise for my daughter, so we waited until she left to decorate.  
Well, here's the thing.  She didn't leave until about noon...and the party started at 3. So, we had to crazy rush to get everything set up.  And in that crazy rush (preparing for 15 kids, ugh) the pictures got left until the last second.  Which means (bad blogger!) the pictures aren't fabulous and I forgot to take pictures of, well...pretty much everything.
But, the show must go on!  So I'll show you what I do have!
As you walk in the first thing to see was the curtains and the island.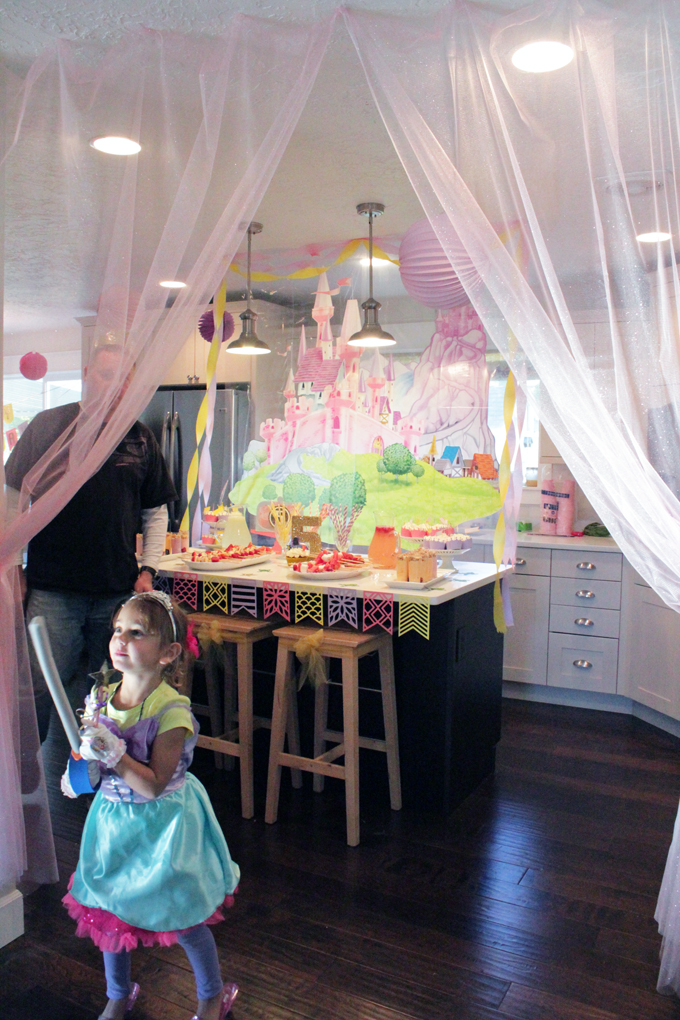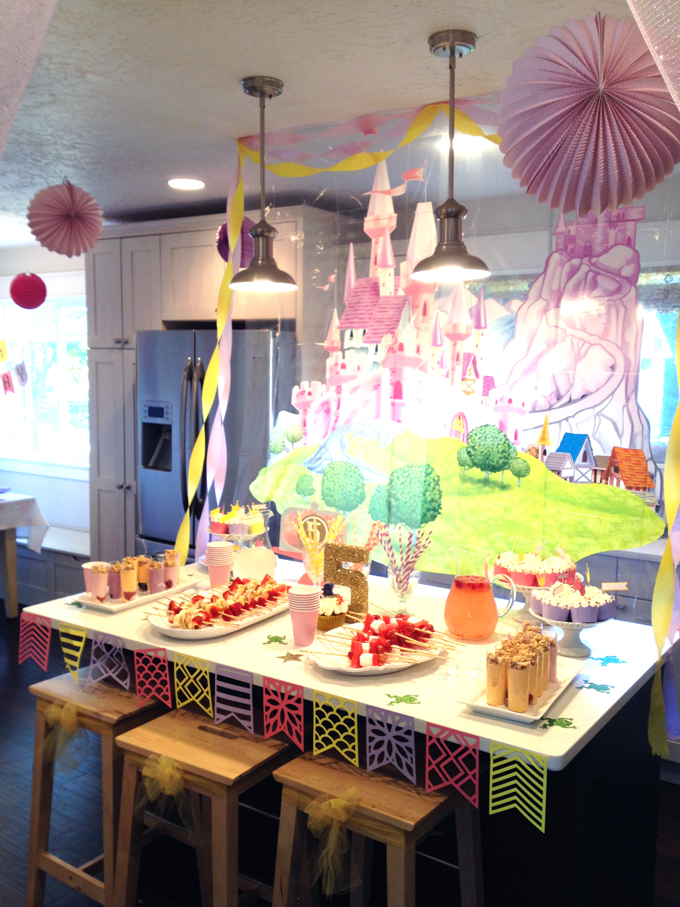 The back drop is a princess castle
 that we ordered from Amazon.  It was big, and a great price!  Well worth it.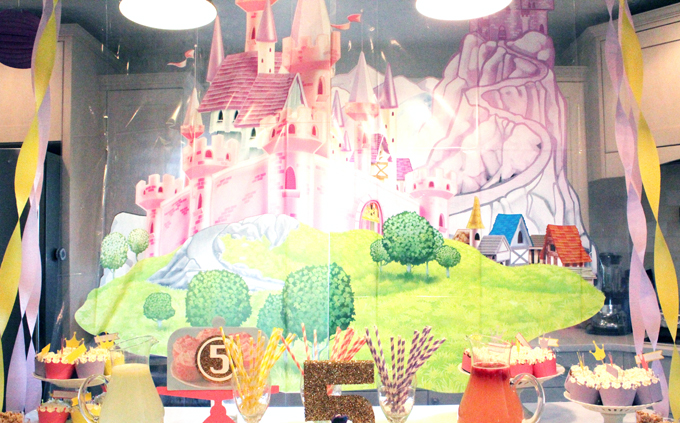 To decorate the island I made crown cupcake wrappers, along with crown and "Happy Birthday" toppers.  I made a circle five cake stand that has a picture of cupcakes with vellum over the top to give it a frosted glass appearance (that was one of my favorite things that I made).  Throw in a giant glitter 5 and some striped straws and you've got a party!
The glitter stars and frogs are leftovers from making wands (which of course I didn't get a picture of).  The wands were made out of pencils, so when the wands lost their appeal or got destroyed (as kids sometimes do to toys) they would still serve a purpose.  I ordered these beauties from the Carbon Crusader on Etsy.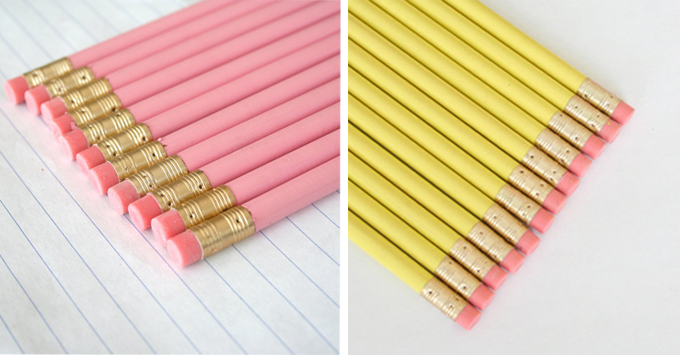 The paper banners on the front were cutout from my silhouette cameo. 
The food is mainly ideas from Jen Loves Kev, i.e. the kabobs and the parfaits.
Now, remember what I said earlier about forgetting to take pictures of some things?  Well, here are two prime examples.
On the left there is a picture wire (which you can see here) that was hung with dress up clothes and below were shoes, crowns, and even a basket of swords for the boys.  In the distance you can see our table, and that it is fully decorated.  And that is the best I got for ya on the table.  A travesty, I know.  One glimmer of hope in the matter is that I will certainly be using this all over again when our youngest turns 5.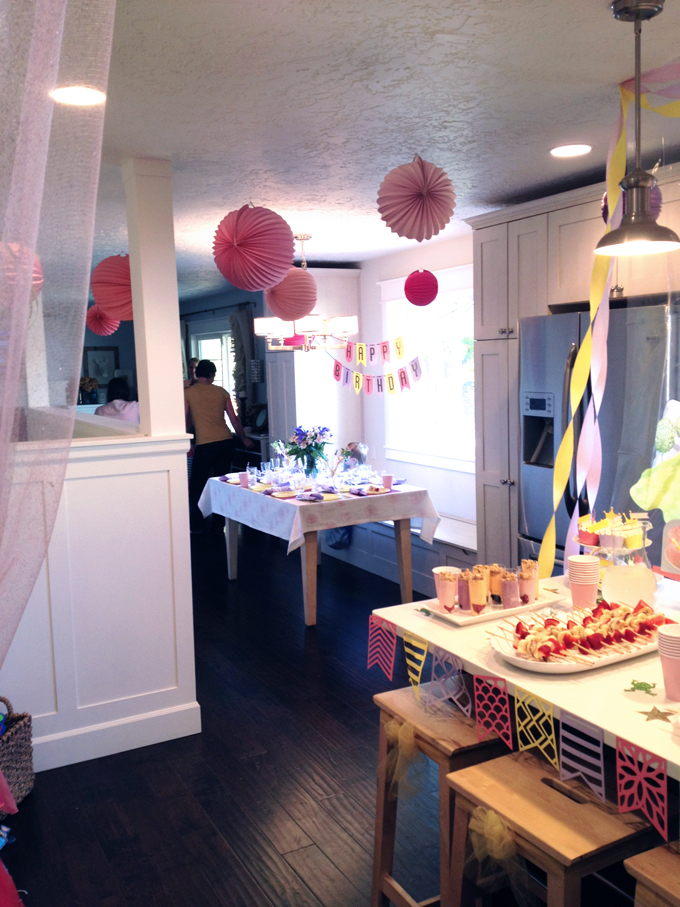 The paper lanterns happened to be on clearance a year ago at Joann's and I finally got to use them!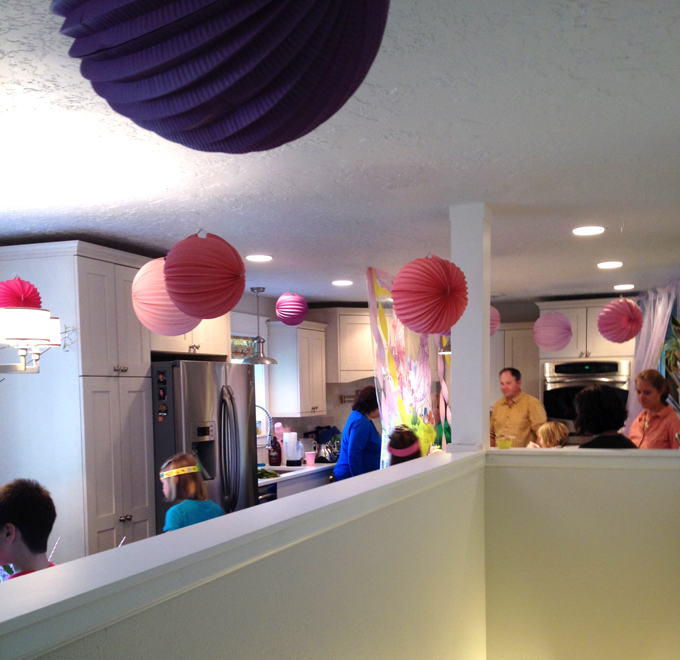 A "Happy Birthday" banner was, of course, a necessity.  Also made with my Silhouette.  (Again, the best picture I could find, boo.)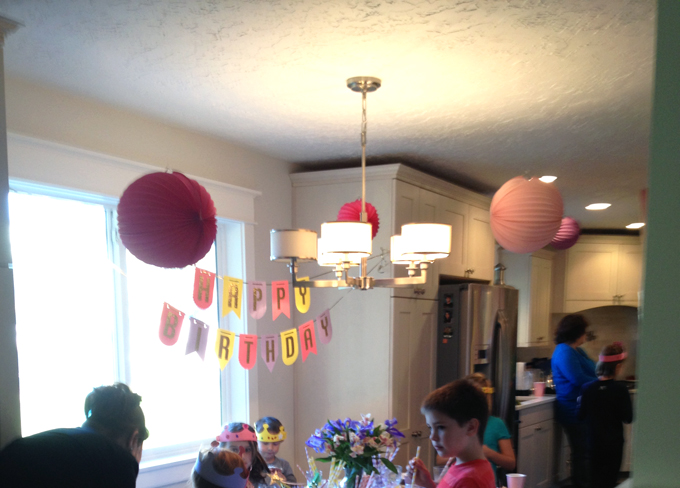 As for a game for the party...oh boy, it was fun to come up with.
I decided to go with a scavenger hunt (using some ideas from here and here), and created a poem for each task or item they were in search of.  This is how it went down...
Poem 1: With beautiful jewels all shiny and bright, we will be ready for the big night.  For the tops of our heads we'll make one of these, we will be princes and princesses, and all will be pleased.
Decorate Crowns: I had a station set up in my play room with paper crowns and all sorts of things to decorate them with.
(Best shot of the crowns they made)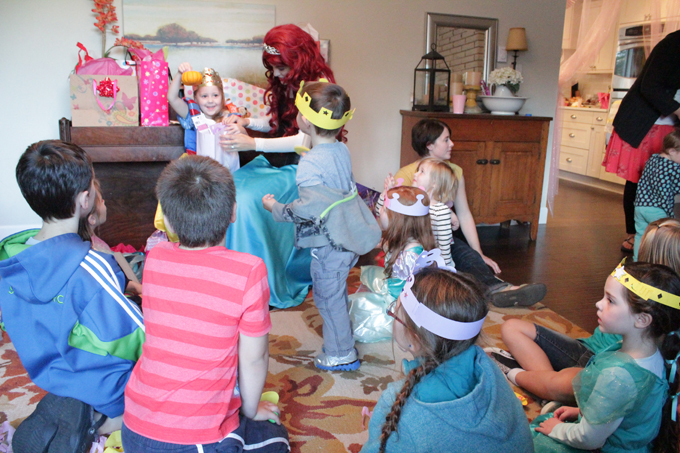 Poem 2: A friend we must gain as our journey begins, she has a voice like an angel and beautiful fins.  Find the right ball with her image so fair, and maybe you might glimpse her shining red hair.
Discovering Ariel: I threw a whole bunch of balls with stickers in a room, and only one had a sticker of Ariel.  Once they found that sticker they "gained a friend".
My younger sister "actress extraordinaire"  agreed to play Ariel for my daughters birthday.  It came very natural to her seeing as she had previously played Ariel in their local community play.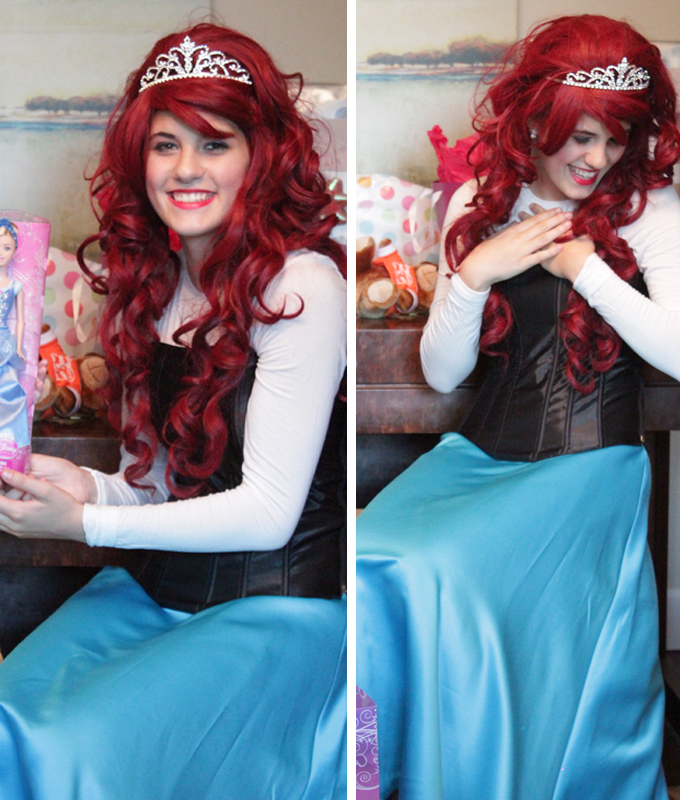 Poem 3: With our crowns on our heads and a friend by our side, the king gives us a quest that we must abide.  To prepare for the dragon that has brought much dread, we will learn to fight the dragon until it is dead.  Wands and swords we must have to beat this plight, so unwrap the prizes and be off like a light.
Getting Wands and Swords: I put a wand in a box and a took a sword and had them wrapped about a million times in crepe paper.  They had to try to unwrap them as the music played and had to stop and pass it on when the music stopped. Sort of like musical chairs, but musical unwrapping? Once they got them unwrapped the girls got wands and the boys got to choose from either a wand or a sword.
Poem 4: Armed with wands and swords we now have a test, before we begin on our royal quest.  Learn to defeat a dragon we must, before we can find the treasure that's lost.
Pop The Bubbles: With their wands and swords they now have to pop bubbles being blown before they touch the floor. (This is a great outdoor activity if it's not too cold.)  I explained to the kids that this was a test to teach them to be fast so they can defeat the dragon.
Poem 5: There is hidden treasure all around the house, but don't make a sound, be quiet as a mouse. For the dragon is sleeping but he'll make such a fright, if we wake him up in the afternoon light!
Find The Treasure: I scattered gold coins all over the house and they had to find it.  Once they brought me all the treasure we moved onto the next task.
Poem 6: The dragon has seen that his treasure is lost, and is angry and fierce and his head he will toss.  Defeat the dragon before he destroys, the city and all the girls and boys!
Slay The Dragon: We bought a dragon pinata
and they had to "slay" him. When the dragon was thoroughly "slain" (and candy all collected) I read them their final task.
Poem 7: You defeated the dragon and the city is saved. All the good girls and good boys are no longer enslaved. Now it's time for a feast of bounteous fair, time for cupcakes and milkshakes, they're right over there!
Let's Eat: Pretty self explanatory I think.
All in all I think our birthday girl and her friends had a good time.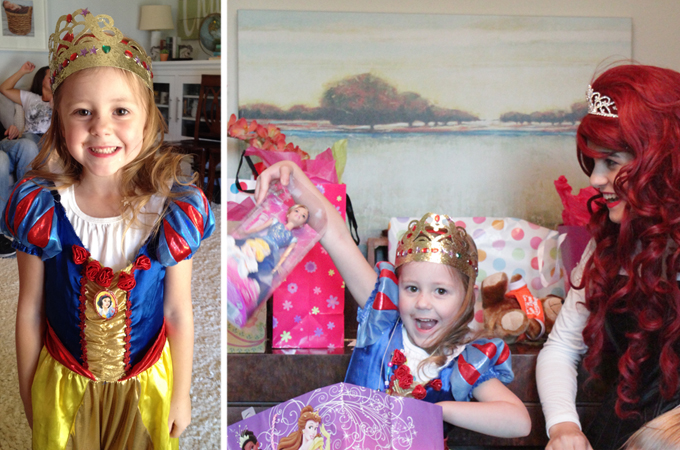 Tags