Last October I did The Nester's 30 Day Challenge.  My challenge was to finish decorating my family room in 31 days.  You can see my final reveal here.  With the addition of a time constraint on my already busy schedule some things ended up feeling, just okay, to me.  
So, I made a few minor changes that made the room feel a bit more, like what I had imagined. 
Here is a before shot of the right side built-in.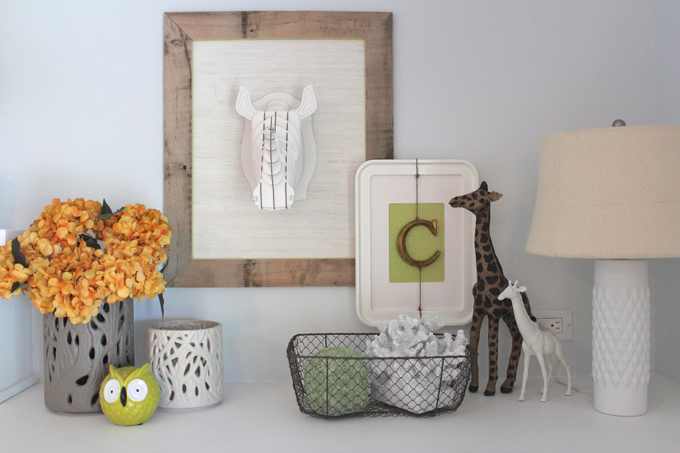 And the after.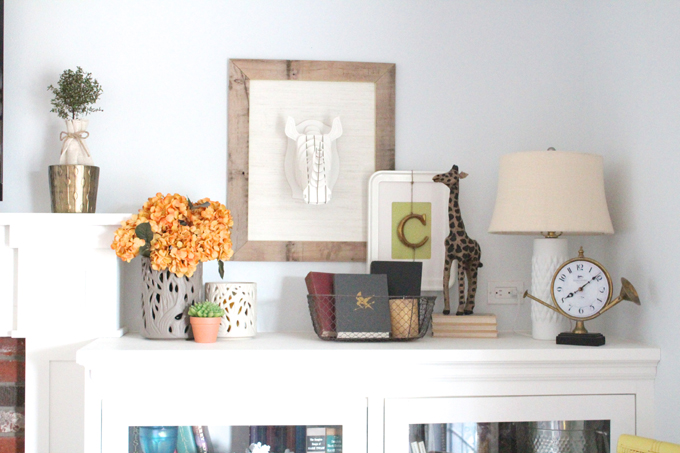 I added the clock, which was a smokin' awesome thrift find.  I thought about giving it a little sprucing up, but decided it looked great as-is.  I also ex'd the little white giraffe, who lost his tail and kept falling over (kind of sounds like a child's storybook, lol).  Then I gave the existing giraffe some height by stacking some books under him.
I took away my little green owl and added a succulent shaped candle (another thrift find left as-is).  I used that same candle on my Thanksgiving table last year.  I love the little added "living" touch, even if it is just a wax replica.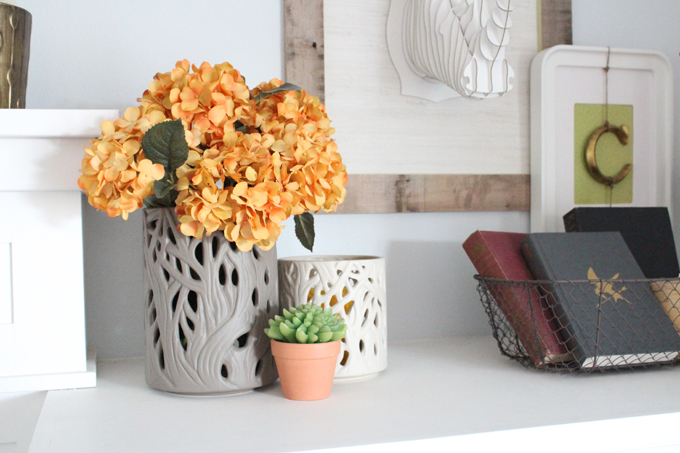 I swapped out my coral for a few books, which I think added to the comfort factor of the room.  You know the, get cozy in a chair with a book, feeling.  Along with the books I threw in a birch candle that I found on clearance (one of my favorite words) at Target.  And yes, if you were thinking of asking, that is The Hunger Games book, minus it's shiny cover.  If you've never taken the covers off of your books, you should give it a try.  You might just like it.  They feel much more natural and organic that way.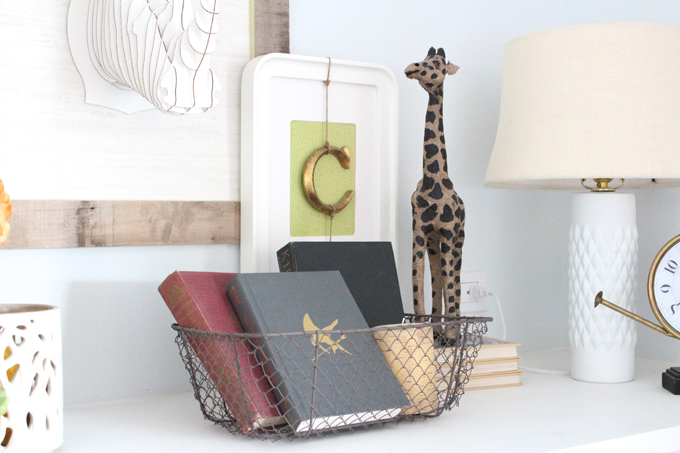 I moved my coral and my little green owl to the shelves below.  I like the coral MUCH better in this location.  It's big enough to hold it's own around the books and looks great when the doors are closed.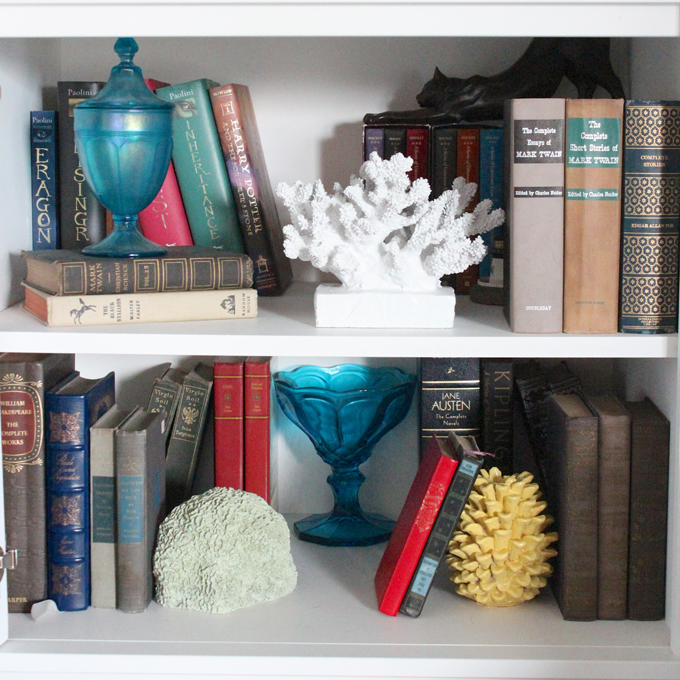 Yeeeeah, did anyone else go through the whole "Buy every vampire book after reading Twilight" phase?  Well I did.  The bottom right shelf is basically dedicated to any book that has to do with creatures of the night (or sparkling creatures of the day), witches, werewolves, and any other immortal type being you can think of. #pastthephase #butstilllovetwilight #thebooksjustsoweareclear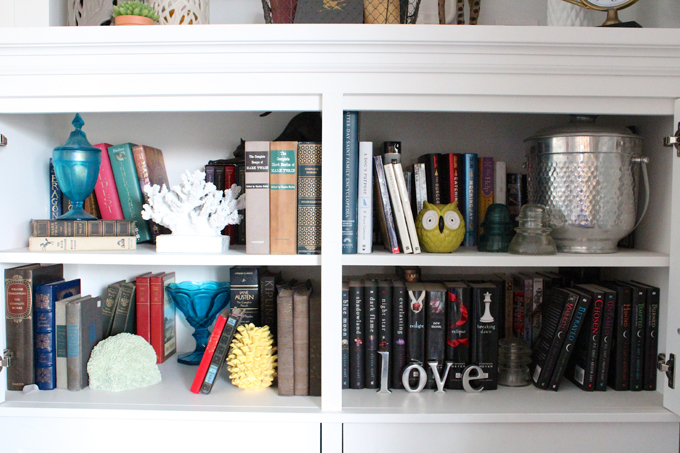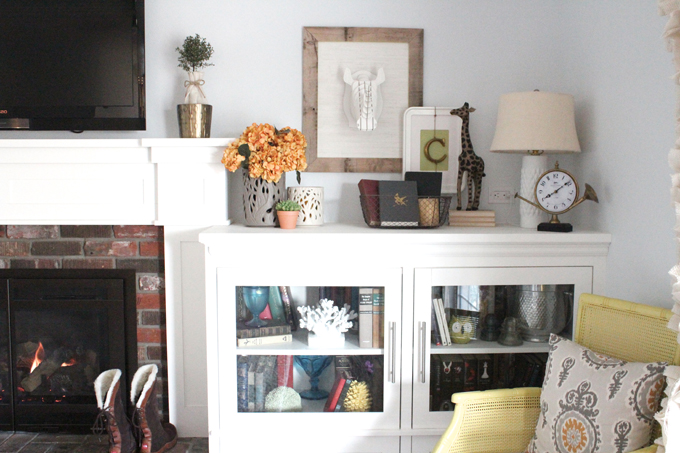 I also made some minor changes on the other side.
Here is the before.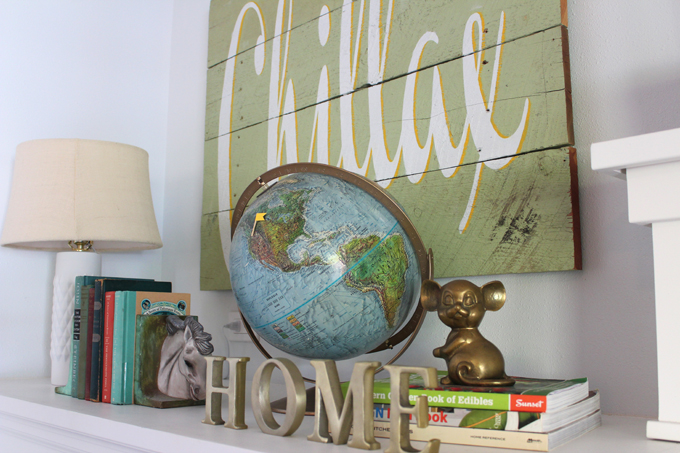 The first change was to give little mousy there a friend (well if you can call a pretty candle holder a friend).  Mousy was feeling just a little too lonely before.  The candle holder was on clearance (there is it again! my favorite word!) at Fred Meyer.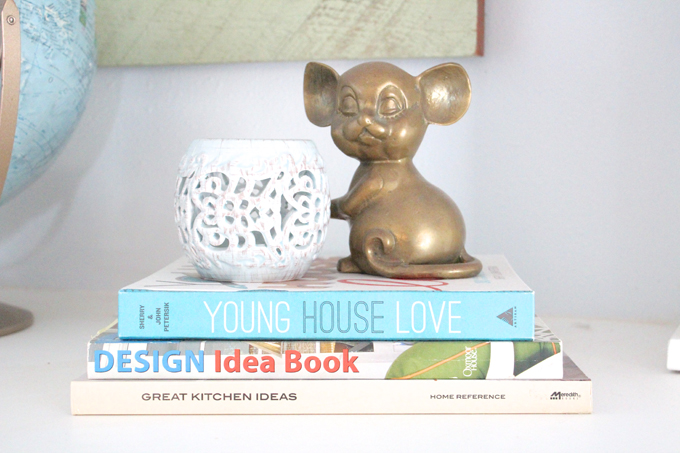 To balance the clock, that is on the right side, I added a cute little yellow avon truck.  I found him at a flea market, and he was one of only two things I walked away with.  I originally was thinking for the nursery, but it worked pretty well in the living room.  It's a nice pop of color.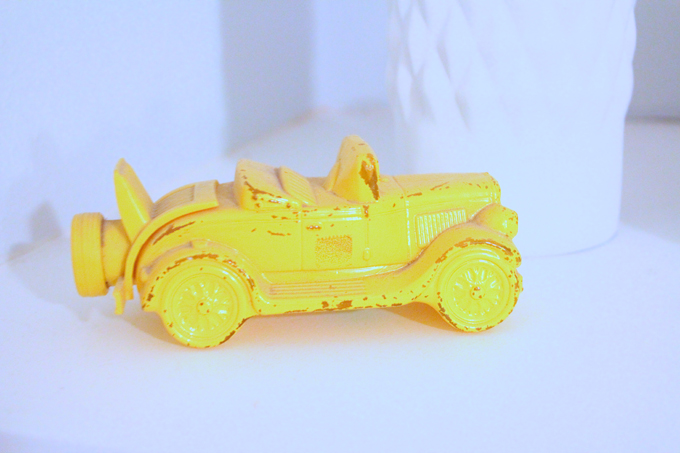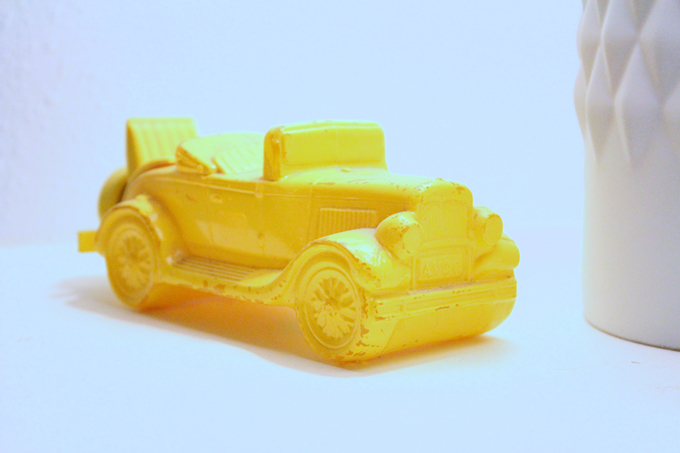 Here is the after.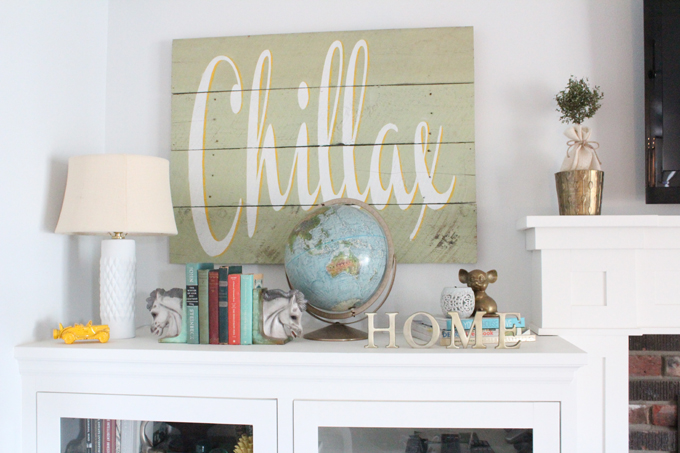 I have a few more changes planned, like something a little more substantial for around the tv, but I'm still working on it.
Now for my fun finds.
Awhile back I was eyeing some art prints at Freddy's.  I must have seen them a hundred times and drooled and oogled every time.  So, finally I cracked down and bought them.  I already have the perfect place planned. I'll probably end up giving them a frame switcheroo though. Oooh, maybe something like this frame.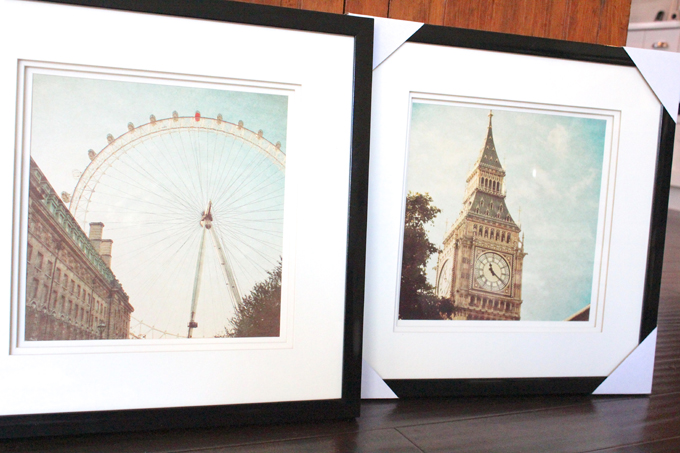 My next fun find we found just the other day while walking though Target.  Both my husband and I noticed the same door mat.  At the time, we still had our "Let It Snow" mat on the front steps (which we were asked to remove by several different people; as if WE had brought on the inclement weather! HA).  So the little beauty came home with us to relieve it's winter counterpart. Bright and springy don't you think? Maybe someone will thank us for bringing in Spring. #wheneverthatis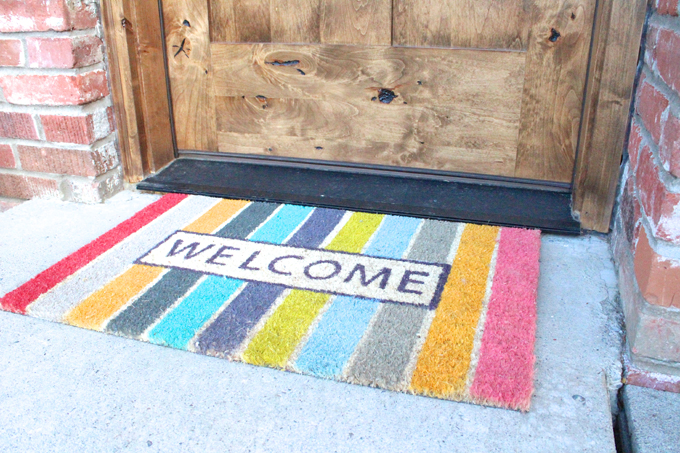 So, there you have it.  And, if you follow my Instagram, (which also shows up on my FB and Twitter) you saw we got a special delivery yesterday.  Can't wait to see those bad boys go in!
Linked With:
Tags