While I was visiting family the last couple of days, my sister had been looking for black candles.  She had been unsuccessful in her endeavors so I suggested she do blood drip candles, inspired by Martha Stewart.  However she was more interested in classy Halloween decor instead of ghouly.  So her search continued. The next day when the search still produced no results she surprised me by buying some white candles and a red one to do blood candles! When I say surprised, I was really surprised.  I don't think I've ever had the opportunity to do a diy project with my sister.  They are a fun busy family so the opportunity rarely comes up for some solid diy time.  She then shocked me even more by letting me take over her dining room table to do a quick table redo.  She even admitted that she was surprised herself.  I believe a few of her words were "I can't believe I'm being your accomplice", or something like that, haha. So this very fast project and table makeover was just the ticket for the momentary downtime we had. The blood drip candles are seriously one of the easiest projects you will ever do! What you will need is a white candle or color of your choice, but white shows the "blood"  the best and makes the most impact, a red candle to make the blood, a clicker (the kind you use to light candles), and something to set your candle on to catch all the wax.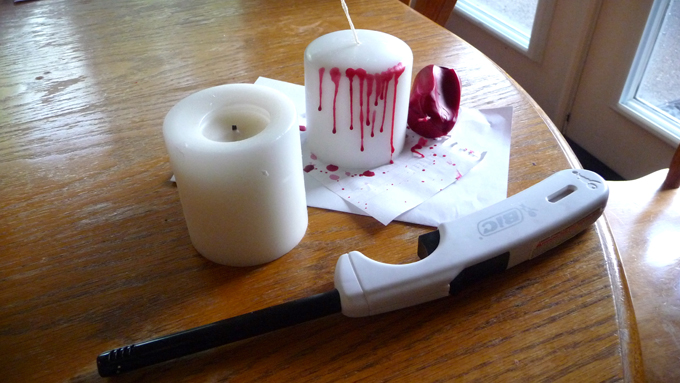 Now all you need to do is hold your red candle above the white and put the flame right on the candle.  We started by dripping red wax around the entire perimeter of the candle.  The closer you hold the flame to the candle the faster the drips will come.  You'll want to be careful during this process so as not to burn yourself.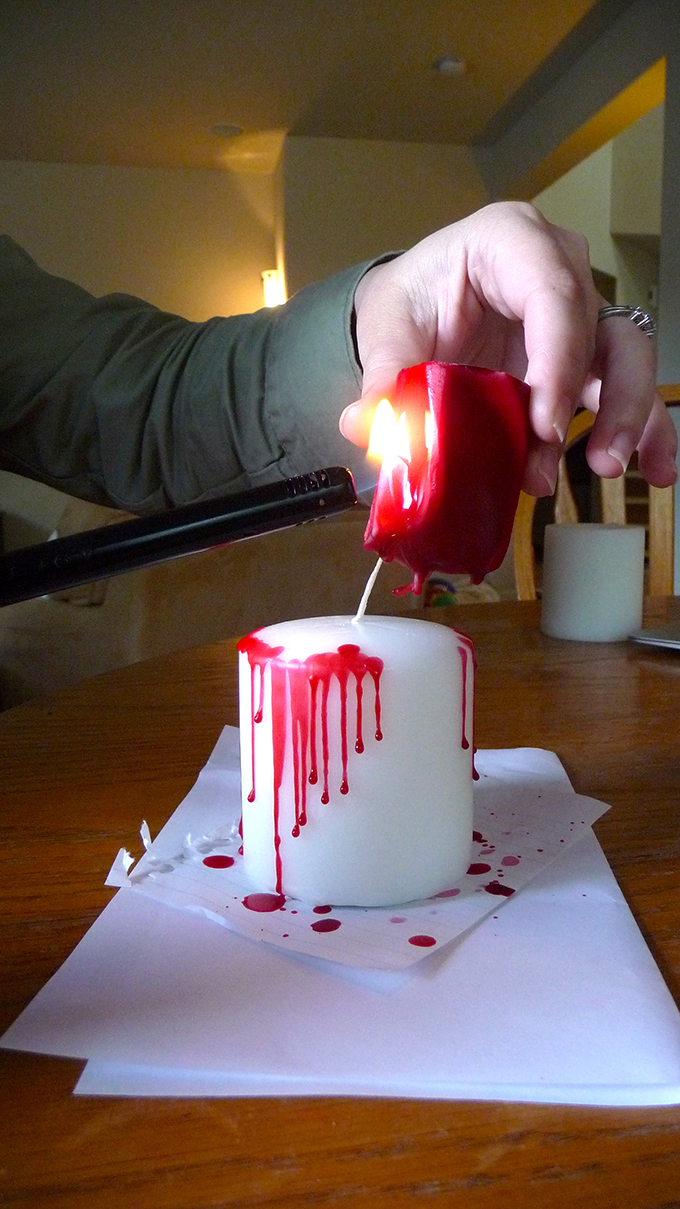 If you like you can leave your candle just like that, with blood only around the perimeter, I however like the look of congealed blood on top, so we covered the top of our candle with wax as well.  And viola! You're done!  See, super easy.  When you move it to your candle holder be careful not to break any of the "blood" off.  The pooled blood at the base of the candle will looks great if you can keep them intact.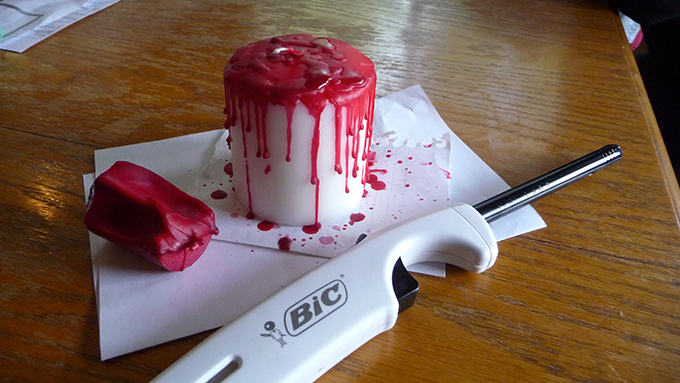 These blood candles were the catalyst for the whole table makeover.  My sis already had some way cute stuff on her table, so I grabbed whatever I could find from around the house to beef it up. A couple days before, Grandma had helped the kids decorate some fake pumpkins with duct tape, inspired by Better Homes and Gardens, and those were already on the table.  Then, basically every other small or medium pumpkin she had available went onto the table as well. She had ordered some plates, spiders, and WAY awesome skeleton hand cups from Oriental Trading Company and those all made the cut. We snazzed up the Halloween plates with some nice china plates underneath to really accentuate them, then added placemats under that to really give them substance. Add a few creepy spiders and you have a freaky-fast tablescape.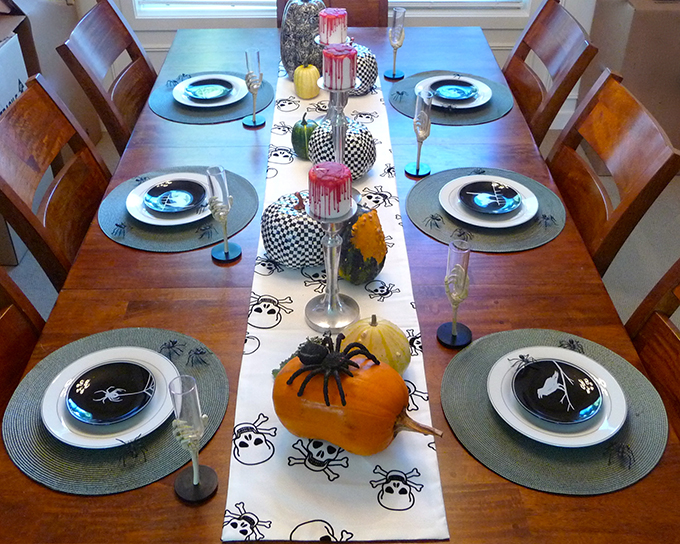 How do you like that giant scary spider?  He was acquired from another spot in the house but definitely needed to resting place on that pumpkin.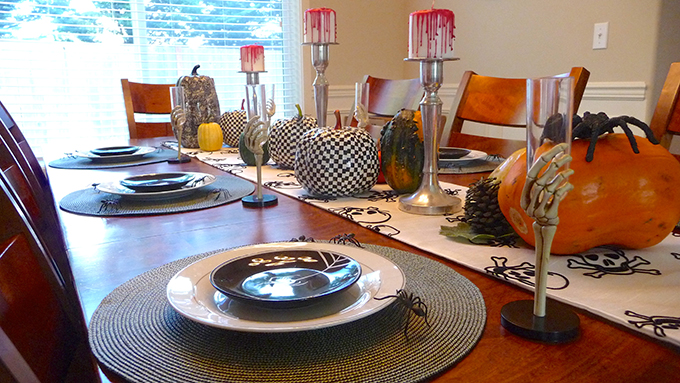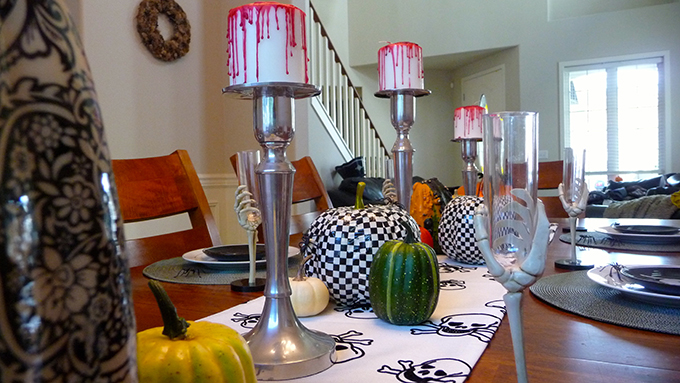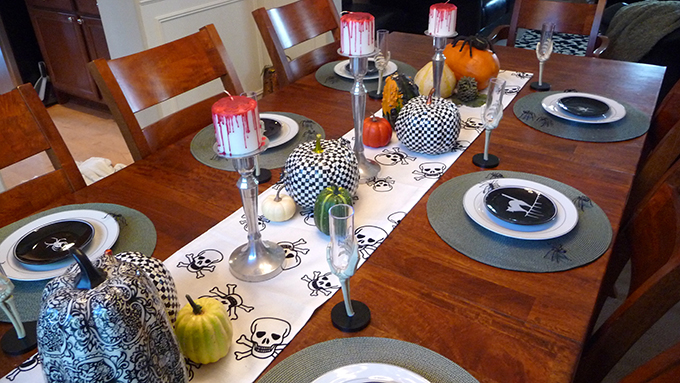 Everything on the table, excluding the blood candles, was already something my sister had, so this was a very fast (20 min. maybe) and very cheap table makeover.
Tags