Okay so I have a confession to make.  I have always thought the Aretha Franklin song was change, change, change, and now I find out, it's chain, chain, chain.  Wow, apparently I'm on the chain of fools.  Anyhow, we have been making changes around here.
Two weeks ago on Instagram I posted a lovely little sneak of our new interior doors.  They are now officially up...however, they have yet to be painted.  
If you've been following along, then you are also aware that we completely gutted our master bath.  I have a few updates on that too.
Let's start with what our house looked like just before we moved in.  (Side note: just a heads up, like a schmo, I took the after pictures too late in the day so the lighting isn't great.)
Basically your standard 1969/1970's house.  Popcorn ceiling, dated fixtures, carpeted, and the plastic-y laminate doors and trim.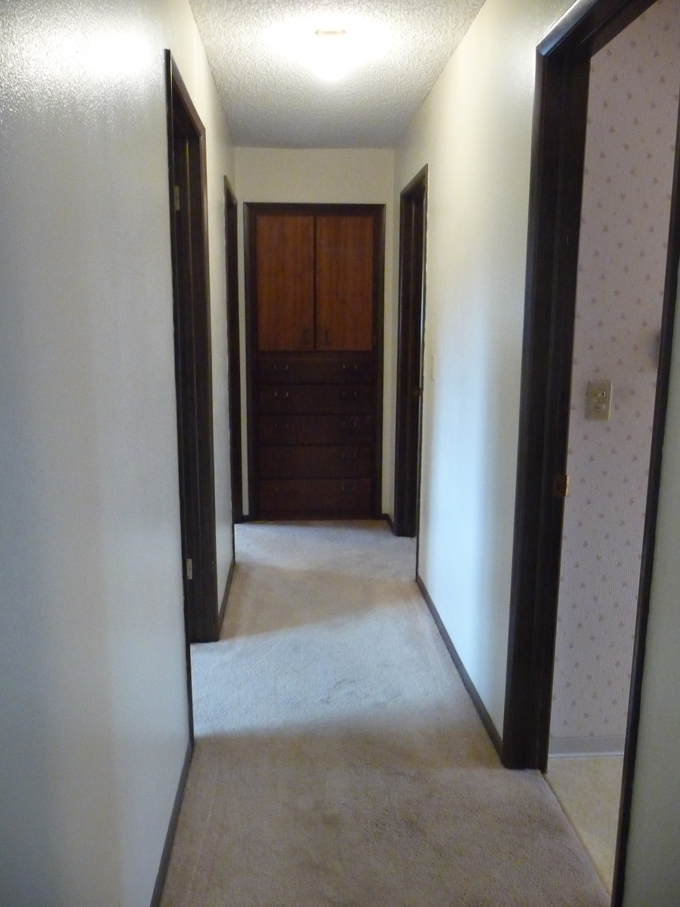 This was our lovely entry, which was really more like a cave.  Aren't you just dying over those gorgeous yellow/brown tiles?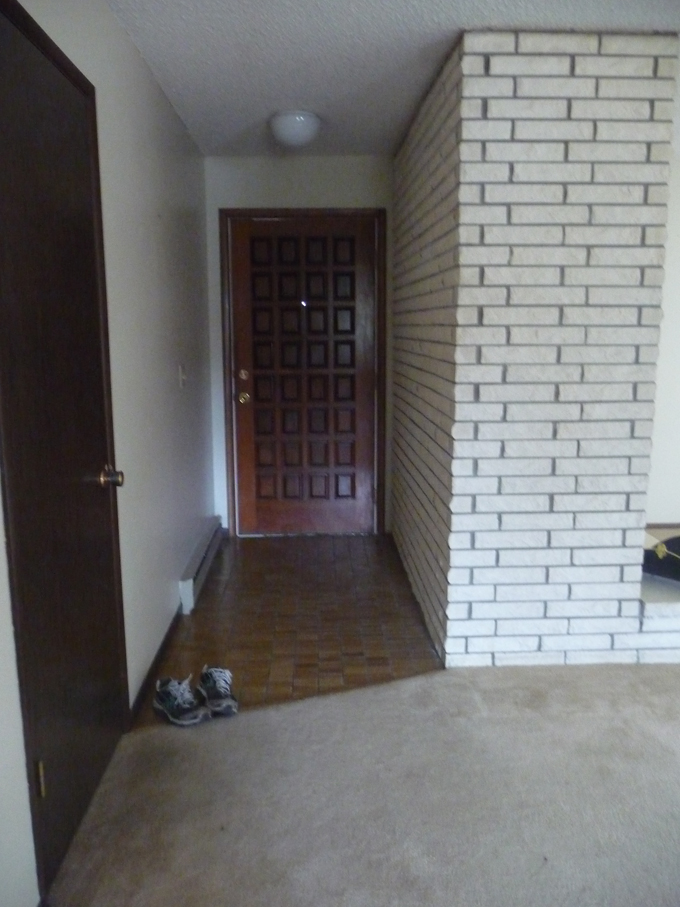 Then, after we put in the floors and a new light fixture, we looked like this for awhile. A little better but still not quite there yet.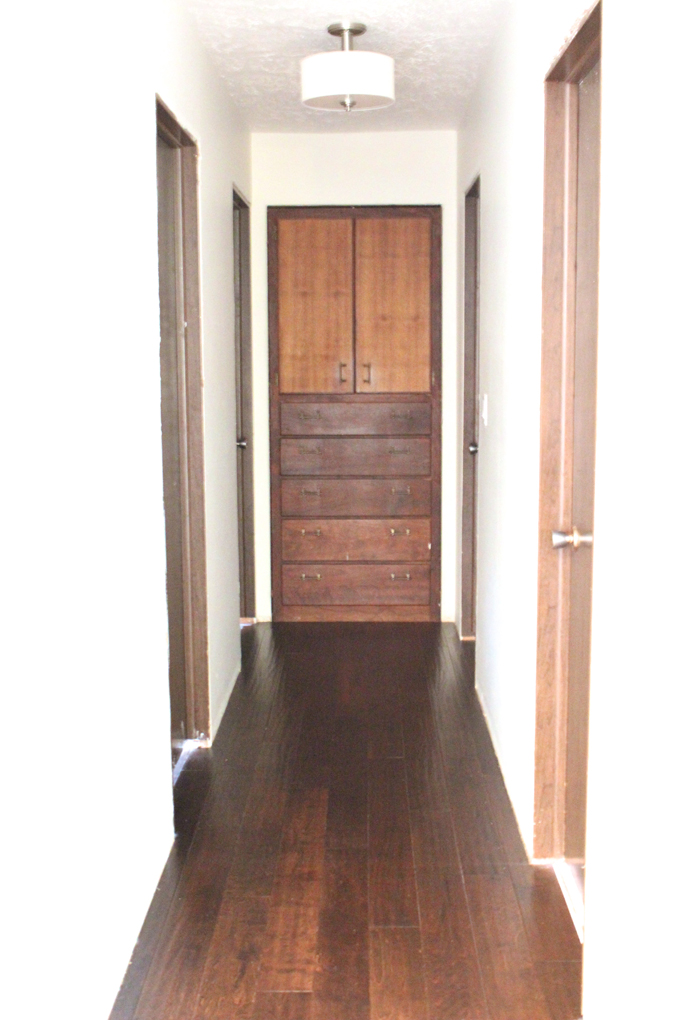 Having no trim on the doors was a little dicey, especially when using the bathroom.  There was just a little too much peek room for comfort.  And we lived like that for MONTHS!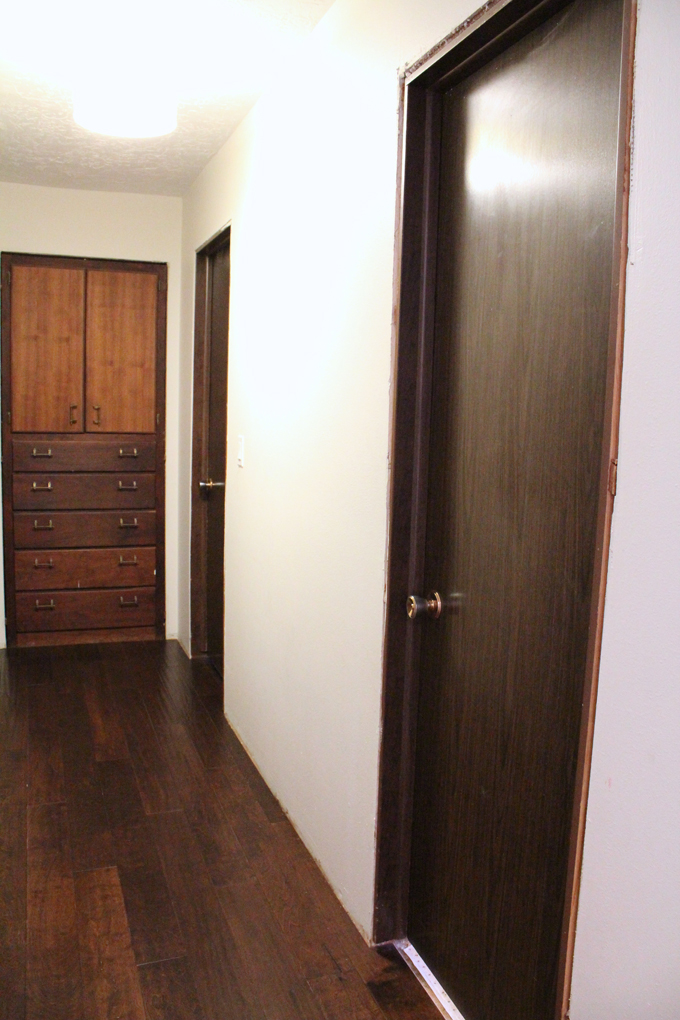 At this point, you can see we got a new door that let in a lot of light, which made it much less cave-esque.  We also put in a new light fixture and new tile.  Here you get a peek of the new trim, which is around the front door.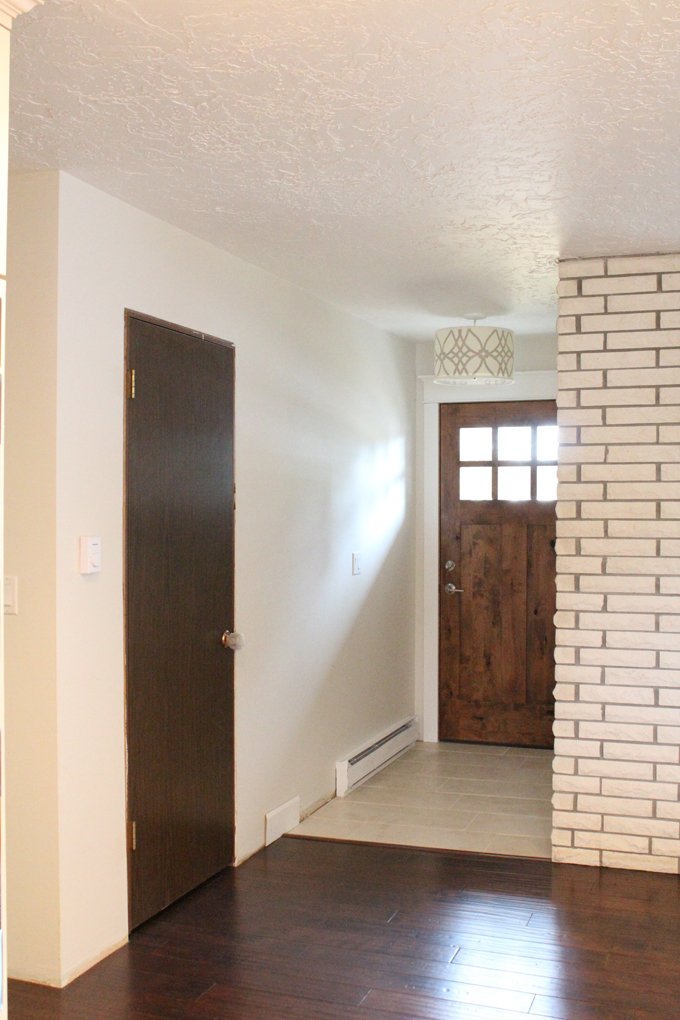 Here is a good straight on of those beauties.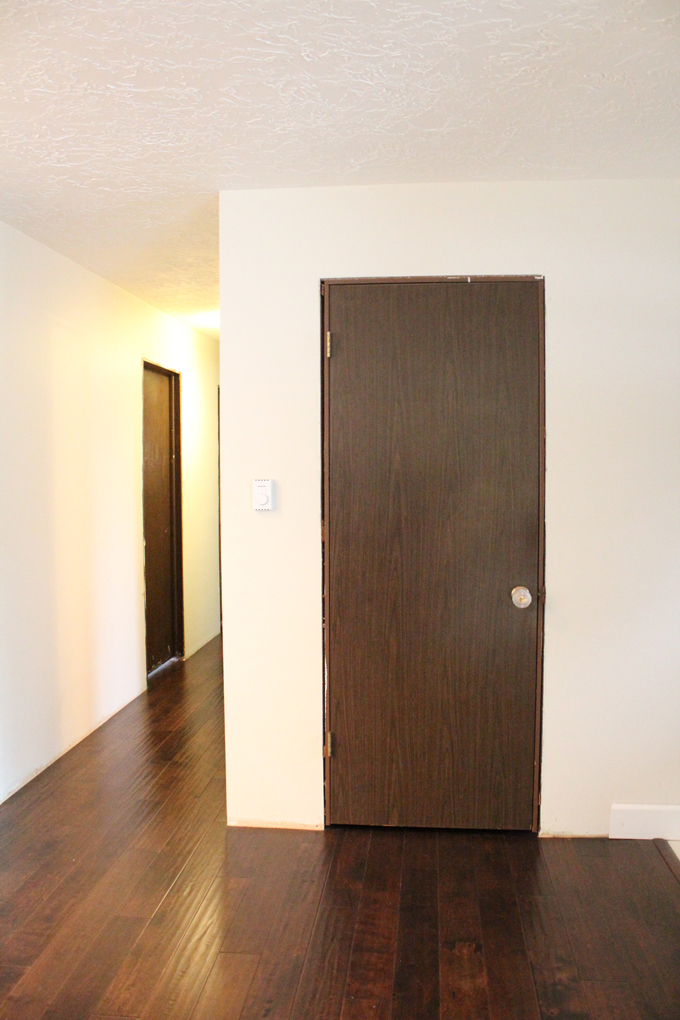 And this is where we are now.  The new trim is up and the doors are in.  There are still a few things on the check list, like putting in the baseboard trim,  filling nail holes, caulking, painting.  Hopefully to get done sooner than later.  We will also be tackling the black hole at the end of the tunnel, i.e. the linen closet.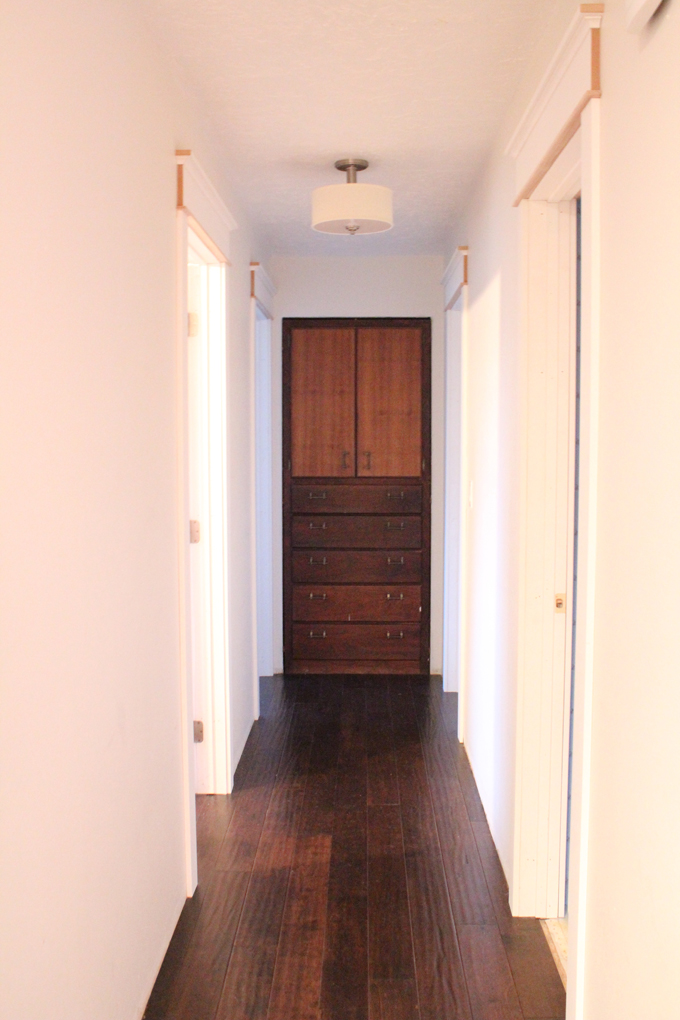 The coat closet door was my favorite switch out.  It made the whole space feel much more cohesive and open.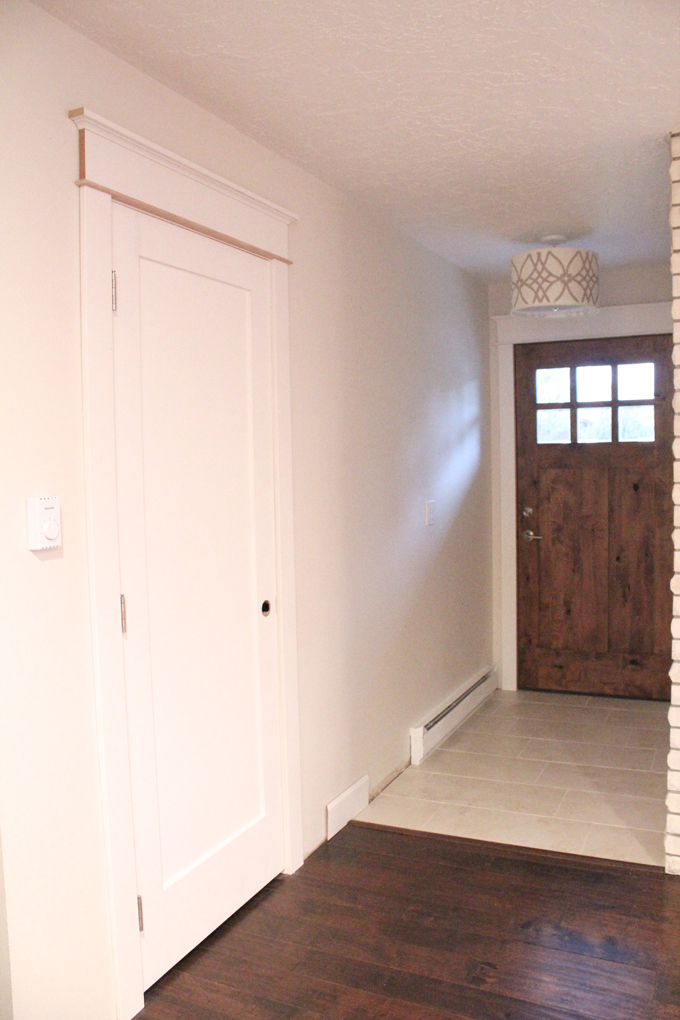 These doors obviously do not have door handles yet, since we are waiting to install them until after painting.  The lack of door knobs was kind of a an "out of the frying pan, and into the fire" deal when it comes to the peek factor.  You have to make sure you have something to stuff in the hole if you don't want anyone looking in.  However, when you have a 1 1/2 and a 4 year old, the stuffing doesn't usually last very long.  So, needless to say, we'll be getting handles on these doors, right quick.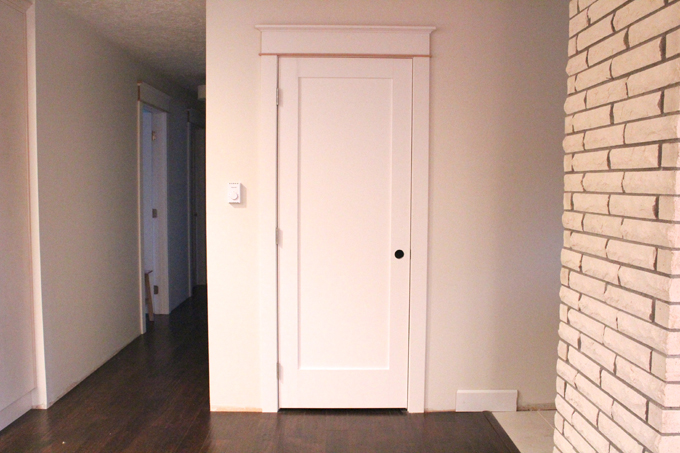 Now for the before of the master closet, oops, I mean bathroom.  Hey, did I mention that nearly half of the interior of the house was covered in wallpaper when we bought it?  No!? Well it was...and I have yet to remove this portion. I'm truly not a fan of doing it, but I've got some products to try out, to see if I can make it a painless process. #fingerscrossed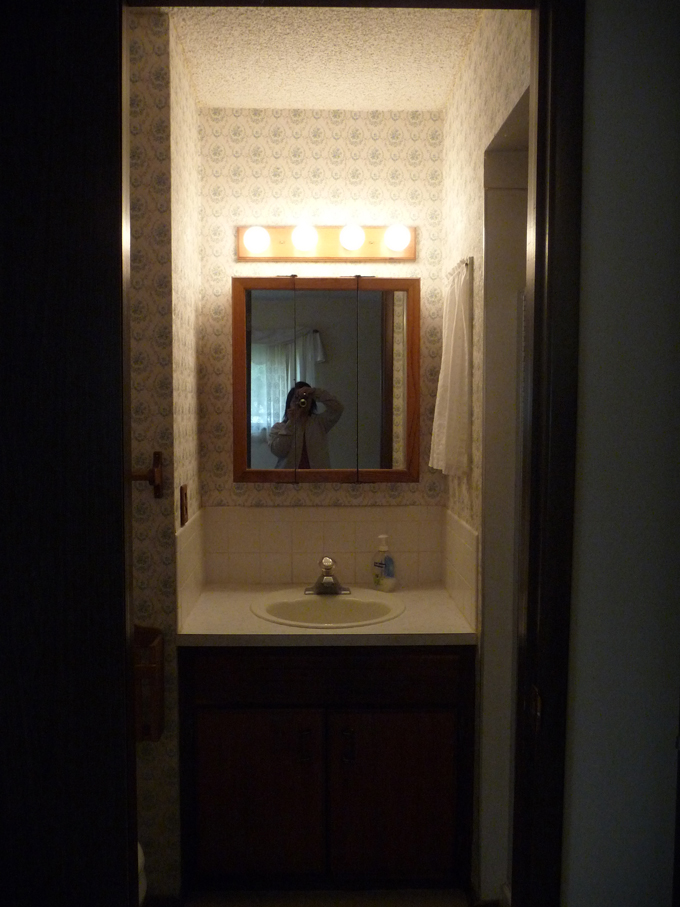 This was the awesome, coffin of a shower (which didn't even work, btw).  If you remember, when we started the demo on this bathroom we discovered about two feet or so of wasted space behind this shower wall.  You can see that here.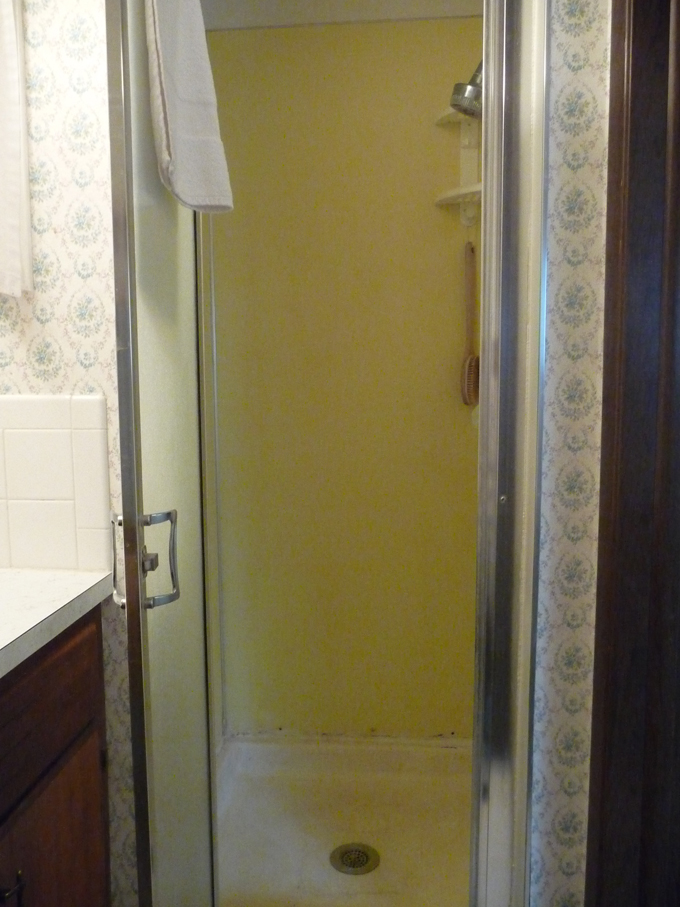 And here is the ever important commode.  We replaced the flowered, padded, toilet top pretty quickly after we moved in and the toilet wasn't so bad...until about 6 months ago, when the insides broke and we had to start using a string to flush the toilet.  We lived like that until about a week ago. No joke.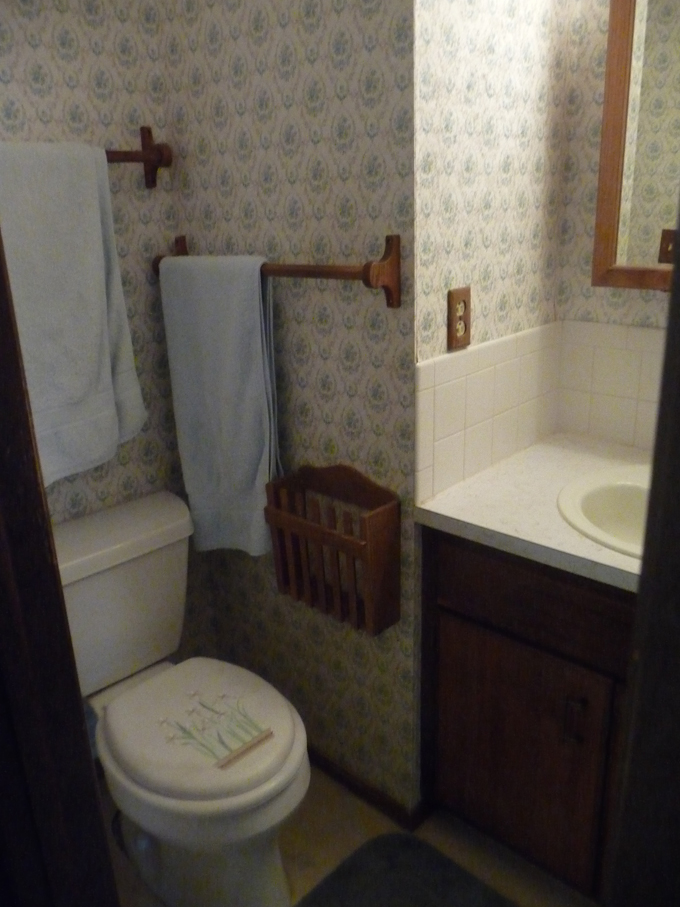 Now the bathroom is looking a little more like a construction area, and yet still feels nicer than it used to.  There is still some drywall work to be done (as soon as I finish wallpaper removal) and then we start with the tiling.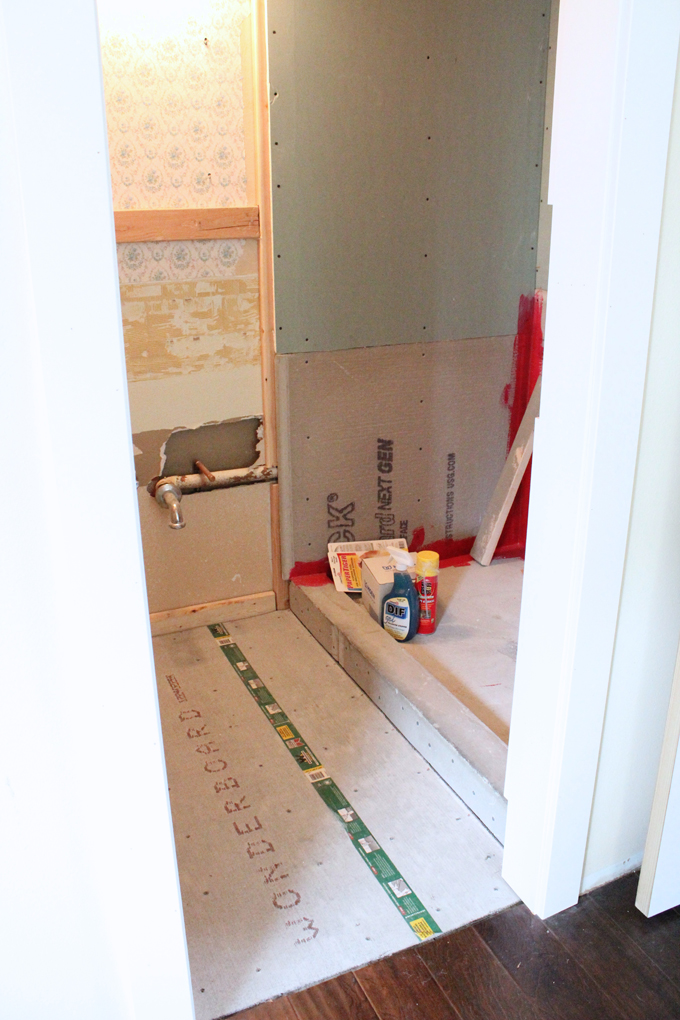 The shower is looking mighty fine thanks to our trusty contractor Dave from Dart Construction who also happened to install all of the doors and their trim.  Not only that...but we had him put the same trim on all of our windows and closets too.  Dave, you the man!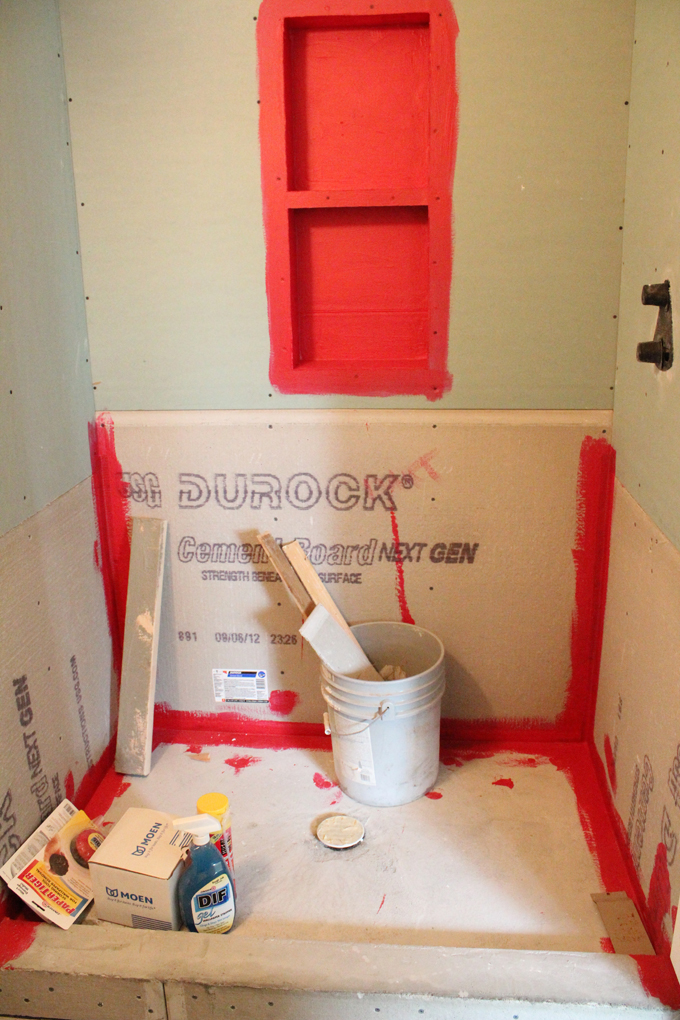 See that extra pipe hanging from the ceiling?  Yeah, that's going to be my rain shower head.  We opted for dual shower heads, and I'm so excited.  I can't wait to test it out when it's all finished.  It'll be my little oasis.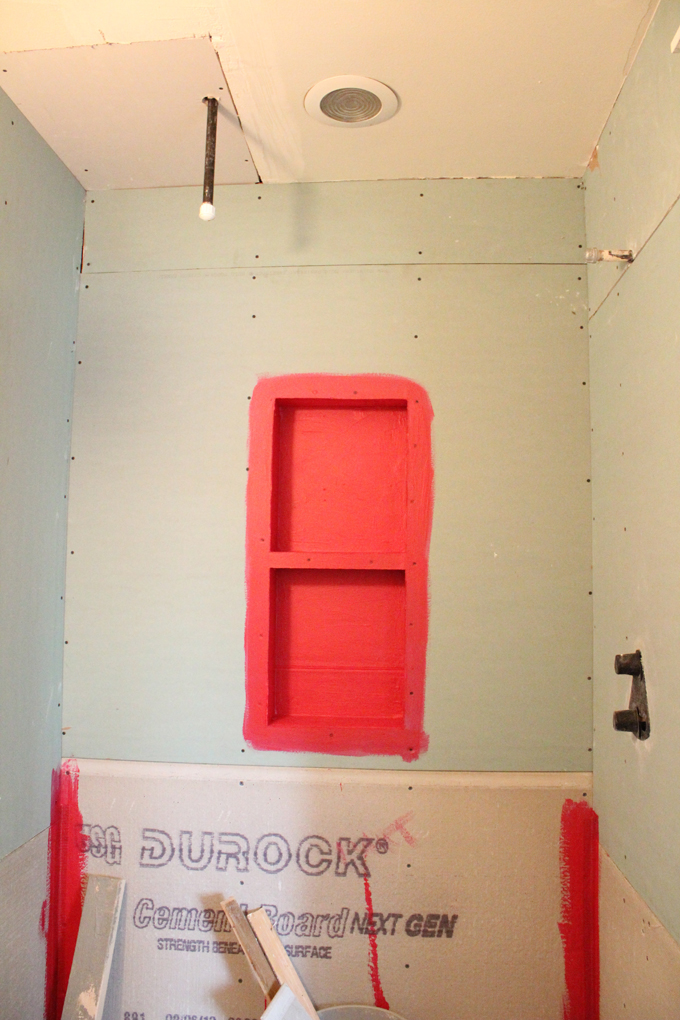 And what of our toilet now?  Well, it's non-existent.  It was removed to make way for the floor backboard.  It's kind of a pain not having a toilet in our room anymore, but it's 100% worth it to get to the end result.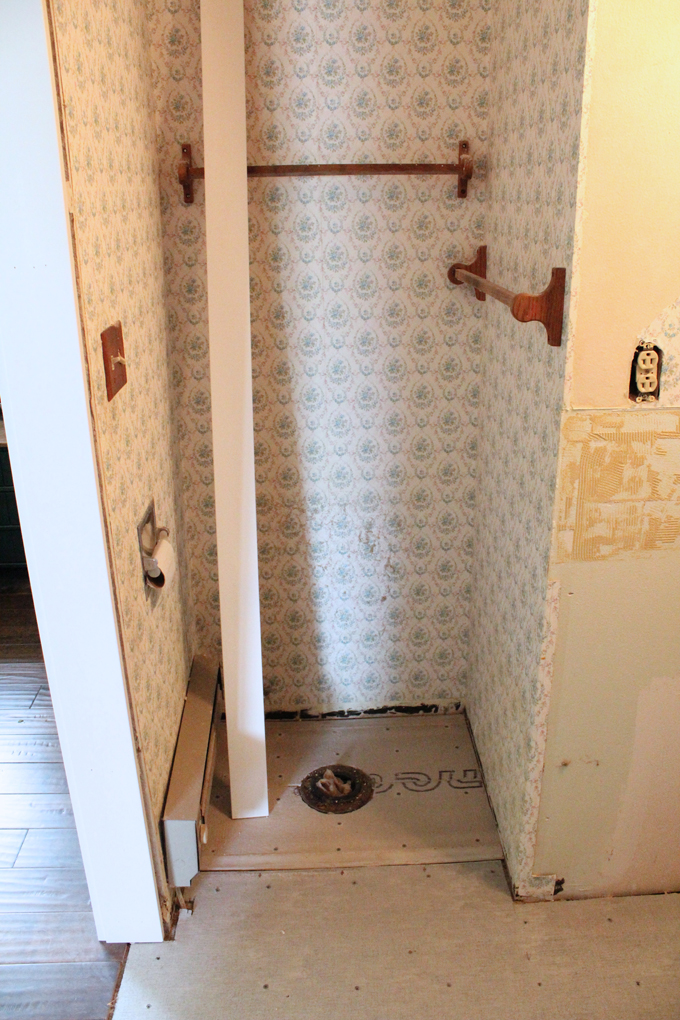 And that's where our smokin' awesome remodel is at right now.  
If you missed how I am going to decorate the bathroom, you can take a look at my inspiration photos and mood board here.
Tags