Yesterday certainly gave us a run for our money.
To start we had to figure how to run our floors going an opposite direction.  Unlike the closet we would not be able to cut every piece to dry fit it and then remove them all and put them back in again.  So we had to figure a way to attach the first board.  We had a groove to a groove and needed some way to attach them. Well we discovered they make a handy dandy piece called a spline that does just that.  
So, we called Lumber Liquidators to ask if they had them. No such luck, out of stock (boo!).  I decided to call my favorite go to lumber place.  In the past they made me a bull nose to match my floors so I took a chance they could make a spline.
I took in my flooring and 15 minutes later out they came with my new spline.  The just went in the back and whipped them up for me.  Isn't that awesome?  Thank you Windsor Plywood you saved me yet again!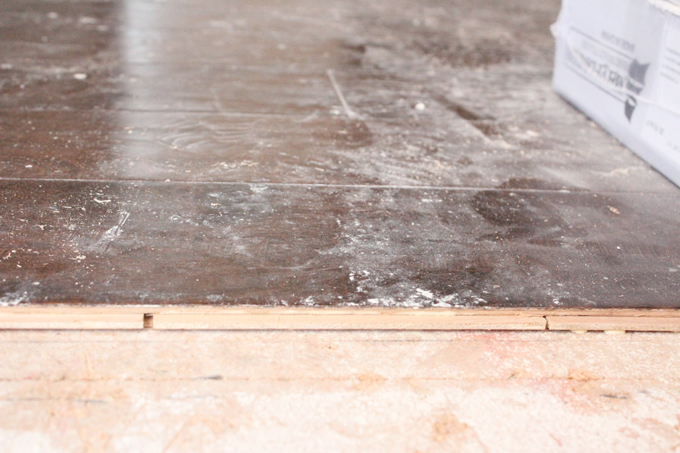 When it got down to it we didn't finally start laying flooring until after lunch time.  It was a smaller room than the master so I knew it would go faster but since we got started so late we didn't finish until 8 last night. (Look at all the rhyming and I'm not even trying),  We would have been done even before that if the floor hadn't been such a bear to put in.
You see, we got our first row a little off kilter but just kept going. Word to the wise, NEVER keep going!  If that first row is not straight, you will fight that problem aaaall the way through laying the entire floor.  
The reason the first row wasn't straight is because we were trying to keep an even amount of distance from the flooring to the far wall.  With the boards straight there was a 3/4 inch difference.  That means by the time we got to the far wall with the floor we would have had severely angled pieces, which we didn't want.  So, I'm not sure how to entirely remedy the situation for next time.  
I do know that I will not ever lay boards off kilter again, not even a tiny bit.  I'll take the angled boards at the last row before I mess with that headache again.
In the end we finally got them all down and it looks pretty dang good.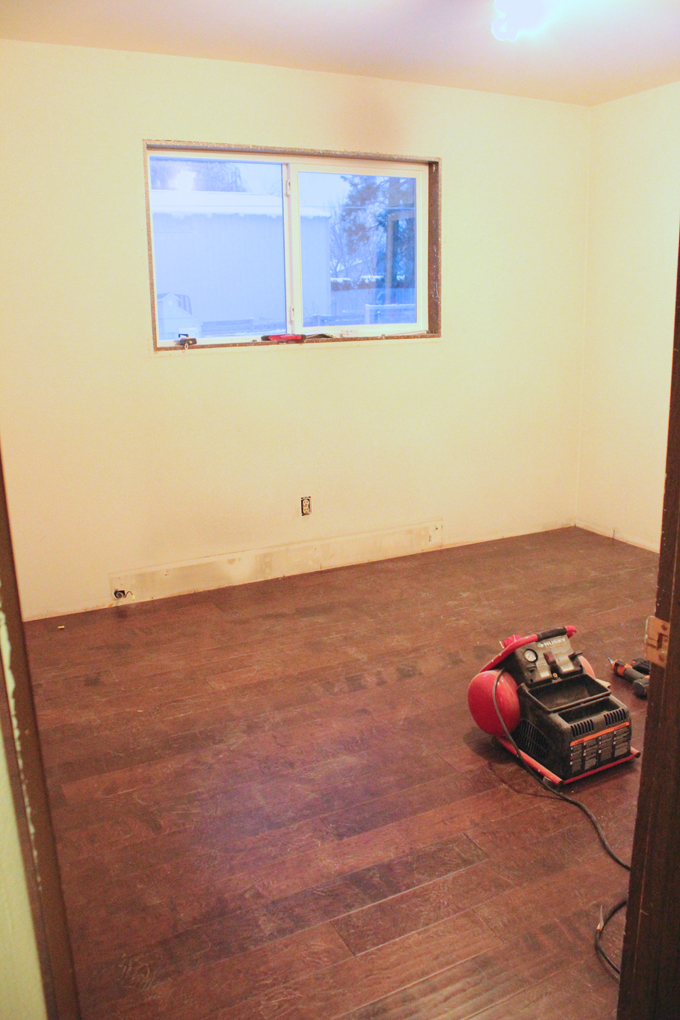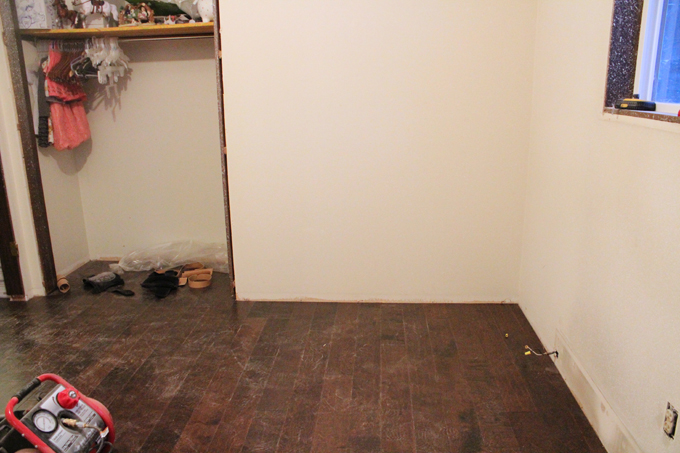 However, we took a very big gamble putting the floors down.  We ran short of flooring so we went and got more yesterday.  Technically when you get new flooring you should let it acclimate.  That means it should have sat in our house about a week before we even opened the boxes.  Well, we are on a serious deadline so we put them down.  
Since the floor is engineered wood and not solid we hope that it will not be too much of a problem.  Engineered flooring doesn't swell like real hardwood and that's what makes it a good application for kitchens, basements, etc.  
Only time will tell if we are safe, and I certainly hope we are.
The bedrooms got their final coat on the ceiling yesterday and now they are ready to be primed and painted.  
I'm so happy with how they turned out.  The popcorn is dead and the smooth ceiling has risen.  As much as I hated having the popcorn, I would probably still buy a house with it, simply because I know how easy it is to take down.  We even made a video of us scraping it off.  Hopefully I'll be able to turn it into a tutorial.  
The bathroom also got a little patch work in the ceiling and will soon be moving on to be a beautiful new oasis.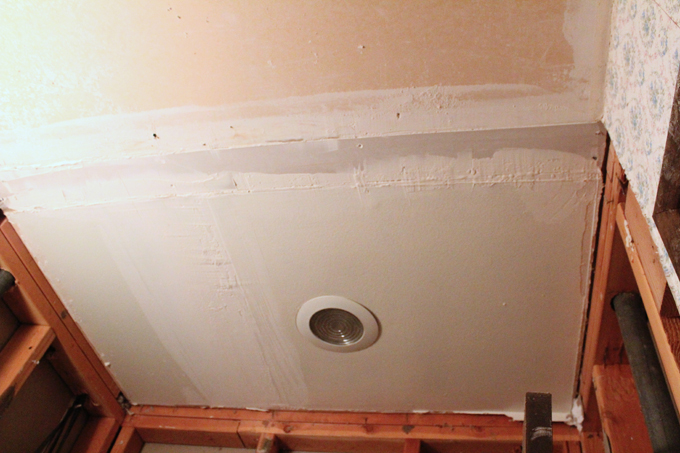 Today should be full of priming walls and ceilings and laying floors in the final bedroom.  Maybe if we get it all done with time to spare we can actually enjoy the end of our day instead of hobbling to bed like a pair of 80 year old cripples.  
Tags