It's DOOOONE! I'm so excited to be presenting you with this adorable nursery! 
When we started this nursery we were on a budget and a time crunch.  Well, at least the budget stayed mainly in tact. As for time, you can blame my little nugget of joy for putting me off the schedule. But now that we're all done I'm so proud of how it all came together.  Let's see it! 
First off, you would not believe how much trouble the weather decided to give me when it was picture time! But in the end it all worked out.
Let's start with the entrance view.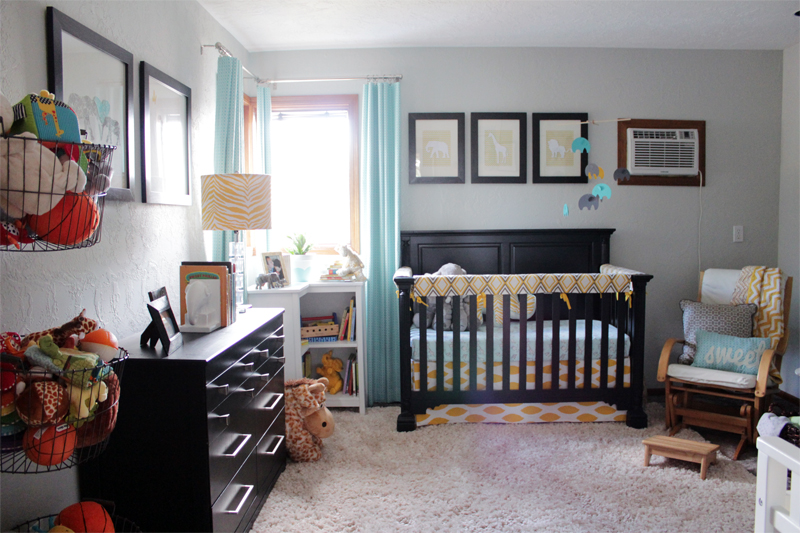 If you can't remember back to what this room looked like before, check it out here. We got to start with a blank palette and the design began with a great piece of art and a black crib.  The original design was put together in two colors, pink and blue. When the baby arrived, and we finally knew it was a boy, we got to work on putting the rest of the room together.
These awesome baskets on the wall were mom's idea and I just love how they turned out.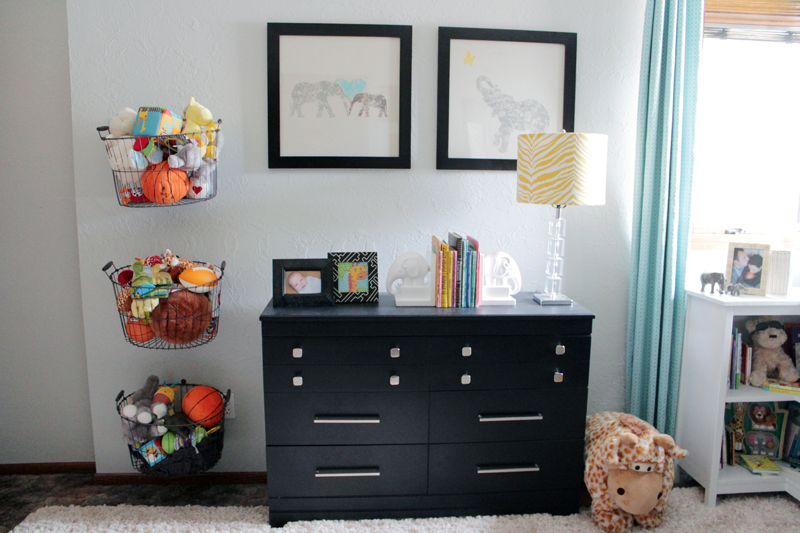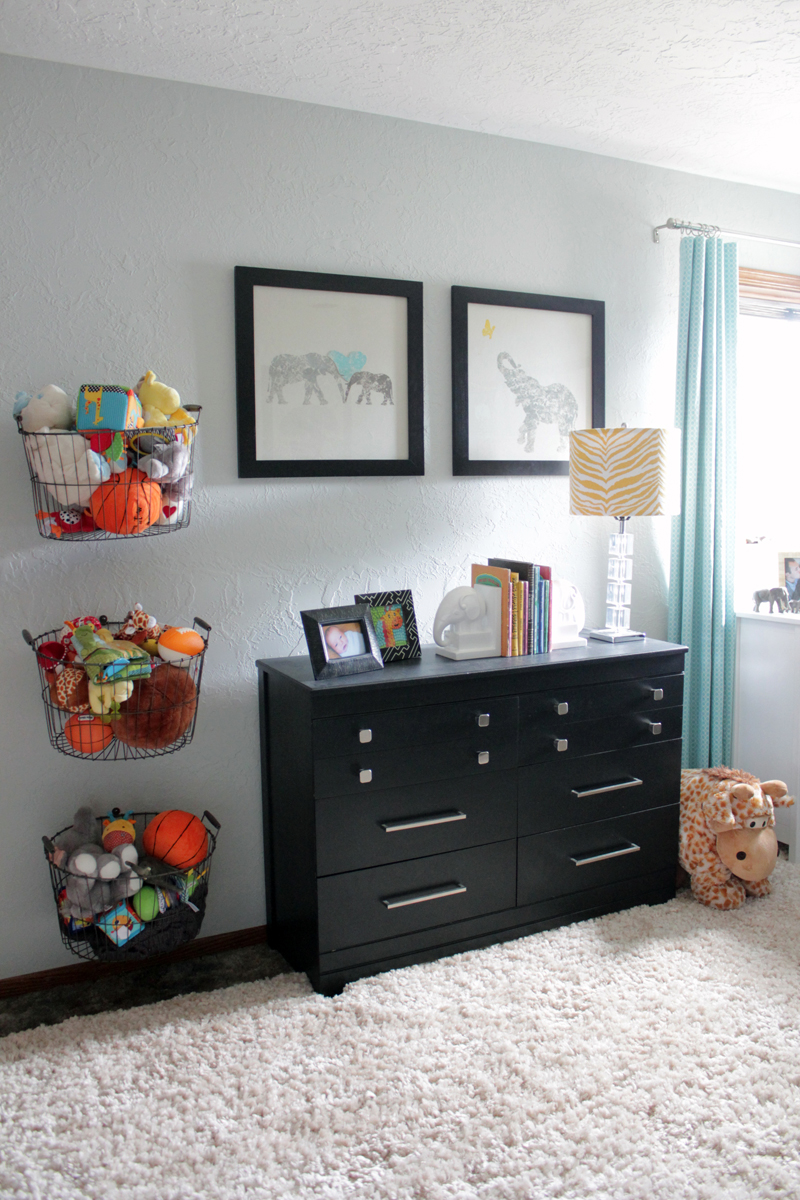 The large elephant pictures were inspired by an Etsy shop called One Elm. (Disclaimer: These are One Elm designs and are being used strictly for personal use.) You can buy these in an 8.5x11 print from their shop here and here. I knew I wanted much larger versions, so I stenciled them onto canvas to get the scale I was looking for.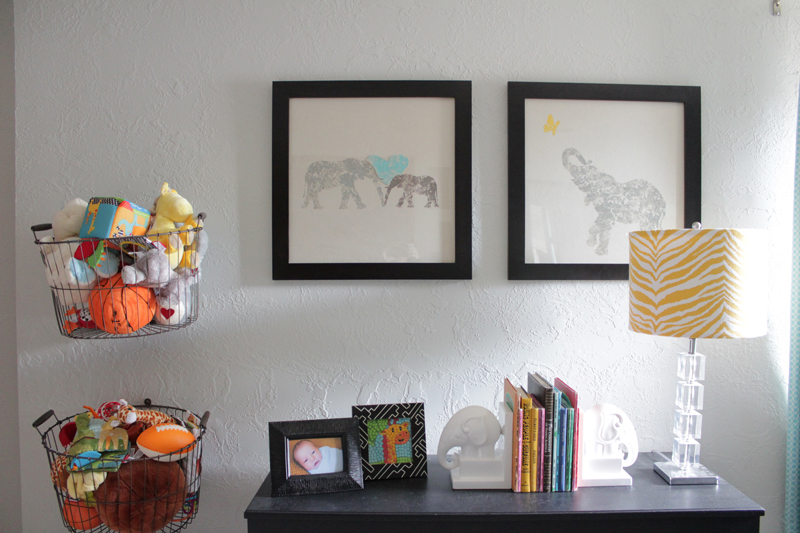 This nursery is chock full of DIY projects. The elephant art and the fabric covered lamp on the dresser are both prime examples. But, one of my favorites is that little bookcase in the corner that was custom made by yours truly. We needed a place for books and toys and there just wasn't anything out there in the right size for that window. So, I found a free pattern online and altered it to fit my needs.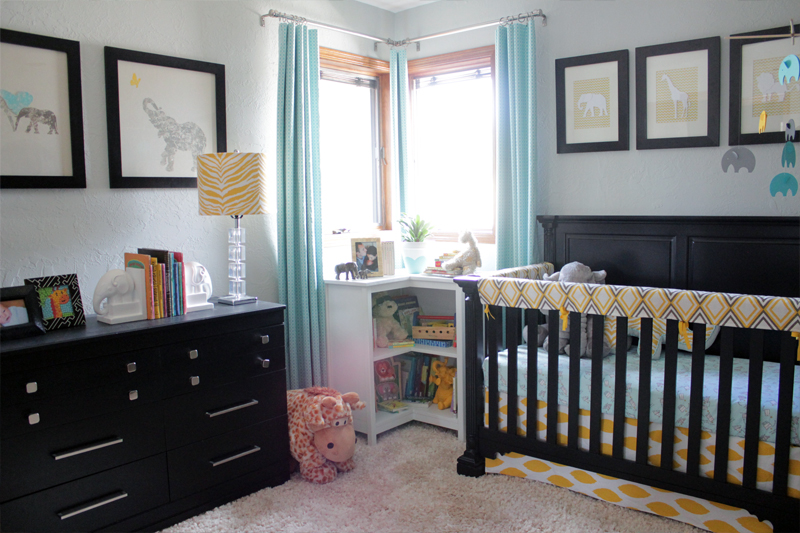 Inside the bookcase there are some classic books, cute toys, and we added that adorable sitting elephant that got himself a new coat of paint.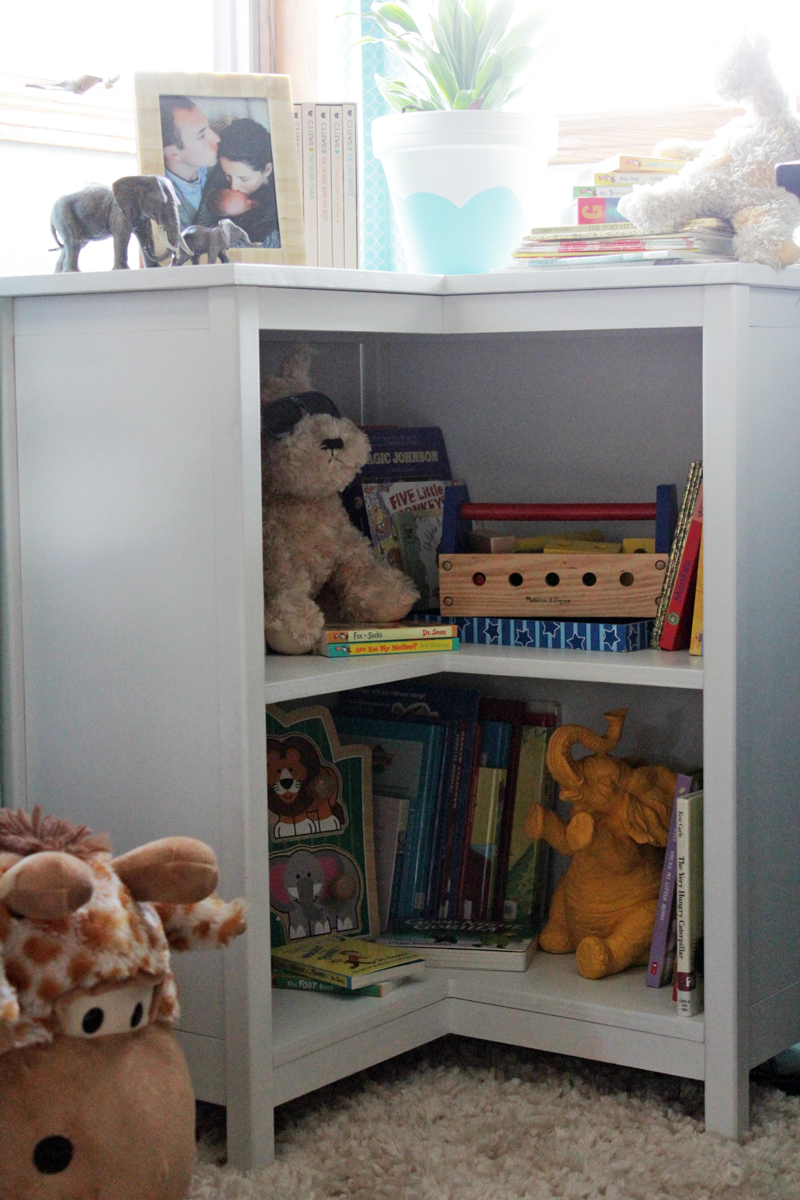 You can spot another DIY on the top of the bookcase with the little painted pot.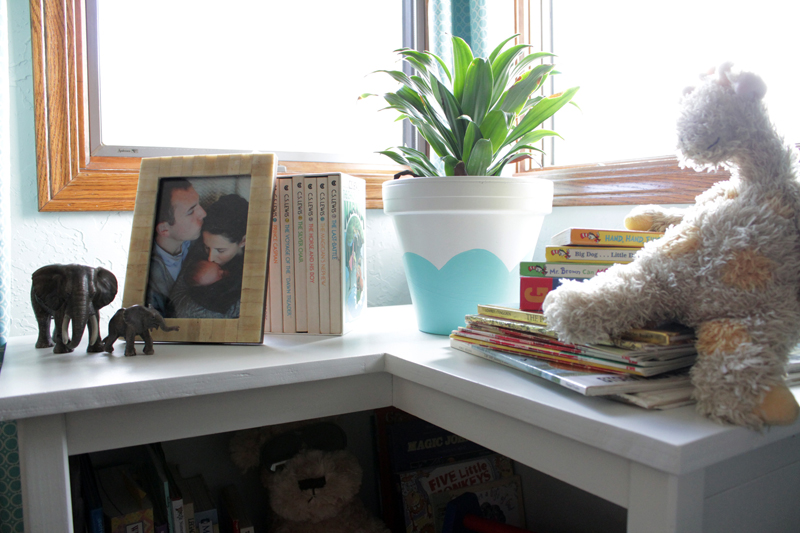 The crib bedding is all custom made from my very own craft room. The art work and mobile were both DIY projects inspired by Etsy shops ED Mobiles and Little Red Flag. Mom loved the look of both these pieces so I made my own versions to save on cost.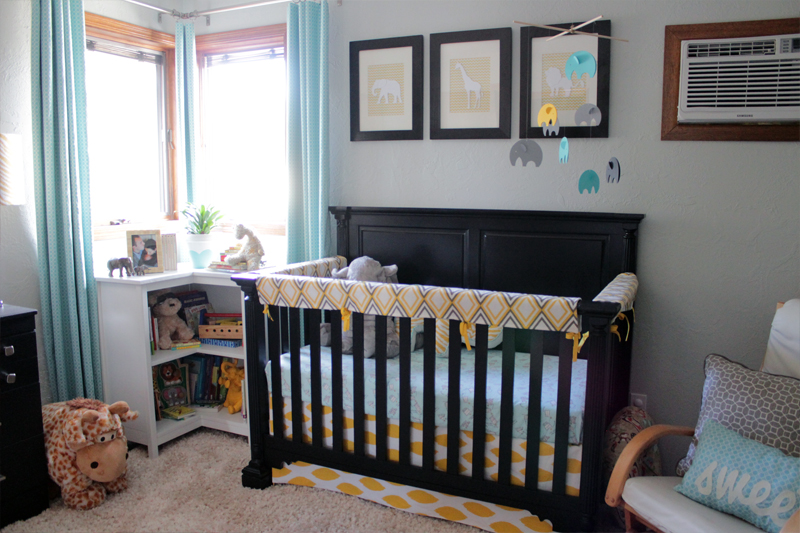 I have always loved those thick elephant pillows floating around Pinterest, so I made my own pattern and put one together. I just LOVE how it turned out! I used whatever extra fabric I had left over so this pillow cost me next to nothing to make.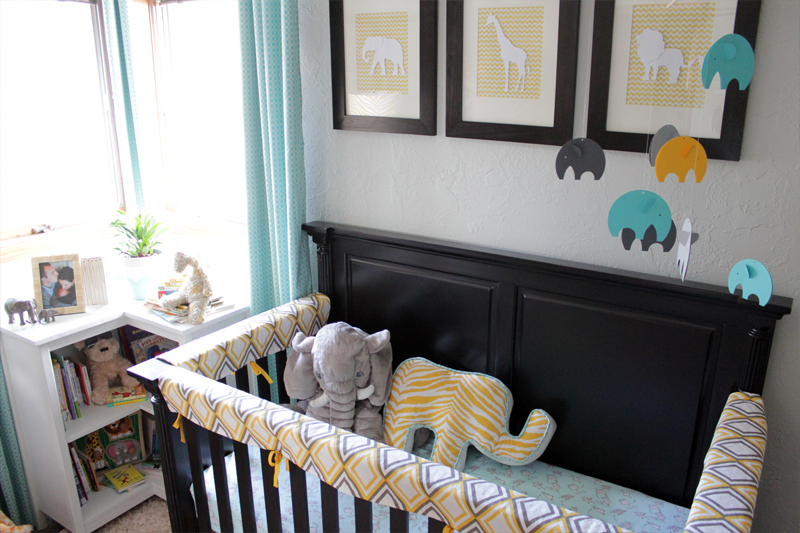 Here you can see the original art piece that got the ball rolling and the large letters I made with left over wood from the bookcase. Yep, that means those nice big letters on the wall were free to make and is one of the favorites in the room.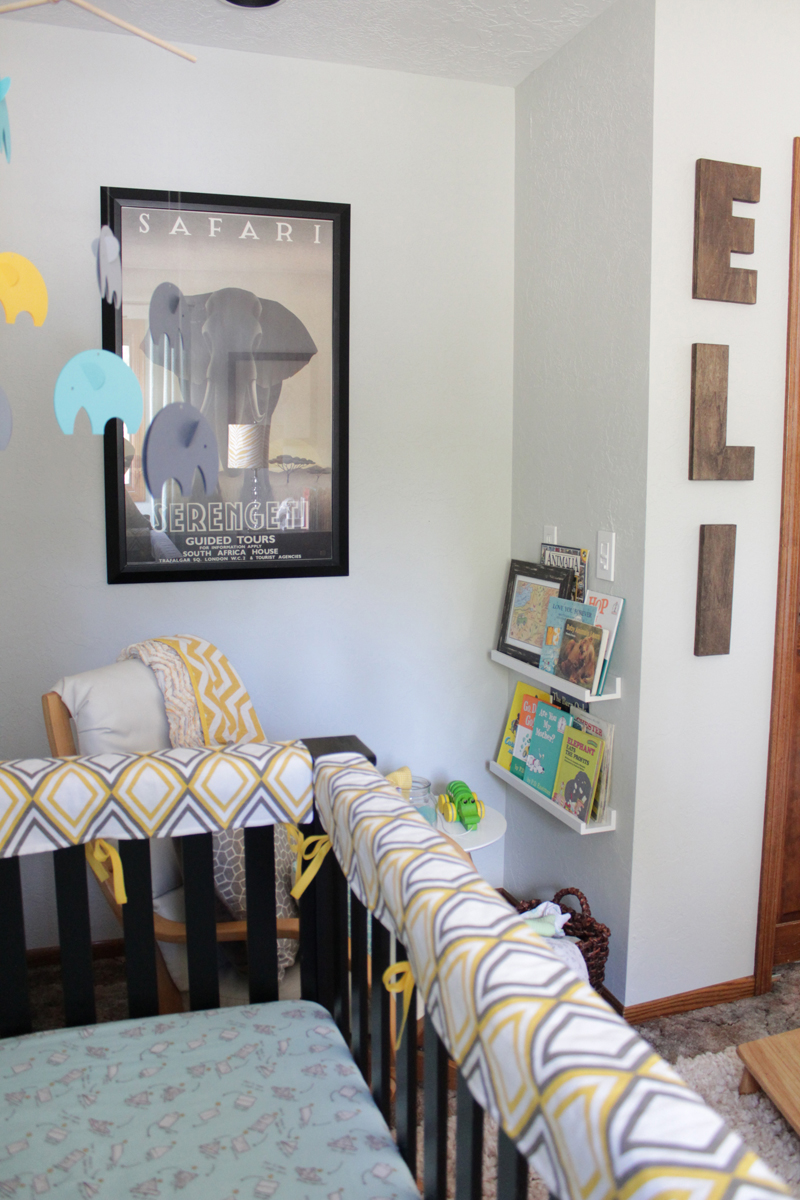 In the corner we have mom and baby's cuddle area. There is quick access to binkies, blankies, and books. A perfect storm for sleepy time.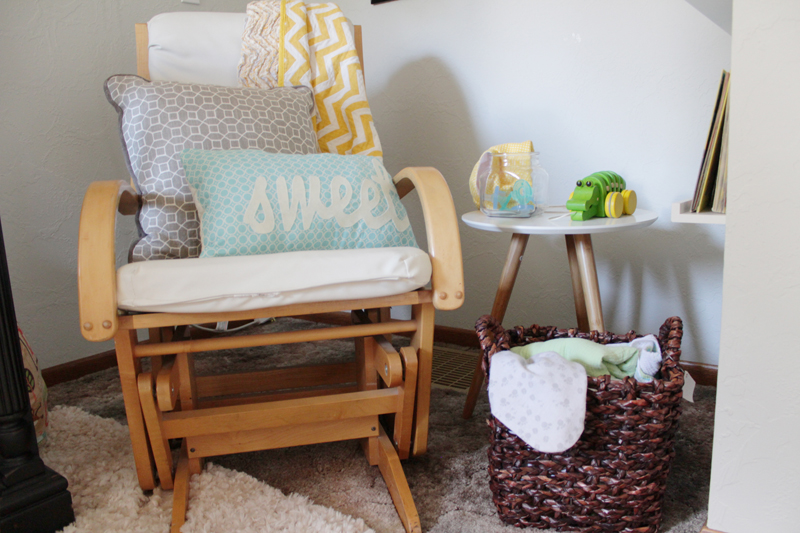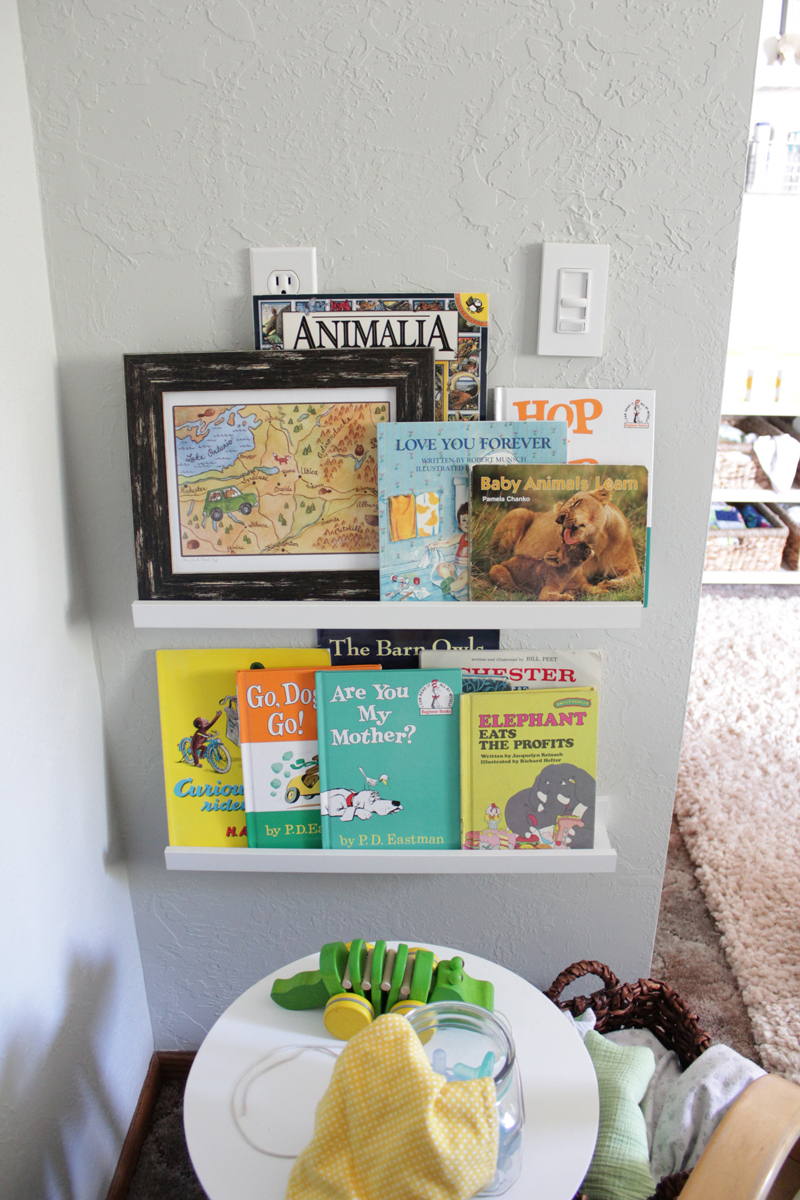 And let's not forget about the "work station". I made custom art and a changing pad cover to pull the color scheme over to this area. The name art was inspired by this shop on Etsy and the boat art was inspired by this print.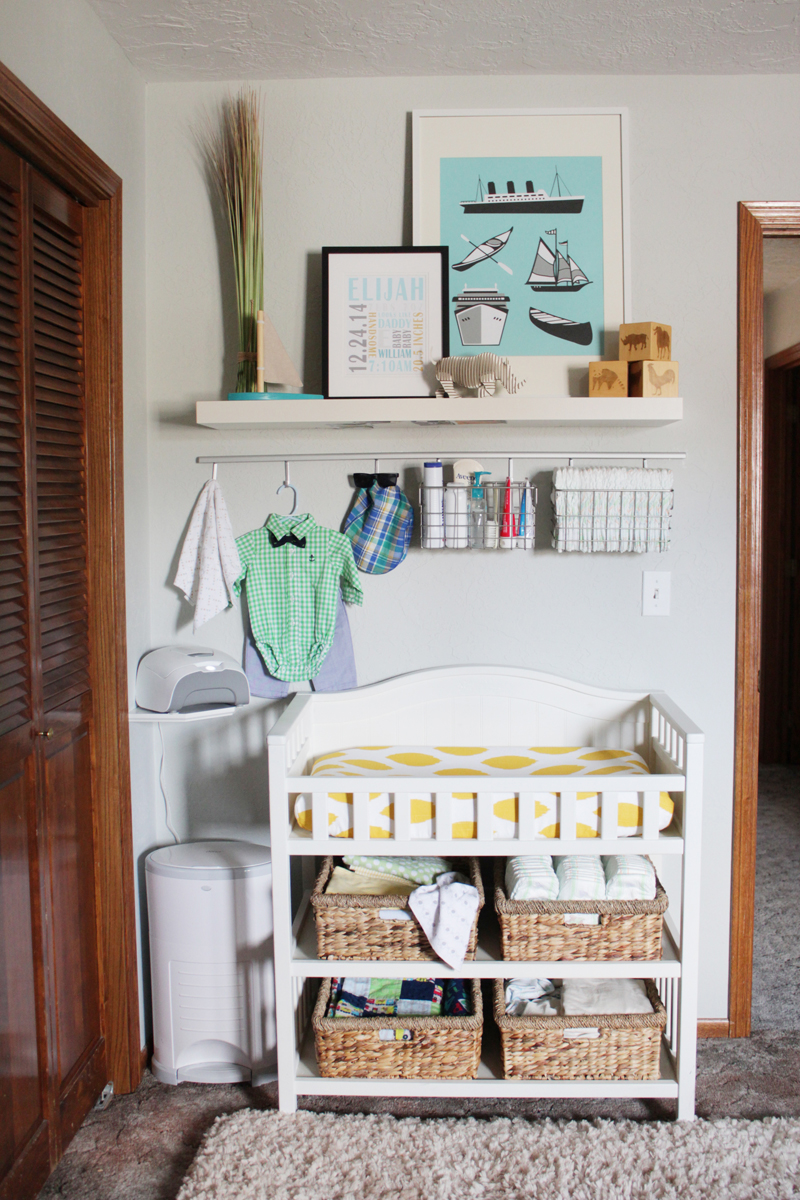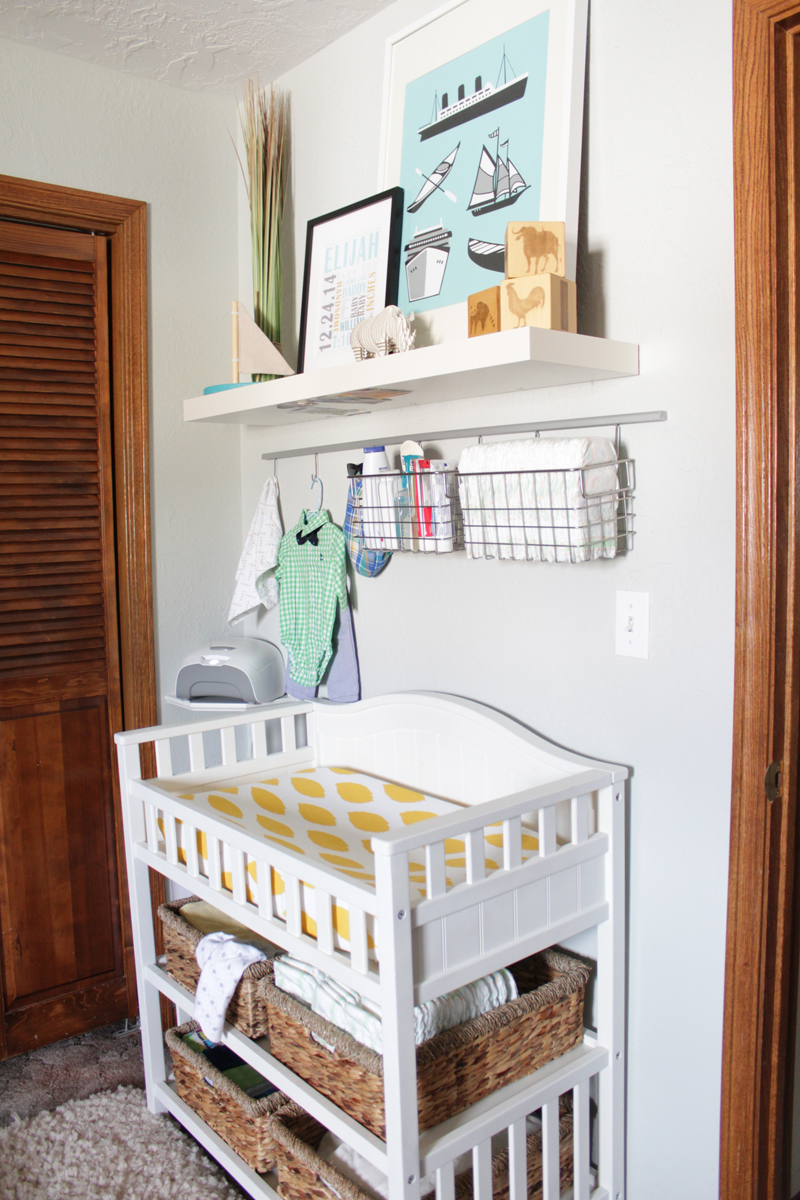 The blocks and sail boat were some quick toys I threw together to liven up the space a little bit.  You can see how I made those, and the original mock up for this wall space, here.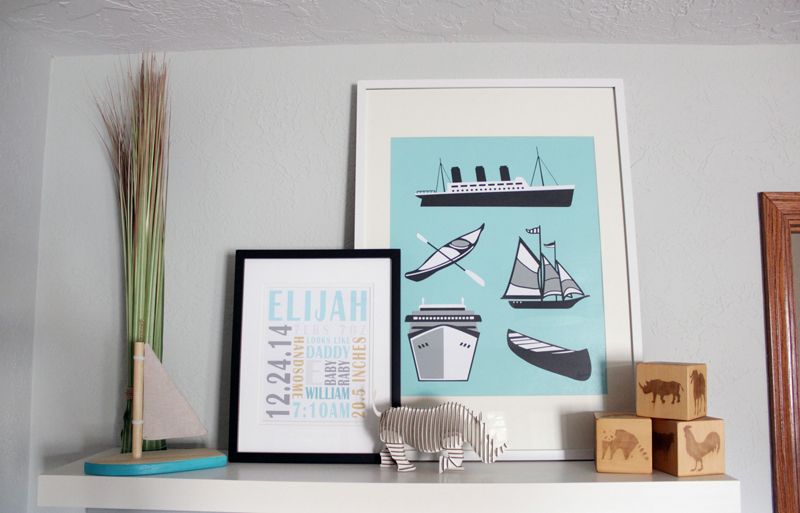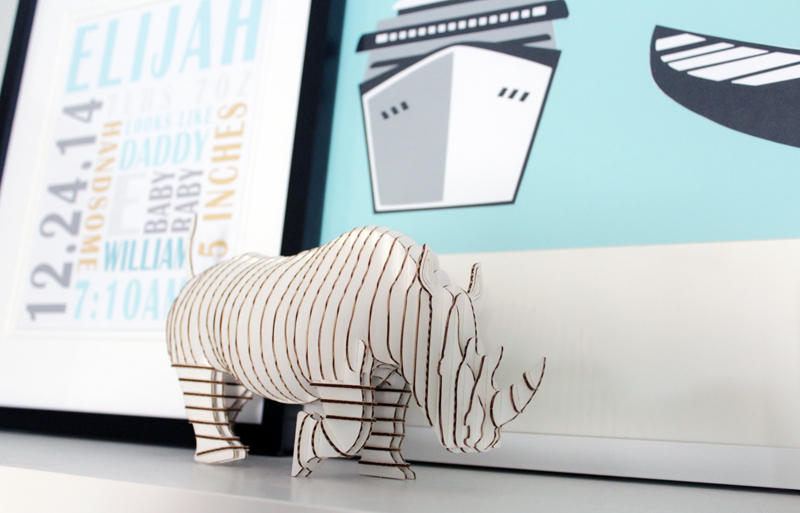 Here's the little man having a romp in his new and improved, finished room.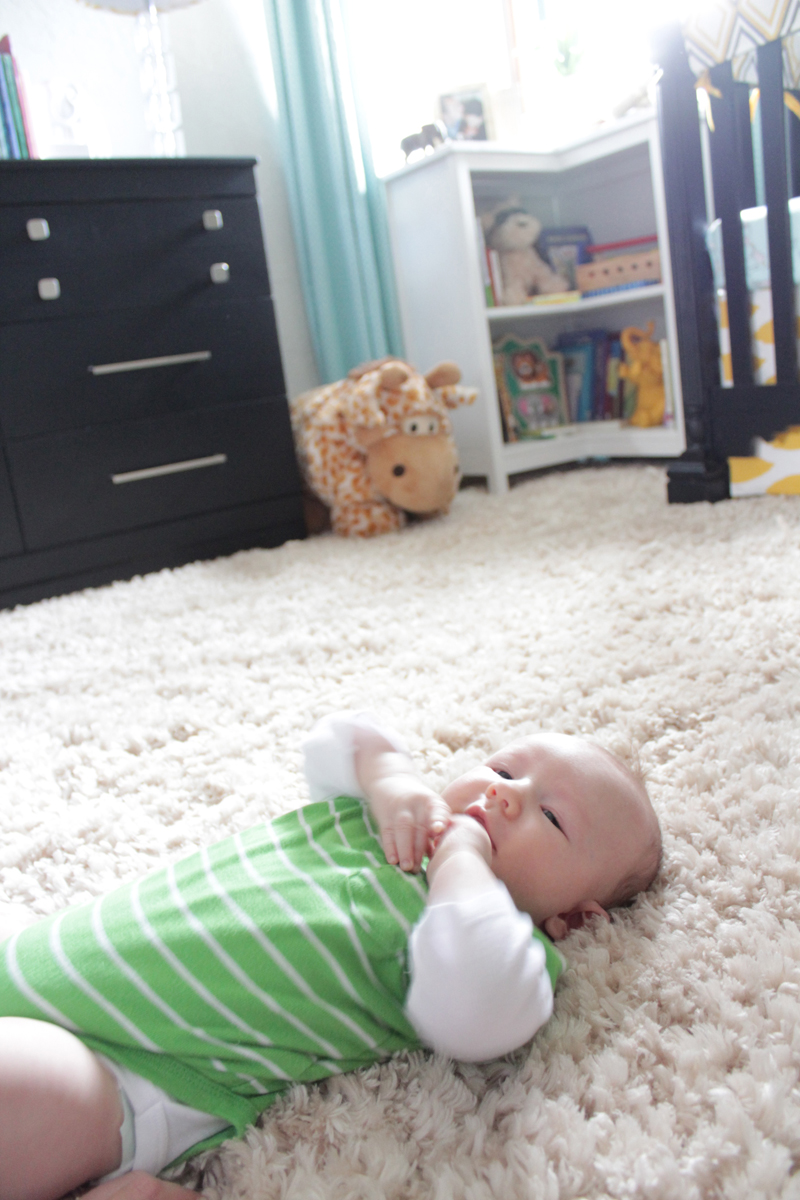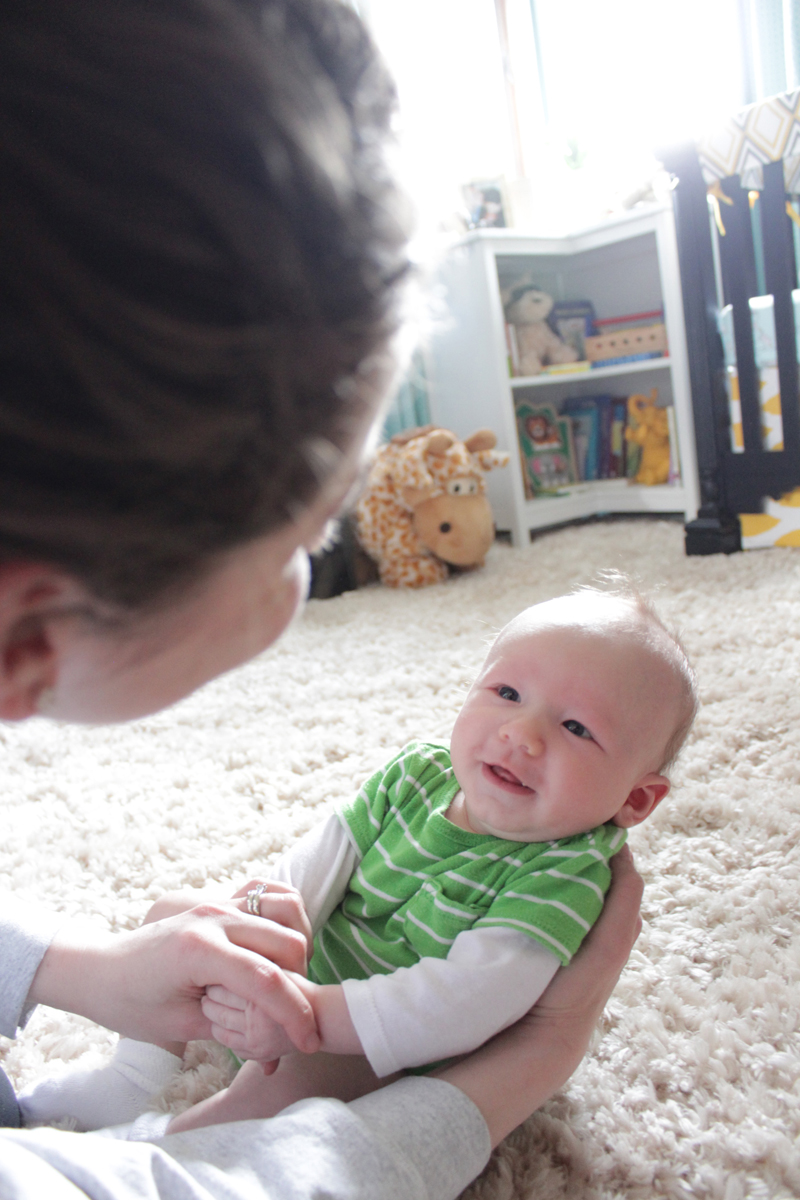 This room was a very fun project and a great learning experience. Thanks to my good friend for letting me come in and use her home for my own entertainment!
Now for the next project...another nursery! But this one will be a little closer to home, as in right across the hallway.  I can't wait!
Linked with:
Tags